Rhythms of Life Heard at Penn State Behrend
Toby Foyeh and Orchestra Africa perform as part of the Rhythms of Life Series
February 12, 2020 at 9:15 AM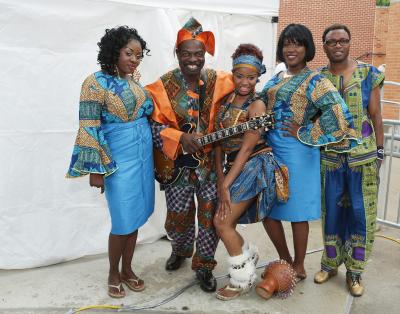 Thursday, Feb. 13
Toby Foyeh and Orchestra Africa will perform on Penn State Behrend's campus as part of the Office of Educational Equity and Diversity Program's (OEEDP's) Rhythms of Life Series.
The series began in 2002 with the mission "to inspire an appreciation of all people through vibrant presentations of the arts." Included in the series are three concerts during the fall and spring semesters. All events are free and open to the public.
"Since its inception, we've always felt that the series would provide a great opportunity to promote cultural awareness on campus through performance arts," said OEEDP director Andy Herrera.
When planning the series each year and considering which artists to include, Herrera and his staff consider the nationality of different students on campus. "I work closely with the Multicultural Council that houses other organizations (which) include the International Student Organization, Asian Student Organization, and more."
"It's always great when the students are here and they have a performer from where they are from," Herrera said. "They are so excited to hear their music, but also to share and celebrate."
National heritage celebrations are also taken into account, such as the scheduling of Toby Foyeh and Orchestra Africa during African American History Month. Foyeh, a Nigerian-American guitarist and musician, has been active for nearly 40 years, releasing his first album Here I Come in 1981. He and his band, Orchestra Africa, have performed their music — with influences ranging from Fela Kuti to Jimi Hendrix to Miles Davis — across four continents.
From 11 a.m. to 2 p.m., parking is open and free across campus, though event organizers recommend parking in the Reed Union Building lot.
— Hannah McDonald
Noon to 1 p.m. // Bruno's Cafe, Reed Union Building at Penn State Behrend, 4701 College Drive // Free // behrend.psu.edu