Richie Cole Returns to Romolos
He's baaack! Richie Role, the tremendously admire and popular jazz alto saxophonist.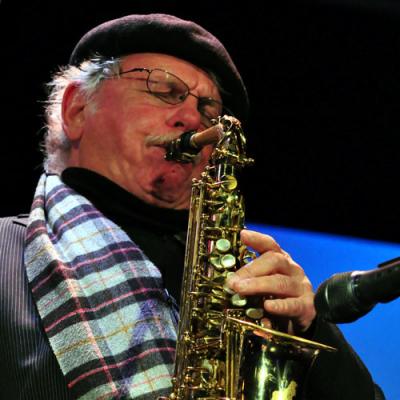 Richie Cole, the tremendously admired and popular jazz alto saxophonist.
Cole, equally adept at playing blistering bebop or caressing a ballad, has become a  fan favorite among visiting musicians to Erie.
Romolo Chocolates owner Tony Stefanelli is among Cole's devotees, and that's why he booked him once again for Romolo's Sweet Summer Series Saturday, June 27. Erieites Joe Dorris, drums, and guitarist Frank Singer will join Cole, marking their third gig with the altoist this year.
It was Dorris who introduced Erie to the Cole phenomenon. He booked Cole and fellow saxophonist Greg Abate and their band in 2007 for a JazzzErie concert held at Gannon University.
Joe and Richie hit it off, so when Joe heard Richie had moved to Pittsburgh last February, he called to say hello. Their talk ended with Cole agreeing to come to Erie to play the Anchor In with Joe and Frank. The club was packed, so they did it again in April and drew another full house.
It's been a great ride for the 67-year-old New Jerseyite since he burst on the scene in 1969 with a hot new band just assembled by the monster drummer Buddy Rich. Cole tried two other big bands — Lionel Hampton and Doc Severinson's Tonight Show aggregation — before forming his own quintet dubbed Alto Madness and immediately toured the world. He's been on the move ever since.
It's sort of a feel-good story when you find out that a highly talented musician like Cole was pretty much self-taught.
His impressive technique — his "chops'' — were learned from studying, as well as listening and steady playing. He began blowing sax at 10, encouraged by his father who owned a jazz club (that can't hurt).
Cole did lots of listening to giant saxophonists Charlie Parker and Sonny Rollins, and it paid off when he won a full scholarship from DownBeat magazine to the elite Berklee School of Music.
Praise from listeners is great, but how musicians feel about one another is really special, and Dorris and Singer can't say enough about Cole.
"He's amazing, tons of fun, and has a ridiculous sound — totally his own," says Singer.
Dorris calls Cole "absolutely one of the top artists and most enjoyable performers I have had the pleasure of working with," and adds, "Musically, I always feel like (his playing) is often brilliant – beautiful or exciting." — Bob Protzman
6 to 9 p.m. // 1525 W. Eighth St. // 452.1933, RomoloChocolates.com