Rising to the Occasion
Longtime and new bakeries thrive in Erie
March 23, 2023 at 8:00 AM
I can still taste some of the bygone treats baked into my Erie DNA — warm pepperoni bread from the original Arnone's on West 17th and Cherry streets; a slice of white sandwich bread from Frontier Cake Shop at 1650 W. Eighth St.; a sweet roll from Paramount Pastries at 715 W. 29th St. Other friends recall with delight the whipped-cream cake from Colonial Bakery at 3717 Pine Ave., and the danish from an actual Danish bakery on West Eighth and Cascade streets (Lucas Pastries, I think).
Judy Stanek, my new friend from the Glenwood YMCA pool, savors the memory of her Lady Baltimore wedding cake from Desser Bakery on East 14th Street, 60 years after she and her husband John were married.
Names of beloved Erie bakeries literally run the gamut from A to Z, starting with Art's Bakery (which opened in 1950 and is still going strong while ownership is changing) and ending with Zehe's, which at one time had seven stores, including one just north of the Boston Store. Even into the early '90s, Erie boasted many homegrown bakeries on main streets and at corner stores.
Some were named for their locales, such as Hess Avenue and Washington Place, or after the owners, including Haft's at 915 East Ave., Kuneman's at 1028 Cherry St., and, of course, Sontheimer's, which started at West 31st and Cherry streets before moving to its current location at 3720 Sterrettania Road.
The Sontheimers also owned Paramount on West 29th Street and Mary Ella's Pastries, East 30th and French. The late Art Detisch Jr. did his apprenticeship at Sontheimer's, later becoming a partner with Harry Shea at Frontier Cake Shop before opening his own bakery on West Lake Road. When Detisch walked away from the baking business after 30 years to run for Millcreek Supervisor, he joked to the Erie Daily Times that he had grown tired of standing on his feet all day.
As Detisch asserted, being a professional baker requires long hours of physical labor — one reason the bakeries from my youth are gone. Although cookie-cutter chains dominate so much commerce today, local bakeries are still thriving in Erie. Some have been run by the same families for decades. Others have been started by entrepreneurs, catering to those partial to gluten-free and vegan baked goods. Some bakeries are part of full-service restaurants; others have foregone storefronts and sell their goodies at local cafes. Whatever the business model, Erie bakeries of today offer the same warm atmosphere as the old ones, making customers feel like family.
I didn't make it to International Bakery, founded in 1924 and known for its Italian cookies, for this story, but Erie's New Americans, following the path of earlier immigrants, are establishing mom-and-pop food enterprises around the city.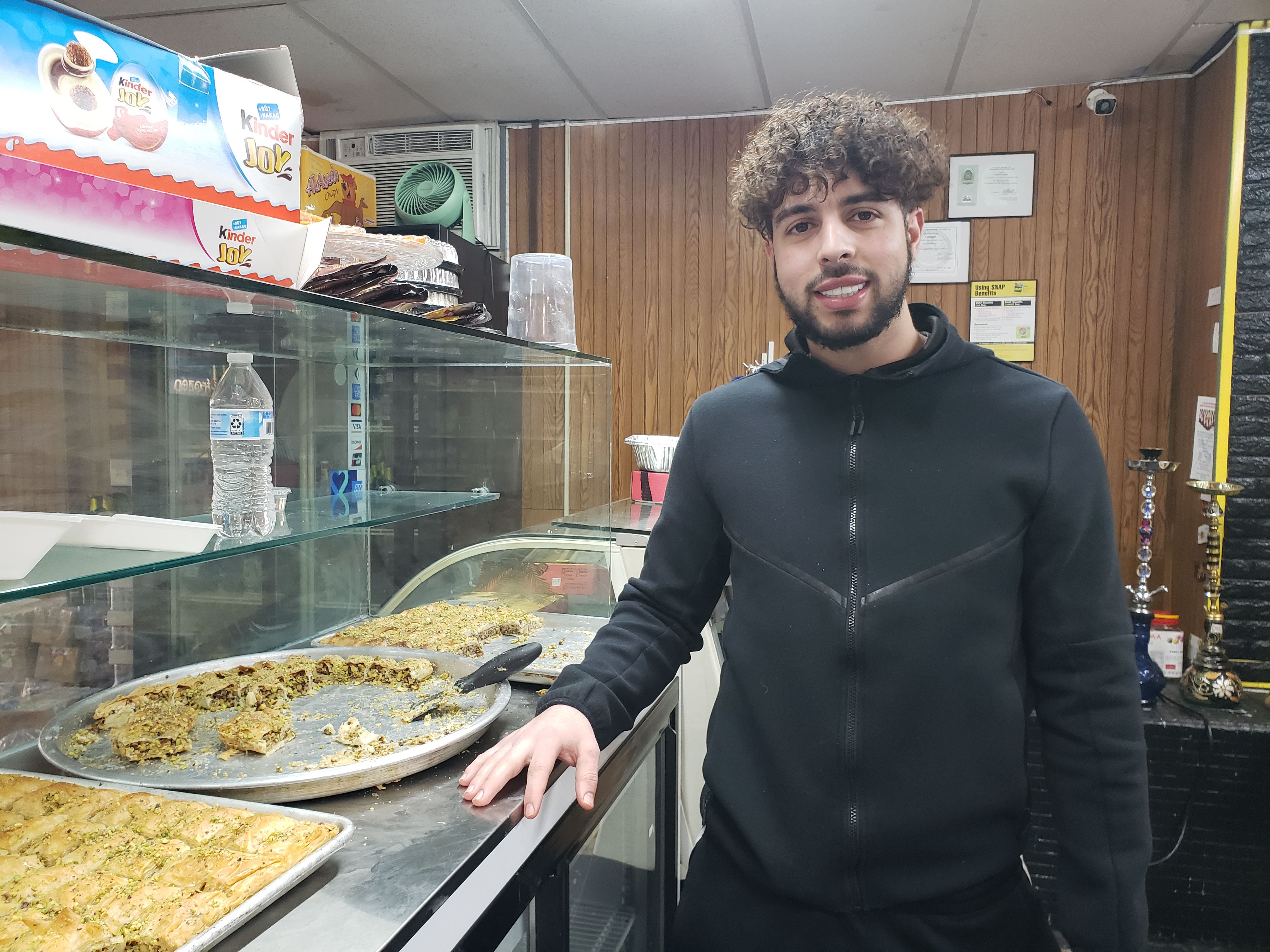 Basam Zahra, 20, works with his brother Rakan, 23, at Rakan Market Bakery, 815 East Ave., which sells three variations of baklava.
Niken Astari Carpenter, New American liaison for the City of Erie, said many of the new food stores, restaurants, and delis sell homemade desserts including basboosa, kunafa, and baklava. Rakan Market Bakery opened about a year and a half ago in the former Pio's Pizza at 815 East Ave. They sell salads, appetizers, sandwiches, platters, and groceries, but their specialty is three types of baklava.
Owners Basam Zahra, 20, and his brother Rakan, 23, came to Erie seven years ago from Syria and learned to make baklava from their dad, Nizar, who worked as a baker in Saudi Arabia for 20 years. The family celebrated their naturalization as American citizens on Jan. 20. Like long-time Erie bakers, the Zahra brothers put in long hours — daily from 10 a.m. to 7 p.m. Despite that schedule, Basam said he still finds time to work out at Erie Fitness NOW. He stays in shape, he joked, because "I'm not a sweets type of guy." Still, if he had a preference for their baklava, he likes the ones with pistachios.
On the other side of town, at Bill's Bakery, 1825 W. 26th St., the selection of Italian bakery items is small but reliably delicious. Bill's also sells Polish sweet breads, nut rolls, and poppy seed rolls at Easter time. I was surprised to learn that the proprietor isn't Italian and that no one named Bill works there.
Chris Misevski, who owns the bakery with his wife Eva, came to this country from Macedonia with his parents Kosta and Marie at age 3. His father worked at Majestic Bakery for five years but was "let go" and ended up buying Bill's Bakery from the original owners, the Gentile family, who had named the bakery after their son Bill.
Chris helped his parents while he attended Twin-Tech (now Erie High). After graduation, he tried out as a kicker for the Baltimore Colts, the Pittsburgh Steelers, and the Cleveland Browns and later played semi-pro for the Erie Express, but the bakery became his full-time occupation.
Longtime patrons like Ron Sivillo appreciate that Bill's Bakery still makes bread the old-fashioned way. Chris and Eva begin rolling the dough out by hand at 10 p.m., then bake it in the original brick ovens without proofing the dough. That's what creates the "spaccare" effect, so the hard crust splits in the middle and the inside is soft. They're then ready to open from 6 a.m. to 1 p.m., Tuesday through Sunday.
Chris knows his customers, so he was surprised when he got a call on Christmas Eve from a guy asking if the bakery still made bread and rolls. "I'm Bill," the caller said. It was the original owner's son. "My hair stood up on end," Chris recalled. "God brought him here for me to see who carries the name of Bill." Chris never heard from him again.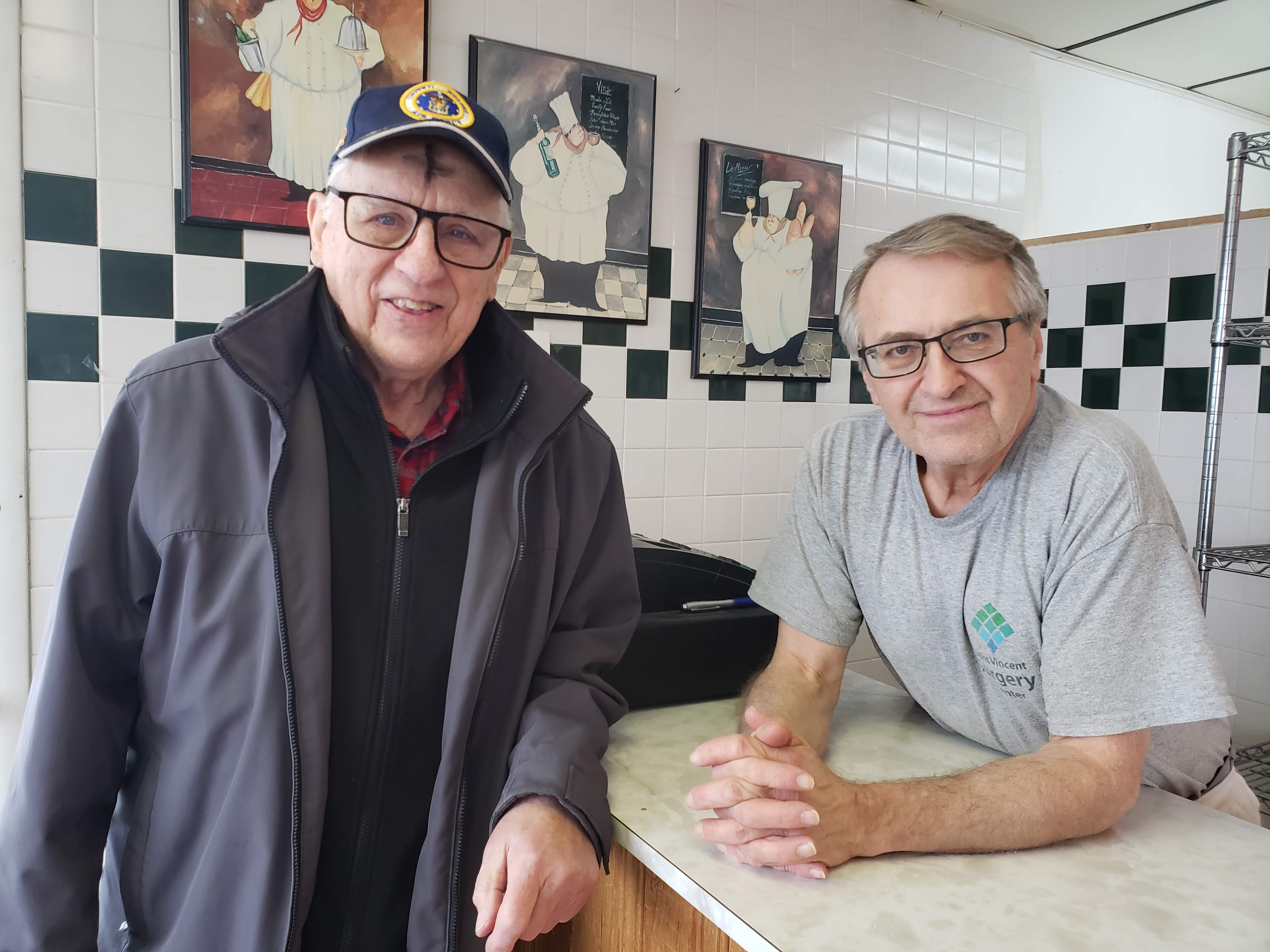 Longtime customer Ron Sivillo (left) chats with Chris Misevski, owner of Bill's Bakery, after Ash Wednesday services at St. Paul's Church.
Gordon Evans certainly knows the namesake for his bakery — Art's at 4380 W. Ridge Road. His dad, Art, started the bakery in 1950 and now Gordon, 65, is ready to retire — almost. He's sold the business to a young couple and he is helping them out for a time as they continue to offer Art's traditional favorites from cookies to pepperoni balls, as well as limpa, a sweet Swedish rye bread that brings in customers from all over.
One joy of owning a bakery has been getting to know the customers, whom he has regarded "as extended family over the generations," he said. "Every time they walk through the door it brings a smile to my face," he said. He also thinks about the "hundreds of employees" he's met through the years. "It's been wonderful."
Each independent bakery in Erie makes "favorite things that stand out," he said. Those are items you won't find at a chain supermarket. Baking is both a science and an art, Evans said, and it's not a coincidence that the logo for Art's is an artist's palette. "It's subtle. I designed the logo on the back of a napkin one day," he said, with a laugh.
A love of baking is often passed down through the generations. Thelma Blanks-Howard operates Thelma's Tasty Temptations at Blasco Library and Café 7-10 at 7 W. 10th St. with her daughter, Mabel Howard. The eateries are offering new brownie specialties and sweet potato pie, which Thelma's mother taught her to make. But if you want to bake like mom or grandma, be sure to write down the ingredients and the directions while you watch them, she advised. "Otherwise, you won't have it."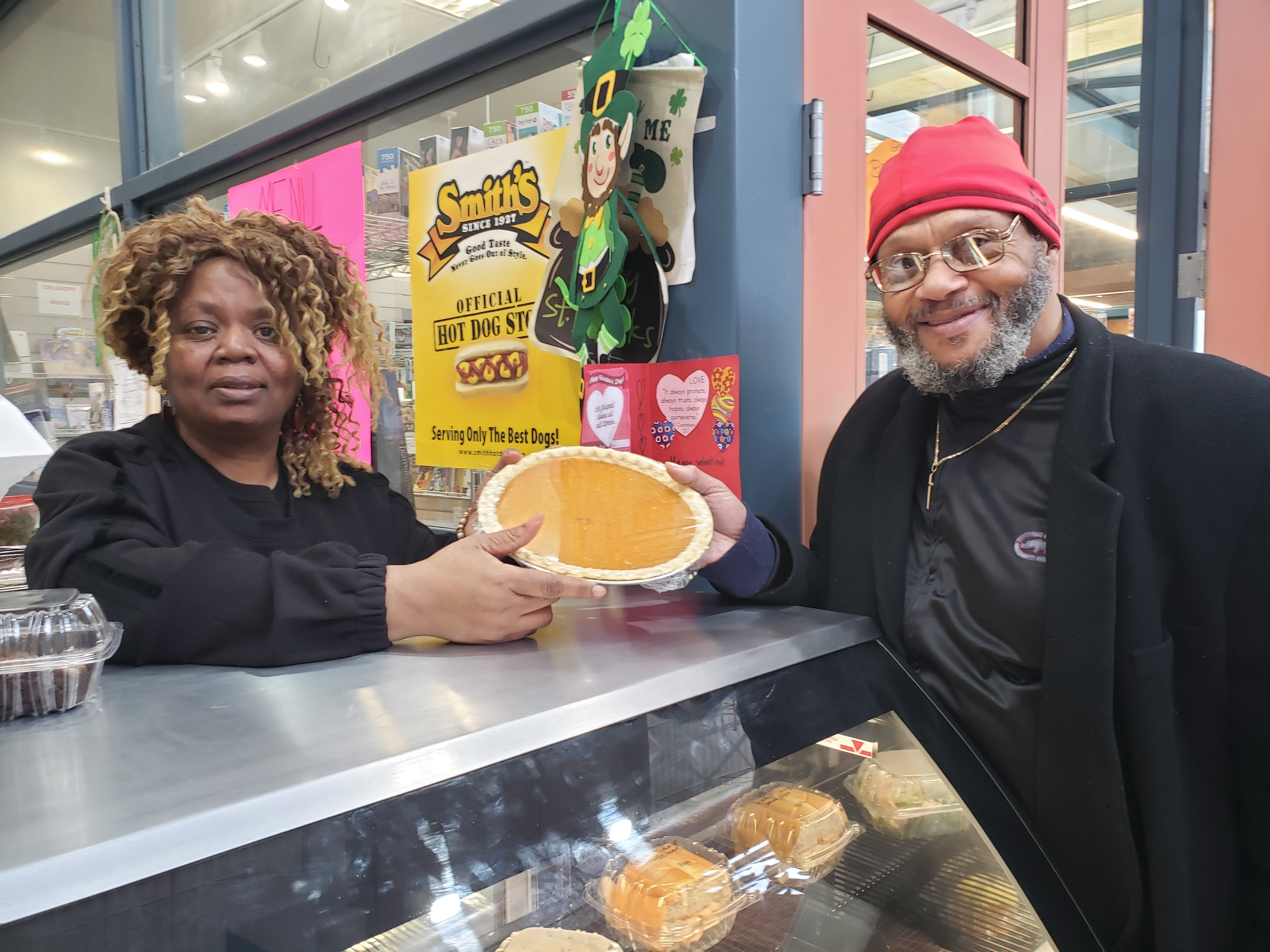 Thelma Blanks-Howard shows off a sweet potato pie to Sylvester Quinn at Thelma's Tasty Temptations in the lobby of Blasco Library.
Both of the Howards' businesses are cozy and comfortable. So is the Purrista Cat Café, 30 W. Eighth, where owner Dena Rupp sells treats from three local businesses: Herb and Honey Bakery, owned by Jessica Schultz; Sundae Vegan Desserts, owned by Samantha Randall; and Crumb Cakes Bakery and Catering, owned by Kelly Chaney. Schultz also sells baked goods on Fridays and Saturdays at Urbaniak Brothers, 310 E. 24th St. — in a spot where Art's Bakery used to have an outlet.
Each of the women baking for Purrista has a specialty, Rupp said. For Herb and Honey, it's items like croissants and puff pastries with bee pollen. "Her stuff is truly magnificent and it's art," said Rupp. Randall, a huge animal lover, uses organic ingredients and sells vegan and gluten-free desserts, while Chaney specialties include "fun, unique cat-themed cookies and cupcakes, along with three-layer cakes and macarons. "Her decorating skills are so much fun, you don't want to eat it," joked Rupp.
At Bill's Bakery, Chris Misevski is thinking about hanging up his apron. "Forty-four years is a long time to be in one place," he admits. Gordon Evans of Art's Bakery is looking forward to spending more time with his children and grandkids, but also doing more volunteer work with a school in Paraguay. "That's a real passion of mine," he said. But do seasoned bakers really fade away? Maybe not. Evans has been asked to start a baking school for the kids in Paraguay.
Learn more
For more fun facts about the history of Erie bakeries, check out Bobby Sulecki's website, eriepoloniahistory.com, and Debbi Lyon's list of "Top 35 Bakeries in 1965," from her Old Time Erie blog.oldtimeerie.blogspot.com. On Debbi's list, I especially like the way the "B" bakeries roll off the tongue: Baker's Bakery, Balkan Bakery, Bill's Bakery, and Boll's Bakery.
Speaking of "B" bakeries, the impetus for this story began with a conversation with a friend at the Hagen History Center last year. She would like to nudge an entrepreneur to open a boutique bakery at the Flagship Food Hall featuring long-lost Erie bakery recipes, like the elephant ears and cream horns she and her husband used to enjoy on their neighborhood eating adventures in Erie. Any takers?
Liz Allen fondly remembers the former Upper Crust Bakery, at West Sixth and Cascade streets, now Virgil's Plate, where she and her two sons stopped every day after school. You can reach her at lizerie@aol.com