RNC Street Scenes
The streets are, um, somewhat alive in downtown Cleveland.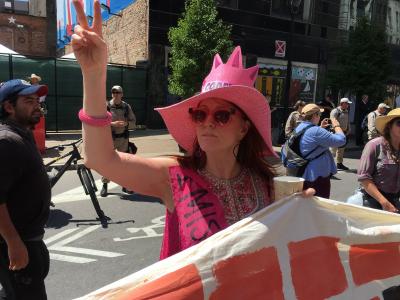 A small but boisterous group of protesters lined the street adjacent to the security perimeter of the Republican National Convention in Cleveland Wednesday afternoon. The group, comprised of several organizations including Veterans Against the War and Code Pink, formed a "Wall of Trump" attempting to block entry into the Quicken Loans Arena, the site of this year's RNC.
Members of Code Pink have been a vocal presence on the political scene during the past two decades and have protested inside the arena each night of the convention.
Code Pink is a national non-governmental organization based in Washington, D.C. that formed in 2002 just ahead of the post-9/11 invasion of Iraq. As delegates left the Quicken Loans Arena on Tuesday night, national television audiences saw Code Pink co-founder Jodie Evans being obstructed by Trump Supporters waving American flags as she attempted to display a banner that read "No Racism, No Hate."
There is also a prominent police presence in downtown Cleveland. However, thus far there has been little tension between police and activists, including at the "Wall of Trump" event, which appeared to be the largest protest of the afternoon.
A group of bicycle police, equipped with helmet cams, also lined up as protests mounted this afternoon.
Smaller collections of demonstrators gathered in Cleveland Public Square. One man, a Cleveland native who identified himself only as "John," dressed as "Septa Unella," a character from the popular HBO series Game of Thrones, and marched a sex doll masked with the face of Hillary Clinton in front of him. The scene was a parody of an event in Game of Thrones in which Septa Unella, a nun, walks through the streets of the capital behind the naked, deposed queen shouting "Shame!"
"I don't support either candidate," he said," but I thought Hillary would be more appropriate today." He opened a bag at his side to show me that he also came equipped with a Trump mask.
Across the park, a more encouraging moment. Two men, one holding a "Dump Trump" sign and the other with a sign that listed "Clinton Scandals," talked together in what one of the men described as a "peaceful conversation."
"I don't agree with John Kasich on much," says Dick Bardoulas of Copley, Ohio, "but I agree with his stance on the convention and his feeling toward Donald Trump."  
Bardoulas is a self-described progressive who will support Hillary Clinton in the general election. "I supported Bernie with my heart," he continued. "I'm supporting Hillary with my head."
Jim Wertz can be reached at jWertz@ErieReader.com, and you can follow him on Twitter @jim_wertz.