Romolo Chocolates in Master Class of Its Own
Four generations of immaculate confections
March 17, 2021 at 11:00 AM
Confectionery, like music, is only as good as its foundation. As both a master confectioner and an accomplished jazz bassist, Romolo Chocolates frontman Tony Stefanelli has an exceptional feel for both disciplines. 
Although the summer concert series he hosted at his West Eighth Street shop has been retired, Stefanelli's commitment to his craft has not. At 71, Stefanelli still plays the roles of student and teacher with equal verve, studying unfamiliar techniques (such as the fresh cremé truffle, which almost looks too good to eat) while passing on those tried-and-true to his two sons, confectioner Roman and chocolatier/also-musician Anthony (who moonlights as drummer for The Groove). 
Under the capable management of the elder Stefanelli's wife, Jennie, the family has banded together to advance both confectionery practice and theory. Next spring, the company expects to host an all-day EduTour as part of the Retail Confectioners International Annual Convention & Industry Expo, where other confectioners around the country will take notes about industry best practices, how to work with fresh fruit, the nuances of caramels, and nougats, and more. It's a level of authority and respect that Romolo Chocolates has rightfully built up to over its 26-plus years of existence, further informed by a legacy that dates back to over a century ago.
A teenage Romolo Stefanelli fled Italy to avoid the priesthood, spending most of his first 20 years in America apprenticing under big-name candy makers such as Bunn and Loft's (NYC), Tootsie Roll, and Brachs (both Chicago-based). In 1926, he and his wife Elizabeth settled in Erie and opened Stefanelli's Candies out of their basement at 414 Raspberry St. Many a sweet tooth was seduced, and the couple eventually generated enough capital to open a standalone shop at 2054 W. Eighth St. 
Along with Pulakos 926 Chocolates, the two family-owned companies were the class of Erie candy for much of the 20th century, maintaining a friendly rivalry. Both survive, although under different ownership after being sold outside their respective families. While Tony lamented not being able to carry on his grandfather-and-mentor's business at the time of the sale in 1993, he vowed to proudly carry on his name as he and Jennie opened Romolo Chocolates the following year in the Schaal Plaza on West 12th Street. 
"To overcome that was the greatest thing that ever happened to me," recounts Tony. "It gave me a chance to start anew, to bring my family into the future. We really dove into it and gave birth to a company with a wide-open view."
Central to realizing that vision was a new location that would offer the immersive experience he and Jennie sought. Tony had long been enamored with the Frontier Park area he grew up in, and the perfect parcel became available after a bit of haggling with the previous property owner. The bowling alley that once stood there had collapsed — turns out load-bearing structures are only as good as their foundations, too. Properly supported with a stable concrete footer and a solid business plan, the new and improved Romolo Chocolates opened in 2003.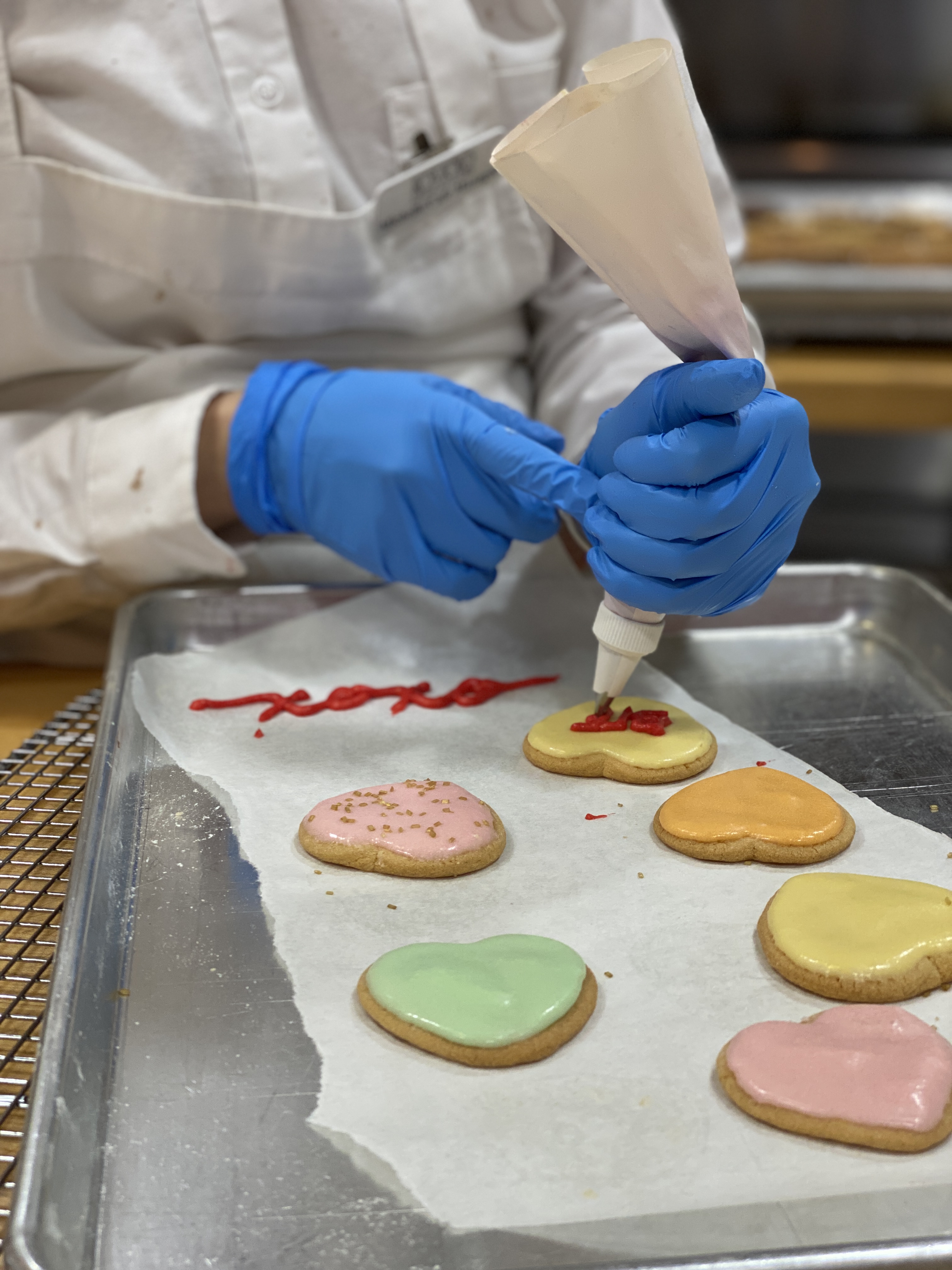 A baker decorates Valentine's Day cookies in the kitchen of the Cocoa Cafe at Romolo Chocolates, 1525 W. Eighth St. All bakery items are proudly made from scratch by pastry chef Jennie Stefanelli and her staff.
Diversify, diversify, diversify
Whereas the ongoing pandemic has toppled many other businesses, Romolo has barely been shaken. Yes, it's true we've needed the solace of chocolate this year more than perhaps any other in recent human history (indeed, it may very well be the reason you're still standing). But the reason for Romolo's resilience transcends our reverence for Theobroma cacao — the "food of the gods" manifested in the seeds of the cacao tree. 
They're still here because the two pillars the Romolo business model rests upon — tradition and diversification — are constantly reinforced. The Stefanelli family recognizes they have a legacy and a heritage worth upholding and celebrating, but also realizes the need to evolve with the times. In other words, they'll never abandon what they're known for, but they'll always seek to build and expand upon that reputation.
Diversification is literally built into Romolo's current location at 1525 W. Eighth St. Not only does it house a candy shop, but also a gift shop (Mercato), an events space (the whimsically decorated Sugar), an outdoor piazza, and the Cocoa Cafe, featuring hot cocoa, Italian espresso, ice cream and an assortment mouth-watering scratch-made baked goods prepared by pastry chef Jennie Stefanelli and her staff. Although linked together with doors, each space is separated to cultivate a distinct and immersive experience. 
Over the years, the cafe in particular has been a boon for business, spacious and flooded with natural light to promote casual chatter. It's a place you can hang out and relax, whereas the candy shop is more a place for marveling at craftsmanship and wrestling with temptation (although truth be told, you're not safe from either of those things in the cafe either). "All of us look forward to a full house again," Jennie articulates.
Speaking of temptation, in the past year alone, Romolo's has added the following items to its already tantalizing portfolio: Caramels and nougats infused with dried Montmorency cherries, apples, blueberries, and pistachios. Coconut macaroons in dreamy flavors like praline, cinnamon roll, strawberry, and caramel. Housemade ice creams incorporating a full complement of also-housemade delectations — such as banana pudding, peanut butter cups, birthday cake, strawberry shortcake, and Monster cookies. On that note, the bakery team's latest creation, the Caramel Apple Crisp cookie, is practically begging for the creamery treatment.
There are also now more and more efficient ways to acquire those temptations. "The pandemic made us focus on ways to serve customers and new channels for getting our product out to them," Jennie explains. "We joined Grubhub and DoorDash delivery services, we used our patio service window effectively, and pivoted to shipping even more during the height of it. Our team perfected fulfilling customer orders efficiently in-store so customers can be in and out quickly."
And they've continued to diversify operations behind the scenes. A new one-shot depositor machine produces payloads of molded chocolate items in hours instead of days. A new packaging room and warehouse have allowed for a greatly expanded shipping department — five times bigger now than at the pandemic's start — to keep up with a barrage of online and wholesale orders. A new development at the corner of Route-19 and Robison Road (still in the planning phase) will facilitate pushing out more volume to accounts that span increasingly further. Locally, the brand has tapped into the heady potential of cross-promotion— collaborating with Lavery Brewing Company to concoct the much-coveted Grandpa Romolo's Famous Sponge Candy Stout.
"We are continually trying to expand our footprint. We are not dead-committed to doing any one particular thing," says Jennie. 
Nonetheless, she and Tony are very mindful of tradition. "Even if you're growing, be who you are."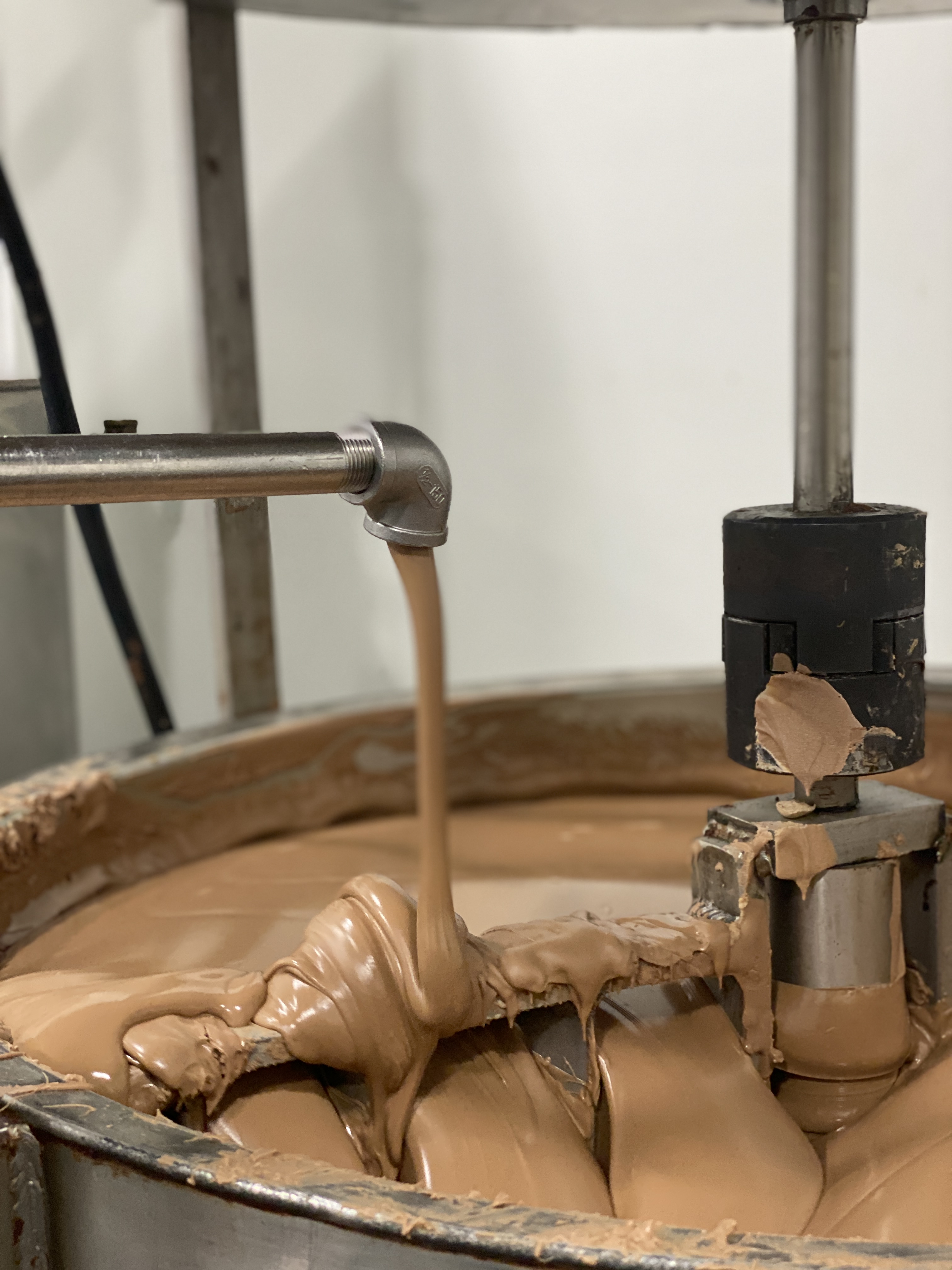 Unlike the overwhelming majority of other chocolatiers in the country, Romolo Chocolates uses milk cremé in their milk chocolate recipe as opposed to the more typical milk powder.
But never compromise
If these expansion plans seem to smack of industrialization or a dilution of the product, rest assured.
"Tony lives and dies by quality," affirms Jennie. "We will never compromise on ingredients. If we can't find something, we search for it. If something's not good enough, we get better."
Immediately subordinate to ingredients is technique. In the building's heart, generations-old machines whip, whir, and stir together divine delights both time-tested and yet-untasted, lorded over by honest-to-goodness human beings. Given the Stefanellis' obsession for details, automation will always be just a part — never the entirety — of its candymaking processes. In the enrobing room, an old conveyor chauffeurs orange and vanilla cremés under a waterfall of molten chocolate. They emerge from the other side with a glorious sheen, where an employee swirls an identifying "O" or "V" onto the crown of each piece — an understated nuance that is practical, artful, and distinctly human. 
Next in the queue for a baptism? Sponge candy, the crisp, airy, melt-in-your-mouth toffee widely beloved by natives of Northwestern Pennsylvania and Western New York and sadly unbeknownst to most elsewhere. The variously sized morsels look beautiful in their imperfections as they make their procession through the enrober, having begun their journey together as a giant blob not 24 hours earlier. Sponge candy's primordial ooze is formed when baking soda (sodium bicarbonate) is heated along with sugar, corn syrup, and water (the elements of a traditional toffee). Carbon dioxide molecules are released and subsequently trapped as the mixture is heated, leaving behind countless tiny bubbles. The blobs contract overnight into a hardened toffee disk, which is then hand-sawed into the bite-size pieces that are chocolate-coated.
Sponge candy, of course, remains Romolo's best-seller — along with the extremely perishable (but so irresistible it doesn't matter) chocolate-covered strawberry. But although the company probably could make a living off these two marquee products (with its chocolate-covered pretzels, melt-a-ways, pecan frogs, truffles, barks, etc. being tantalizing bonuses) that doesn't mean it is complacent. New ideas are always circulating, from customers, shows and conventions, and Romolo team members. 
"We evaluate ideas as a team, and from there it's like an R&D department. We spend some time refining the product to see if we like it, then it goes public," explains Jennie. Last year, the crew sent out a spicy serenade in the form of a chocolate bark infused with red hot cinnamon candies — customers asked, and they received. But more importantly, they fulfilled that request in a fashion they were proud of. Practice, after all, makes perfect.
So despite Tony's jazz background, he's not much of an improviser around the shop. "You can't just wing it and see what it tastes like … Music is about technique and creativity." 
Grandpa Romolo internalized the rhythm and feel of his craft, pitched his products to the Erie community, and scaled up his business — lessons he passed onto his grandson. As Anthony and Roman prepare to headline Romolo's next generation, it appears everything is working in harmony. 
If life is a box of chocolates, Matt Swanseger is probably going to eat all of them and ask questions later. He can be contacted at mswanseger@eriereader.com