Rosa's Legacy Reborn
Take a culinary trip to Meadville … and the Dominican Republic.
March 29, 2017 at 2:00 PM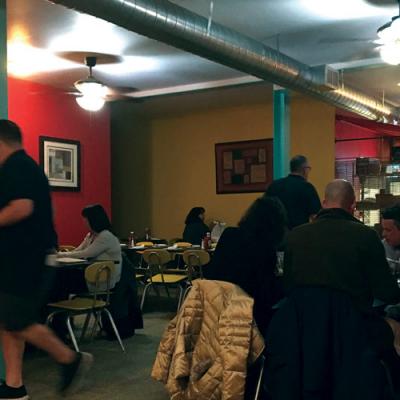 By: Mary Birdsong
Erieites who fondly remember Rosa's Legacy when it was on Brown Avenue in Erie have reason to celebrate. The good news: Rosa's has reopened. The bad news (for Erie, anyway): It's now located in Meadville.
Rest assured that this restaurant is worth the 45-minute trip from Erie.
After a recent visit, I am happy to report that dining there will be the same great experience that many of us have missed. The atmosphere is similar to its old digs, maybe a little less petite and charming. But the music plays, fans spin, and bright colors grace the walls, all putting one in the right mood for casual and laid-back Caribbean dining.
The menu, as before, contains just a few carefully curated selections in each category of meat, poultry, and seafood, bringing the best of authentic and homey Dominican cooking to the table.
All offerings are prepared from scratch, with marinades fashioned for each particular type of meat or fish. Proprietor Neil Brode also pointed out that everything on the menu is gluten free, except for the bread pudding.
Before we could barely get settled at our table, two cabbage salads arrived dressed with pickled onion and bathed (nicely) in a piquant unpretentious vinaigrette. They were delicious, but in hindsight we should have saved them for eating alongside our entrees, as the dressing would have provided a crunchy and tangy counterpoint to what was to come.
My husband Mike selected the Fish of the Day, which happened to be barramundi, often called Australian sea bass. It was marinated in a sofrito (peppers, onions, herbs, and spices) and then pan fried with onions and peppers. The fish was flaky, tender, and had taken well to its marinade. In other words, perfectly done. For his side, he chose the yellow rice of the day, which was a simple but flavorful pilaf including black beans, and an agreeable complement to the fish.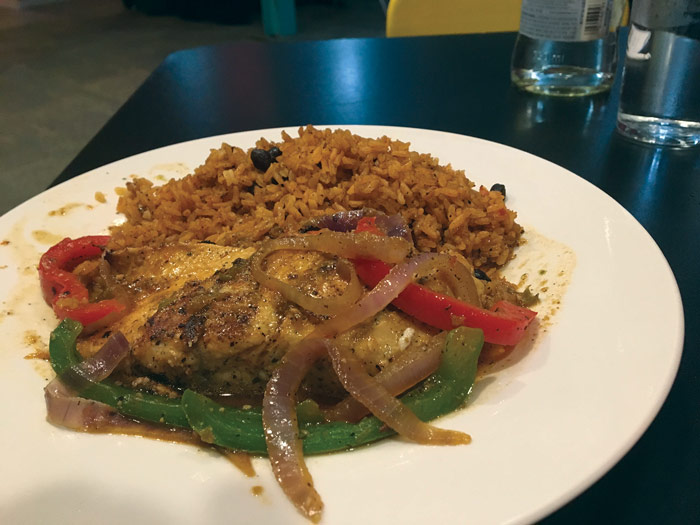 I had the Oxtail, a braised beef dish I had been eager to try before the Erie location closed. It surpassed expectations with moist, tender, and pleasingly seasoned meat. The white rice and beans sides, typically an afterthought in many places, shone as brightly as the main ingredient, the red beans having a delicate smokiness and just the right amount of tooth.
An extra side of fried green plantains (tostones) and fried sweet plantains (plátanos maduros) we ordered were eagerly dunked in the bean juice as well as into a sample of tasty Shrimp Soupy Rice we enjoyed compliments of the house. It was here that the cabbage salad would have been an excellent foil to the entrees, following the Dominican custom of mixing meal components together for a delectable symphony of flavors.
By coincidence, we knew some fellow diners, part of a foodie group in Meadville, who were eager to share their notes about entrées we had not tried. Nancy Smith and Alice Deckard both praised the Shrimp in Garlic Sauce, with Smith remarking, "When you can smell the garlic first, you know it's going to be good." Deckard, who hesitates to order shrimp in a land-locked location, found it "so tender and flavorful." The Spring Pork Chops also received rave reviews from Devon Stout and Mike McGrath as "aromatic and moist." Rob Smith summed up the dining experience by saying, "Nothing is overly spiced. The flavors are subtle and just right."
Exactly. The emphasis here is on flavor, not heat.
Knowing this was a BYOB establishment and aware it offered house-prepared juice beverages, we brought our own rum. A sweet and creamy morir sonando (milk with orange juice, lime, vanilla, and sugar) went well with the rum, as did the parcha juice made with passion fruit. They also offer a tamarind juice, lemonade, and soda. A sample of all the juices arrives at every table before the meal to help you choose your beverage. If you go for craft beer, an excellent idea may be to stop at VooDoo Brewery just around the corner for a growler of your favorite brew. You'd be supporting two local businesses in one fell swoop.
Presiding over it all is Brode, whose pride is obvious. "We stick to basics. What goes on the plate is the most important thing. All our time, energy, and passion is for the food." It's also clear he's happy to have Rosa's operating again and is pleased to be a part of Meadville's revitalization. "I want this to be a community place, be community driven," he says. "People like Ed Fine who has been working hard to re-make the downtown area have my gratitude for all the help they have provided."
Brode also wants to send special thanks to the "Erie crowd" that has shown up with support he calls "unreal."
If you live in Meadville, rejoice to have a very fine restaurant close at hand. Erieites, plan your weekend evenings accordingly.
964 Park Ave, Meadville // 4 to 8 p.m., Thursday, Friday, Saturday // Cash only // 737.7678
Mary Birdsong can be contacted at mBirdsong@ErieReader.com, and you can follow her on Twitter @Mary_Birdsong.