Sailing on Choppy Waters
Potential devastation in the wake of EPA budget cuts 
April 12, 2017 at 3:30 PM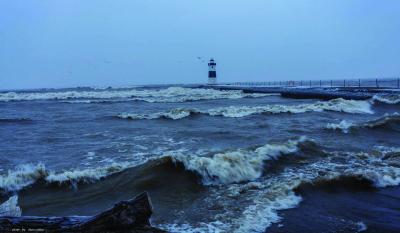 In 1991, Erie Bay was designated an official Area of Concern by the U.S. Environmental Protection Agency thanks to "excessive nutrients, organic compounds, and heavy metals," per the official listing document. It goes on to say, "Point sources of pollution include steel mills, a foundry, water treatment plants, and other industrial facilities. Combined sewer overflows and urban runoff contribute to nonpoint pollution."
Fish with tumors were found readily, the growths tied to the presence of heavy metals such as nickel, lead, and cadmium as well as polycyclic aromatic hydrocarbons (PAHs) in sediment. Being listed as one of 43 AOCs on the Great Lakes marked the bay as one of the most polluted pieces of water in the region.
Nineteen years after the bay's listing, in 2007, the first Bay Swim was held, and in 2013 the bay was delisted as an AOC. Millions of dollars were pumped into the project, the most going to update the sewer and storm water runoff systems. No hotspots of toxic chemicals were located, dredging was allowed again, and fewer fish with tumors were found.
Where We Are
Marinas are now flourishing, three hotels have opened, the convention center and tall ships bring thousands to the bayfront, and anglers hang off of every open spot. Scott Enterprises is breaking ground soon on its $150 million Harbor Place project. Between the beaches of Presque Isle that see approximately four million visitors per year and the new bayfront amenities, the local economy realizes a $74 million boost.
If the waters of Presque Isle Bay were still laden with heavy metals and toxic hot spots, none of these projects would have materialized.
Most of the money to actualize the bay cleanup came from the EPA. In 2010, when the Great Lakes Restoration Initiative (GLRI) was in its first full year, and ever since, most projects involving water that take place in the Lake Erie watershed are funded through the GLRI conduit. That includes removing or reducing the presence of invasive plants and animals, monitoring fish populations, improving riparian ecosystems in the Lake Erie watershed, and monitoring drinking water quality, small flow treatment systems, harmful algal blooms, and the daily water quality testing of Presque Isle's beaches in the summer.
Besides being regulatory bodies that ensure clean water and air, the GLRI and the EPA are economic engines, especially in the Great Lakes region. Since its inception, GLRI has pumped more than $1.7 billion into projects and programs in the Great Lakes area. That money funded jobs associated with the activities of scientists, biologists, water quality experts, and health and safety department officials. Since 2009, our region has received $2 million in capacity funding alone (there is also a competitive grants program).
The $1.7 billion investment in the Great Lakes was a good one. According to a study by Michigan Sea Grant in 2011, which utilized 2009 Labor Bureau statistics from the Quarterly Census of Employment & Wages, more than 1.5 million jobs generating $62 billion in wages are directly connected to the Great Lakes.
Just under 25,500 of those jobs are based in Erie County, as the study included "only jobs in specific industries in the counties bordering the Great Lakes." If you average the total Great Lakes wages, the annual salary of one job is more than $41,000. With 25,500 lake-related jobs in Erie County, the total annual wages stemming from lake-related employment equals more than $1.04 billion.

But Things Change
In 2016, the GLRI approved budget was $300 million, which, as part of a Congressional budgetary continuing resolution, extends until April 28, 2017. This means that because the 2017 budget was never finalized, funding for 2017 was to remain the same, but would become negotiable after April 28.
In his budget proposal for 2018 sent to Congress on March 16, President Trump requested that the GLRI's $300 million allotment be reduced to $10 million. Twelve days later, on March 28, Trump further requested $50 million from the current 2017 GLRI budget to cover early costs of building the wall on the U.S.-Mexico border.
To add insult to that injury, in preliminary EPA budget documents obtained by the Washington Post and published on March 31, the GLRI is to be eliminated entirely: "Funding and FTE (full time equivalent) for the geographic program are eliminated, returning the responsibility for funding local environmental efforts and programs to state and local entities."
The document is labeled "Confidential and Pre-decisional."
No one holds the crystal ball that foresees where this is going: If Trump's proposal will stand and the GLRI will be eliminated, or if Congress will override his axe and spare some EPA programming.
Worst case scenario: If the agencies in Erie County would lose all GLRI funding, what would it mean for you and me?
Tim Bruno, chief of the office of the Great Lakes for the Pennsylvania Department of Environmental Protection, says it would reduce public health and safety. "As only one example, GLRI money recently went toward purchasing and outfitting five new Emergency Spill Response trailers and equipping a sixth. It helped us partner with the Erie County Department of Safety to vastly increase response coverage and time in the event of a hazardous materials accident, something of great concern with significant quantities of potentially dangerous chemicals traversing rail and highway systems passing through Erie County every day."
And GLRI money can be found in places you may not imagine. According to Bruno, a program called PA Vines was developed in conjunction with the Erie County Conservation District that works with local vineyards to improve the environmental sustainability of agricultural fields, thereby increasing profitability for growers. GLRI money has also been used to work with the Erie County Planning Department to further advance storm water management.
These are not small concerns, given that we rely on Lake Erie for our drinking water. In fact, to see the larger picture, remember that the Great Lakes are joined into one continuous waterway. What happens in one affects others — especially Lake Erie, since the water (and pollution) of three other lakes flows into ours. According to statistics by the International Joint Commission, a U.S-Canada collaborative body that regulates shared water uses and investigates trans-boundary issues, more than 40 million people in Canada and the United States get their drinking water from the Great Lakes.
Karen Tobin, director of environmental health services for the Erie County Department of Health, handles one part of the healthy watershed puzzle on a local level. Her office receives approximately $220,000 each year to monitor water quality at Presque Isle State Park and Freeport Beach in North East. It also monitors for harmful algal blooms (HABs) at the same sites.
"We do this monitoring in collaboration with the PA Department of Conservation and Natural Resources and the Regional Science Consortium," explains Tobin. "The money pays for the collection and analysis of water samples, and even the electronic sign at the entrance to Presque Isle that posts advisories to visitors. This gives park officials the ability, in real time, on a daily basis, to keep the public up-to-date on water safety."
Her office is also responsible for the monitoring and regulatory compliance of small flow sewage systems that occur on private properties. If a parcel of land cannot use a septic system — typically because it has poorly-draining soil such as clay — the small flow systems are used. These systems process wastewater and sewage directly and discharge into a nearby creek.
"Erie County currently has 262 of these systems that flow into the Lake Erie watershed and 179 that flow into the Allegheny River watershed through French Creek," Tobin explains. "We are currently using GLRI funding to map every one of these systems for a better understanding of how and where the systems outflow." They also spend a considerable amount of time monitoring existing systems and educating landowners about proper maintenance.
"If funding is eliminated," Tobin warns, "we would not have the time or resources to monitor for compliance or educate landowners who are emitting water from their systems directly into the lake."
Though it may not seem like it, public education has been key to improving the local environment, and a significant amount of GLRI funding was directed to education as an important component of preventing future degradation.
Thanks to the Center for Great Lakes Literacy, created by a partnership between the U.S. EPA Great Lakes National Program Office and Sea Grant institutions, Marti Martz, senior coastal outreach specialist for PA Sea Grant, offers professional development opportunities for educators that puts them on research vessels, and in laboratories and in the field with scientists doing hands-on studies. The CGLL also funds programs for students of participating educators that bring them into labs to spend time with experts.
"This year, CGLL educators are focusing on locally relevant issues by bringing their students to the Regional Science Consortium at the Tom Ridge Environmental Center," says Martz. "Through lab and field activities, students in grades four through 12 are learning how science is relevant to their lives."
"Relevancy to our lives" is a critical issue at this point in time. Many people view the EPA as an agency that imposes restrictions on what citizens and corporations can do. As a candidate, Trump called the EPA a "job killer" and promised to reduce it to "tidbits."
Unfortunately, for many living on the Great Lakes, eliminating the EPA would be the job killer. According to Bruno, the EPA now delegates the authority to enforce the law and implement mandated programs. "If funding is eliminated without eliminating the mandate for enforcement, we wouldn't be able to do it as well, if at all."
In an interview with the Allegheny Front public radio program, David Hess, secretary of Pennsylvania's DEP under two Republican governors in the 1990s, said that the staff of people who do inspections and review permits has already been reduced by 22 percent over the last decade. "If people don't get permits, they don't do their projects. If they don't do their projects, jobs aren't coming in, factories aren't expanding. So it can have a major economic impact. The department has been in triage mode, really, for the last decade."
Bob Light, director of the Lake Erie office of PA Sea Grant, was blunt: "Cuts would affect staffing projects and education." Projects that could be affected include land acquisition, the removal and prevention of aquatic invasive species, both plants and animals, and training programs.
Light says that after Presque Isle Bay was delisted, it was an opportunity to look at other worthwhile projects. One of them was designing a system that standardized how fish tumors are evaluated, which is now used across the Great Lakes basin. "With no GLRI funding in the future, we would not be able to launch new initiatives such as this one. Plus, we would no longer have a seat at the table during regional or national decision-making."
Other areas of the economy would suffer in less noticeable ways. Sarah Whitney, extension leader and associate director in the PA Sea Grant Susquehanna office, says that property values decline for landowners whose waterfront property has a high quantity of invasive plants blocking access for fishing and other recreation. "Reducing or eliminating aquatic invasive species (AIS) improves fishing and boating conditions and raises property values."
And she says it's far more expensive to control AIS than it is to prevent their spread in the first place, making the outreach component of the program maybe even more important than their control work.
Whitney adds, "Pennsylvania relies heavily on GLRI money because the state doesn't have its own budget for AIS as other Great Lakes states do. If the budget for AIS work is cut or eliminated, it would be much harder for us to do the outreach and control we'd like to do."
So What's To Do?
"Put simply, cuts to the EPA signal the Trump administration's disregard for its responsibilities to protect the health and safety of American citizens."
People who are dissatisfied with the possibility of drastic cuts are many. One of them is Patrick McDonnell, acting secretary of the PA DEP. In a scathing letter to Scott Pruitt, the new administrator of the EPA, McDonnell highlights the damage the cuts in funding would do to the commonwealth, including risking safe water, diminishing local water quality, abandoning farmers, stifling job creation, allowing harmful pollutants into our air, exposing children to radon gas, reducing the safety of coal miners, halting the redevelopment of contaminated industrial sites, exposing more people to lead contamination, and suppressing environmental justice. In summation he states, "Put simply, cuts to the EPA signal the Trump administration's disregard for its responsibilities to protect the health and safety of American citizens."
McDonnell also takes a moment to castigate Pruitt for his comments in a March 9 interview, in which Pruitt stated that he did not believe it has been proven that carbon dioxide is the "control knob" of the climate. "It is beyond disappointing that the nation's top environmental officer would call into question the overwhelming scientific consensus and undermine progress on this critical subject," McDonnell writes.
Unhappily, though, McDonnell made no specific mention of GLRI funding, which is funneled to the states separately from general clean air and water protection programs.
A local supporter of protecting the GLRI is Rep. Mike Kelly (R-3rd Dist). As a member of the Congressional Great Lakes Task Force, a bipartisan working group, he has signed two letters to President Trump supporting the continuance of the $300 million GLRI in the 2018 budget.
He also signed on to two letters to the House Appropriations Subcommittee on Interior. The first, dated March 30, requested continued full funding of GLRI; the second, more pointed letter says that the task force members are "united in carefully monitoring programs that are integral to the Great Lakes environment and waterborne commerce." It goes on to detail how losses in each program of the EPA could affect the Great Lakes.
A spokesperson in Kelly's office also stated that Kelly does not support House Bill 861, which proposes terminating the EPA entirely, and that he is not in favor of using $50 million of the 2017 GLRI budget to fund a border wall.
No response was received to a similar request for comments from Rep. Glenn Thompson (R-5th Dist), who has constituents in the Lake Erie watershed in eastern Erie County.
When Presque Isle Bay was delisted as an AOC, it was only the second one in the U.S. to have successfully made it off of the EPA's list. This is testament to the local people who worked diligently to achieve such an accomplishment; we should all express to them our undying gratitude.
Twenty-seven U.S. AOCs remain and nine Canadian. Of the 27 in the U.S., six are located in Lake Erie, including the Maumee, Black, Raisin, Cuyahoga, and Ashtabula rivers in Ohio, and the Buffalo River in New York.
***
This coverage is not comprehensive, nor is it truly complete. The Erie Reader will continue to follow the fate of the EPA and the GLRI as the 2018 federal budget moves through committees and to the floor of Congress for a final vote in the fall.
Until then, celebrate what we now have, but prepare to fight to keep it that way.
Mary Birdsong can be contacted at mBirdsong@ErieReader.com, and you can follow her on Twitter @Mary_Birdsong.