Santorum "Unfit to be President" Say Pennsylvania Republicans
Here I was, all ready to go off on Rick Santorum when I found I didn't have to. Someone beat me to it. Pennsylvania Republicans.
January 10, 2012 at 9:14 PM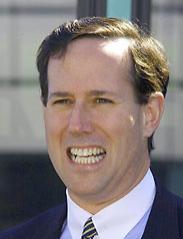 Rick Santorum's recent surge is not at all celebrated in certain corners. In fact, you could even say the reaction to Santorum as a candidate and as a man is downright negative.
And that's the reaction of Pennsylvania Republicans [link fixed]:
The common critique, however, is of Santorum's hair-trigger volatility, cruel political maneuverings, dismissiveness and notoriously massive ego.

"He doesn't have the character, the temperament or the policies to lead," said Ryan Shafik, a former Santorum intern who now runs Rockwood Strategies political consulting firm in New Cumberland. "He treats people really badly with arrogance and contempt. Yeah, he's pro-life. Yeah, he's Mr. Social Conservative. But he is, in my mind, unfit to be president."
Others don't hold back as much.
I'm not a big fan of piling on the suriging GOP presidential candidate du jour, mainly because it involves the kind of rumor-mongering horserace buzz I think poisons elections. Romney was a heartless CEO with Bain Capital? Uh, no sh*t. Look at his tax policy proposals. (And that's much more moderate than the others'.)
But Santorum. I'd pile on him any day. I just don't like the guy. Recently Michael Gerson characterized Santorum's campaign as 'The Return of the Compassionate Conservative." I mean -- what??  Forget for a moment that the original "compassionate conservative" tanked the economy, started two wars, and had America torturing people. But, Santorum, compassionate?
So here I was, planning to go nuts on our state's former Senator when I discovered I didn't have to.  
The meeting started genially, but according to people in the room, Santorum erupted when his support of deficit spending and earmarks was questioned. Turning the earnest gathering into a come-to-Jesus conflagration, Santorum reportedly yelled and cursed at the people he'd come to ask to help him.

"Rick was very combative and extremely arrogant," said Jason High, a former chief of staff to Blair County state Sen. John Eichelberger who attended the meeting. "He told us the conservative movement in Pennsylvania began with him and would end if he lost to Bob Casey. Afterward, someone who'd been at the meeting called me and said he was voting for Bob Casey because, 'This man has to lose.'"

And he did — by 17 points.