Scott Enterprises Looks to Invest in the City with New Restaurant
Business in a time of adversity? Scott Enterprises introduces Qdoba and some fightin' words. See what Ben Speggen heard.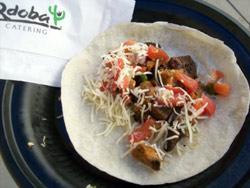 Walt Disney once said, "All the adversity I've had in my life, all my troubles and obstacles, have strengthened me… You may not realize it when it happens, but a kick in the teeth may be the best thing in the world for you."
But with an unemployment rate hanging just under 10 percent and a shaky economy staring down a double-barreled future complicated by budget cuts on one trigger and tax reform on the other, we tend to take quotes like this with a grain of salt since we feel like we've already swallowed our fair share of teeth. Besides, it's hard to picture one of the most successful and beloved men of all time with a bloody lip and an empty pocket.
A car payment, rent, utilities? Hard to believe Steamboat Willie ever worried about that.  
Getting kicked in the teeth hurts. A lot. And we know it. But maybe it does help—especially since it gives us a chance to look around and see who's willing to offer us a hand up.
"We hear the doom and gloom of the economy," says Nick Scott, Jr., vice president of Scott Enterprises, the day before the opening of his latest investment. "But we continue to build in this city and continue to reinvest in it."
And with a firmness in tone, these are fighting words and Scott, Jr. means them. After all, Scott Enterprises, while most of us are worried about the blood on our sleeves, just opened its latest restaurant: Qdoba Mexican Grill.
Located at 7165 Peach St., Qdoba opened May 16, and first thing people will notice is that it has some close neighbors—it shares a building with Dunkin Donuts—which is already open—and Famous Dave's—which will open soon.
But what will separate Qdoba from its other neighbors, a Torero's Mexican Restaurant you can see from a Qdoba booth, a Chipotle Mexican Grill right down the road, a Moe's Southwest Grill right around the corner, and three El Canelo's spread throughout the city?
"There's great interest in the country in this type of fast-casual Mexican dining," says Nick Scott, Sr., president and founder of Scott Enterprises, who sits at the pub-style table with us. "The food's fresh, they can see it being made right in front of them. They can customize exactly how the burrito's made."
He points to the outside patio, which seats over 40 people, and mentions the free Wi-Fi too. Although it's fast-casual, the Scotts don't want to rush people.
Scott, Jr. cites Qdoba's "bigger menu" and "better selection" as the reasons he expects patrons to keep coming back. Senior also adds that Qdoba's famous for its 3-Cheese Queso.
With 500 Qdobas spread throughout the United States, why bring one to Erie and why plant its roots on Upper Peach Street?
"We owned Damon's restaurant here [on this lot] and almost two years ago, we closed the restaurant with the idea we would come back bigger and better, and what we have devised is really great couple of concepts that work well together: Dunkin Donuts, Qdoba Mexican Grille, and Famous Dave's," Scott, Jr. explains. "When we closed the restaurant, we had 65 employees. When we open all three of these, we'll have over 200."
So in a garden that's sprouted a Qdoba, Dunkin Donuts, and Famous Dave's out of the compost of a Damon's Grill, Scott Enterprise, according to Scott, Sr., looks to attract people looking for great, fresh food but not looking to spend a lot of money.
From burritos to quesadillas to tacos, the menu is what one looking for fast-casual Mexican dining can expect. And the assembly line production allows for combination after combination, which keeps your options fresher than ordering, say, a No. 1 through No. 10.
But while the fresh ingredients and customer satisfaction are important to the Scotts, what the restaurant and business opportunity mean for a community that's lost its fair share of teeth seems to mean more.
"We have the motto: We promise to care, and I think we follow through in that motto on developing and investing our money in our home town," Scott, Jr. says. "[Scott Enterprises is] employing over 1,500 people and are bringing fresh new products to the market that Erie can be proud of."
And the Scotts don't stand alone in their endorsement of their new venture.
"It's awesome," says Melanie Whaley, Scott Enterprises director of marketing. "I eat Mexican five times a week, and this is the best."
So with a product they stand behind and community they believe in, Scott Enterprises is flourishing through adversity.
"One thing that we really invest in and allows us to be successful is our people. The staff and the management team, they're the ones who are going to make this work for us," says Scott, Jr. "It's a testament to them and the success of our company's a testament to our people, and this is another example of that. At this location, we hired 40 and between the management team and the staff, they're doing a great job."  
Those too seem like fighting words as Scott, Jr. speaks about his employees and potential employees with the same passion he talks about the quality food his company's now able to offer.
Adversity? Here in Erie, Pa.? In this economy?
Yes, but people are still building and will keep building. After all, the same guy who said getting your teeth knocked in is a good thing also said, "Our dreams can come true if we have the courage to pursue them."