SeaWolves City
 Getting to know the major players of Erie's Minor League Baseball team.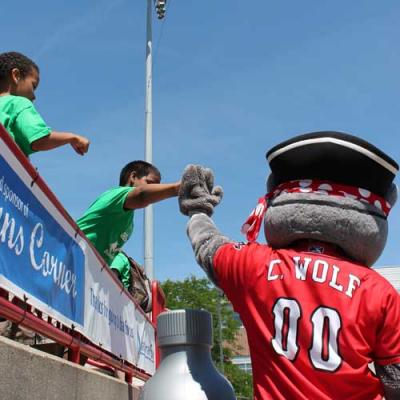 The first of the three-game set between the Erie SeaWolves and New Hampshire Fisher Cats at Jerry Uht Park earlier this month took place on a cold, blowy Friday night. Erie's Matt Crouse and New Hampshire's Ryan Tepera had traded early zeros and given up just a hit or two apiece – although you couldn't really call it a pitchers' duel, what with the pair's shaky command and walks allowed, and the fact that both teams were making contact, hitting deep fly balls and line drives, but right to fielders.
A few hundred hardy souls had braved the fog — well, not exactly fog, and not exactly rain, but something in between — to encourage the SeaWolves, who dropped seven of their last eight games during a road trip through Trenton, N.J., and Richmond, Va. and in two games at home against the Portland Sea Dogs of Maine. 
Or maybe the fans were here to collect their pink SeaWolves caps, distributed free of charge to the first thousand fans who slipped through the entrance gates for Paint the Park Pink weekend, a series of games dedicated to raising money for the Kanzius Cancer Research Foundation. Jerry Uht Park had been bedecked with pink crepe, a pink ribbon had been chalked onto the concourse, and staff and players alike sported pink jerseys.
Crouse, a lefty, at six-four and an impossible 185, looked like an overgrown 13-year-old on the mound. At the apex of his windup — limbs and elbows tucked like wings, a high, pointed leg kick nearly brushing his jaw — he resembled a tilted arrow, not unlike the cursor on your computer screen. The overgrown Fisher Cat batters seemed always on the cusp of figuring Crouse out, smashing shrieking liners directly at Erie fielders, sending deep flies to die harmlessly in the broad outfield expanse, but Crouse kept working through it, recording outs, matching New Hampshire's Tepera inning for inning.
The crowd roused itself to cheer for the odd walk, for the two base hits their home team managed through four innings, but mostly sitting in the damp and cold and waiting for something significant to happen.
What would you think of the sight, if you were from Rangoon or Simferopol and suddenly transported to an upper grandstand seat in Jerry Uht Park?
The fans, scattered across the seats, huddled in the mist. The field below, with its chalked geometry: a diamond laced with dirt pushed to one corner of the field. The grassy expanse beyond. Young men scattered across the field, mostly standing, kicking dirt, resting hands on knees. One busy man in the center, throwing a ball as hard as he can at another, who waves a piece of wood.
What would you make of the idle time on the field? The pitcher who fiddles with the ball in the glove? The catcher who lazily tosses the ball back after every throw? And then the sudden bursts of frenetic action, the hit, the sprinting around the bases, the throw, catch, the slide, the cloud of dust, and the yelling?
Would you think this fun, entertaining? Impenetrable and puzzling?
After five decent innings — three hits allowed, three walked, a strikeout, no runs — Crouse is removed from the game. Will Clinard comes in to pitch. The lights are on, and darkness descends beyond their reach. Clinard retires the first two Fisher Cats he sees, but then right-fielder Brad Glenn crushes a pitch deep to left-center, and it disappears into the darkness. Home run. The crowd is quiet. There's not even a jeer or cry of frustration. It's as if the fans refuse to acknowledge the reality of the scoreboard: New Hampshire 1, Erie 0.
In the eighth, Clinard gives up another home run, this time to Amadeo Zazueta, who launches his shot to the same spot in left-center, and again the ball disappears into the darkness. New Hampshire 2, Erie 0. Despite a ninth-inning rally that puts a runner on third with two outs, the SeaWolves never score, and the pair of home runs decide the game.
On a night like this — cold, wet, with the home team down, and seemingly unable to score against mediocre pitching and piling shutout innings on a losing streak — baseball's eccentricity and difficulty is evident. It's complex and subtle and sometimes hard to follow. And tonight, the question presents itself: why baseball?
Why are we all here tonight? Why do we love the game so much? Why do I love it so much?
The answer is right here, all around us in Jerry Uht Park. And it's on the field in front of us. The Erie SeaWolves have the answer.
The most common misperception about Minor League Baseball is that the teams, like their major league counterparts, have control over the roster, the play on the field. That's simply not true. The SeaWolves' roster, for example, is set by the Detroit Tigers. Detroit selects the managers, coaches, and training staff, too.
In fact, what we fans see as a SeaWolves game is actually a conglomeration of different groups at work. The players and coaching staff belongs to the Detroit Tigers. Jerry Uht Park and the groundskeeper belong to the Erie County Convention Center Authority. The food and beverages are run by Professional Sports Catering. And at the center of it all, running the show, selling the tickets, providing the ushers, entertainment, game-day program, running the scoreboard, cleaning the park, providing the players with clubhouse furniture and day-to-day support, are the Erie SeaWolves.
And the SeaWolves, too, are part of a larger group, Mandalay Sports Entertainment, which owns and manages a number of minor-league franchises, including the Dayton Dragons, Frisco RoughRiders, and the Oklahoma City  RedHawks.
It's complex. But then, putting on a baseball game is no simple matter. After all, a game is an event, a performance, with an audience of a few thousand, of unknown duration, of unknown quality and outcome, and all taking place outside in the uncertain Erie weather. And there are 71 home games each year. From the scheduling to the food to the ticket sales to the media outreach to the caretaking of the field, there are innumerable tasks to do each game, and hundreds of things that could go wrong.
It's surprising, then, to see the cramped offices of the Erie SeaWolves, the hub or control center of the entire operation, and how few full-time front office staff there is. About a dozen front-office staff run the club, put everything together, create the entire performance we know simply as a ballgame, and it's stunning how few people in such a small space run such a complex operation as a baseball game.
"I don't mind long hours," says Greg Coleman, Erie SeaWolves president and general manager, when asked what made him a successful minor league baseball executive, while simultaneously explaining how so few accomplish so much.
Coleman's had a long and accomplished history in minor-league ball. He was assistant GM of the Eastern League's Trenton Thunder and the single-A Bowling Green, K.Y. Hot Rods—a team he helped build from scratch. He was GM of the single-A Modesto, Calif. A's, and the Chief Operating Officer of California's independent baseball's Golden Baseball League.
"Don't get me wrong. I don't think it's a badge of honor to not have dinner with your family," says Coleman. "But I do think there are a lot of people who put in a year or two of baseball – and who could be really good at it – but they aren't willing to put in the time and energy to do that.
"Long hours and doing the uncomfortable things don't bother me." If C. Wolf has an early Saturday morning promotional appearance, Coleman will be there, despite how easy it would be as General Manager to stay in bed and send someone else.
We're in his office, with just enough room for a small conference table at one end, where we're sitting. He's younger than you'd think, and full of good humor and, yes, energy. Earlier, he had cheerfully explained the business of the SeaWolves and ticked off his "five points of light" – quality family entertainment, unsurpassed customer service, affordable products, community involvement, and unique marketing opportunities – the guiding principles of the franchise.
He talks about the two-page contract that defines Erie's obligations to the Tigers ("people would be stunned to know how simple the relationship is," says Coleman), how the team provides the players with furniture and a flat-screen television in the clubhouse, as well as the clubhouse attendant, how they provide uniforms, get helmets from the big-league club, split the cost of baseballs and bats with the Tigers.
The challenge for the SeaWolves and the players is that oftentimes neither knows who will be in Erie to start the year. Players are judged during spring training, and injuries and unexpected development or play will cause all kinds of last-minute changes. And the Tigers hand over the rosters to Erie not long before the players arrive.
"We have no say over that," says Coleman. "If people ask me what the team is going to look like this year, my answer is, 'We'll know when they get off the bus.'"
One of the SeaWolves' obligations to the Tigers is that they help the players settle in Erie. But, with the schedule – the last-minute arrival of players – that presents a challenge. "They'll get in on a Monday," he says, "they'll get their uniforms. You'll have your media day or workout on Tuesday. Wednesday they work out, or travel if they start the season on the road." The SeaWolves provide newly arriving players with three nights in a hotel and some apartment listings, but the players have a short time to find housing – a search that's complicated by the fact they could be called up (or demoted) at any time.
The players also present one of the challenges for minor league baseball. They're not household names. Individual players don't have much drawing power for the average fan.
"There are two things that have been proven to draw people out to a game," says Coleman. "One of them is star power. And the other one is place, or environment."
Minor league does not have star power. Or, very rarely. Coleman could come up with two scenarios where star players draw fans to minor league games. The first is when a major-league player does a rehab stint with a team – imagine, say, the frenzy that would accompany Justin Verlander if he were recovering from a sore arm by pitching innings in Erie.
"The second one," says Coleman, "is what we had two years ago with Bryce Harper. It's very rare that you'll have a minor league prospect who's already been on the cover of Sports Illustrated. With that, we tried to catch lightning in a bottle the best we could."
Bryce Harper's visit to Erie did draw thousands of fans to Jerry Uht Park, which was packed with a tumultuous and raucous crowd that came in part to gaze on the uber-prospect (now a Washington National) and get a picture or maybe an autograph, and in part to razz him for his audacity of containing so much talent.
"But that doesn't happen," says Coleman. "That's happened one time in my 15-year career."
Which, of course, leaves environment.
Jerry Uht Park is an odd little park. It's part charming and intimate, and part awkward and eccentric. The seats – especially between the dugouts – are right on top of the action. It's easy to watch a game here, the play clear and spread out below us.
In fact the seats have such a good view that you really have to look away from the game and study the park to see its flaws. The missing slice of upper grandstand seats behind home plate, say, causing the press box and suites to be pushed down along the third-base line. The enormous blank wall of Erie Insurance Arena that forms left field, an impersonal monolith that breaks up the skyline view.
Other flaws aren't readily seen by fans. The small, outmoded clubhouses for the players, umps. Ceilings that leak when it rains.
But it's the atmosphere and energy of the game that makes the park charming. The food, the between-innings entertainment, the ads and scoreboard, the vendors shouting above the hubbub of the crowd. C. Wolf and the Wolf Pack on the dugout roof, dancing to "Cotton Eyed Joe." Bouncy houses and beer gardens. This is the park's personality. It allows us to love Jerry Uht Park unconditionally the way we love someone despite the few pounds they've put on since we met them.
This atmosphere doesn't just spring spontaneously from the game itself. From the honorary first pitch and National Anthem to the seventh-inning stretch and the hot dog in your hand, it is constructed, designed, and planned by the Erie SeaWolves front office, and executed by a large and energetic staff.
The best time to understand this is hours before the game when setup is going on. You'll see concession workers wheeling kegs, carrying chips, firing up grills, and cooking food. Nachos. Garlic fries. Boneless wings. Hot dogs – on Buck Night, or when there are all-you-can eat picnic buffets – the SeaWolves sometimes serve 4,000, or more, a night.
Workers assemble the fan assistance tent – where members of the Wolf Pack will stop you, if you come in early enough, and ask you if you want to take part in that night's entertainment. Don a wig, say, and disco dance along the first-base line. Or put on a blindfold and grope around the area by the SeaWolves dugout for a seat in Blind Musical Chairs. It's at the fan assistance center, too, that you can sign up your child for the Junior PA – to call out the names of the SeaWolves over the PA system during the bottom half of an inning. Over by the Smith's Sausage Shack, workers inflate the bouncy houses. Other workers place shirts, jerseys, hats, jackets on the racks by the team store just inside the gate.
Up in the PA room, the workstations are ready. There's a computer that handles the sound, from the breaking glass sound when a foul ball leaves the park and the clapping hands and organ music during a rally, to the music clips (selected by the players themselves) played before at bats. (And "Dude (Looks Like a Lady,)" for the opposing ballplayers.) There's another computer displaying a scoring application that will put balls and strikes and score on the scoreboard. And another computer station showing the video feed from the various cameras on the park, where the production manager will choose the shots that get broadcasted on MiLB.tv.
The front-office staff is here, rushing about, too. There's Austin Punzel who runs concessions, wheeling out a keg of beer. There's Chris McDonald, head of operations, instructing ticket takers. Or Brian Haberkorn, head of entertainment, in the PA room, going over tonight's schedule – a dense list of the ads and messages that will show up on the scoreboard during the game. And, of course, General Manager Greg Coleman, who has a squirt bottle of cleaner and a rag in his hands, scurrying about the park looking for surfaces to clean.
"I've been here all 19 years," says Pete Peterson. Peterson's the usher that works behind home plate. Section 109 and 207, as he'll tell you.
At 76, he's full of friendly energy, reminding me both in looks and that innocent exuberance of Mickey Rooney. If you've been to a SeaWolves game, you've probably met him: he's usually the first friendly face you find when you emerge from the concourse and overlook the field – and as you look at your ticket and wonder where the hell your seats are – there's Peterson to help you.
"People always want to stand behind home plate," he says of the challenge of ushering that valuable slice of ballpark real estate, "but the sign says, 'media only.' I usually give everybody at least one or two outs."
One time a young woman wouldn't budge. "I told her, 'You can't stand there!'" he says. "She kept standing there. Finally, I said to her, 'You know, ma'am, if we get a grass fire out there, we've got to bring a hook-and-ladder through. I don't want you to get maimed.'" She and her boyfriend laughed, and she moved away.
Peterson was a foreman at International Paper, and after he retired, he applied for a job with the SeaWolves. They put him in charge of a cleaning crew. After a year or two, he realized he never got a chance to watch a ballgame, so he applied for an usher's job. And he loves it.
"When I retired, I told the Big Guy in my prayers, after all those years at work, I deserve a good year of retirement," he says, "and at the end of that year, again, I told Him, 'If you want to throw in another, feel free.' It's been 21 years."
Peterson even is part of a SeaWolves between-inning act. The Retired Village People. He and some of the other retired ushers will stand on the SeaWolves dugout and sing and dance to "YMCA" – he's the guy with the hardhat and tool belt.
"How long are we going to do it?" he says. "Until we get it right. We probably never will."
You talk to a guy like Peterson, and he'll surprise you. Like how he started dating his wife when he was 12 years old. At the high school in Wesleyville, there were only 30 kids in his class – and five couples formed from that class and eventually married. "Four of us are still together," he says. "The only one of us that's not was a minister, and I think he ran off with a choir director."
Or like how he ran 31 marathons from when he started running at 46 to when he got a knee replacement at 60. He broke three hours and twenty minutes his first race.
Barney Veneziano – who runs the Smith's Sausage Shack – has been with the team since the beginning, too. "I started day one," he says. "I started when they were under construction, before it opened up."
Veneziano owned and operated Barney's Avenue, a popular diner on East Avenue, from 1955 to 1987 before he retired. He came down to the park under construction with his wife looking to buy team souvenirs when someone asked him if he wanted to work for the new team.
"My wife was with me for 15 years," he says. "We worked together. We used to have our name up here. Barney and Dee's Bullpen Grill." Dee passed away five years ago, so he took the name down.
He tells me a story. It's the summer of his 50th anniversary. One day in July, he and Dee were cooking for a picnic group from Ashtabula, Ohio.
"My wife and I, we worked our butts off to get everything ready," he says, "we carried all the food up there, we had the buffet set up and everything. And the manager comes over and says, 'Aren't you going up there to check the food?' I said, 'Hell! They're late!' I was mad. I'm tired of going up and down those steps. 'You've got to up and check,' he says. They kept pushing me, you know?
"So I go up there, here is all my family and friends. Three hundred fifty people. Surprise 50th anniversary. The owner gave me the day off. I threw the first pitch. My wife threw the first pitch."
Barney pauses, and then chuckles. "The best part of it," he says, "was we did all the cooking for our own party."
During my interview with General Manager Greg Coleman, he talked that minute and forty-five seconds between the last pitch of a half-inning and the first pitch of the next. "That's our canvas," he says, "if we're an artist." He was speaking about the variety of entertainment served up between innings – the crazy races, the songs.
But really, the whole park is the canvas for the artistry of the organization.
The best place to start when it comes to the baseball side of the Erie SeaWolves is in the cramped little office of the team's radio broadcaster and voice of the club, Greg Gania. The office is small, and jammed full. There's a bobblehead collection on a filing cabinet, signed photos of players on the wall (Jeff Conine, a Florida – now Miami – Marlin, a favorite from Gania's childhood). You might call the office cluttered, but it's a sports memorabilia dream.
Gania's not just the broadcaster, of course. He's an assistant GM for the club, head of baseball operations and media relations, and does some sales in the offseason. Like Coleman, Gania works long hours. Home games are the longest days; he'll end up working 13, 14 hours on a day of a home game, coming in at 9 in the morning and staying through to the end of the game that night. Games that go into extra innings, say, make for especially long days.
Calling games is just a small part of those long days. He's responsible for the buses that bring the team to away games, the hotels that house them. He orders uniforms for players, talks to the Tigers about equipment needs, is in charge of the clubhouse managers, player relations.
And Gania also accompanies the team on all their road trips, riding the bus with the players. "The only time I miss a road trip," he says, "is if it's a wedding of a friend that I actually like, or a Jimmy Buffet concert. Other than that, I don't miss many road trips."
Road trips are a great way for Gania to get the stories about players and coaches you need to talk your way through three hours of baseball one hundred forty plus games each year.
In the jazz ensemble of broadcasting voices, Gania's is a smooth tenor sax, a little brassy with a hint of an edge. On air, he has a smooth, well-paced and almost sing-song delivery. His description of the game is clear and simple and easy to follow. Off air, the brass is more pronounced, his humor more evident.
"I didn't know what I wanted to do as a kid," he explains how he got into broadcasting. "In my freshman year of high school, my English teacher said, 'I think you're well-spoken, you should join the high school TV station.' I was like, okay, whatever."
He found being on air came natural to him, and he ended up majoring in broadcasting communications in college and finding a baseball broadcasting internship afterwards.
"Some guys will write down things to say," he says of his preparation for calling games and his game-day style. "I've never been that type of guy. I just go up and talk. It's gotten me this far." And he laughs at that thought.
We talk baseball, PEDs in the game, the Biogenesis scandal. We talk about Alex Rodriguez, his chances for the Hall of Fame. We talk about the craziest play he's seen – an over-the-shoulder barehand catch by second baseman, Hernan Perez, who, according to Gania, "has big leagues written all over him." We talk about Daniel Fields' bat speed, some of the best players he's seen – Cameron Maybin, now with the San Diego Padres, wowed him with his talent passing through, Gania sure he was headed toward superstardom, but he's yet to hit .250 in the bigs.
Baseball is a funny game that way.
"The level of play is so high in the Eastern League," says Gania, "and there are so many prospects that come through every year, you see amazing plays almost on a nightly basis."
Gania himself is a prospect of sorts. He's got his eye on a radio or television broadcast career. His dream is to call major-league games.
An easy way to tell who on the Erie SeaWolves is a hot prospect – without subscribing to Baseball America, anyway, or by spending years of summers at minor league games with a radar gun and stopwatch – is to grab yourself a roster and scan the birth dates of the players. Generally speaking, the younger the player, the more likely he is to be on the fast track to the major leagues.
There are, of course, several layers of minor league levels, starting with rookie league, working up through low-A (or short season ball), high-A, double-A, and triple-A. Players, typically starting at 17 or 18, claw their way up through the various levels, each new level presenting tougher and tougher competition. Double-A ball is the place to see the best prospects. It's the last of the real developmental leagues; triple-A ball has become a kind of holding tank for veterans waiting to fill in for an injured player in a big-league club. The best prospects usually stop at triple-A to test their ability against wily pitchers or dead-fastball hitters, but linger only a short while. Their ability forces an opening. Some even skip triple-A altogether.
Talent blazes through double-A ball in their early 20s. Curtis Granderson was 23 during his stint in Erie, as was Ryan Raburn. Justin Verlander pitched seven games in Erie at 22, then went straight to Detroit. Cody Ross was 21 in Erie. Last year's rookies of the year – Mike Trout and Bryce Harper – both reached double-A ball at 18, and left soon after.
The inverse is also generally true. The older the player, the less likely he is to see the big leagues. Players in their mid- to late-20s at double-A are usually fated to be what's generously called "organizational" players – good clubhouse guys to fill roster spots and show the kids by example how to go about playing the game. There are exceptions – there are always exceptions – and some are late bloomers who do go on to a career in Major League Baseball.  But the arithmetic of baseball is cruel, and sometimes the best men — the scrappers, the hustlers, the guys who love to play — don't make it.
For these players, it's perhaps small consolation that Erie loves them, whether it's because of their style of play, or because they stay in Erie long enough to become recognizable faces. In any case, they're as close to star power as you get in minor-league ball.
Brendan Douglas – a second baseman by trade – who'll turn 28 later this summer, was such a player. Promoted to Toledo after a dozen or so games this year, Douglas, a .299 hitter through six minor-league seasons, still has a shot at making the Detroit club. But he spent parts of four seasons in Erie, and was so popular with SeaWolves fans that Akron Aeros outfielder and second baseman Justin Toole recently joked on Twitter, "Startin' a four game series in Erie tonight, rumor on the street is Brandon Douglas is the Mayor of this place. #justwhatihear." And that's not far from the truth.
Douglas is gone now, but his heir apparent is a 26-year-old, 5-foot-9 outfielder named Jaime Johnson. Raised just outside of Monroe, La., Johnson is unflappably polite ("My parents raised me with very disciplined manners," he says, "if I didn't say, 'yes sir,' 'yes ma'am,' they made sure I did") and speaks with his state's drawl.
"It's my home away from home," says Johnson of Erie. "Because it's my third year here. My first year, I was obviously getting acquainted with the city, finding places to eat, things to do, places to go. Second year, you're comfortable with everything. Third year is like back home again.
"When I finally rolled back into town [this spring], it's like I'm coming home for the offseason."
A player's life away from the ballpark can be a bit of a grind. Johnson wakes and works out, then does laundry or other errands, or just sits around, killing time until he can go to work. It hasn't always been this way; on some teams he'd come in at the last minute – "we have to be here at four, I'd be here at 3:44" – but this year is different. There's great chemistry in the clubhouse.
"I'd say it was the tightest team I've been on in all my life," he says. "We'll go to dinner, instead of three or four guys, we'll have 10 there." They do things together. Play games, cards, watch television in the clubhouse. That chemistry makes life easier for Johnson, the team. Road trips are better – the players joke around on the bus, talk.
"People don't realize how much that matters," he says. "Being with people 24-7 for six months... you have to like them or you just want to isolate yourself."
At Erie, Johnson has put up some impressive numbers. During his time as a SeaWolf, Johnson racked up an impressive .374 on-base percentage, drawing an astounding 183 walks over the course of two-plus seasons. In the game, where not making an out is the most crucial skill to have, Johnson's ability to draw walks stands out. That's clear during games; Johnson works counts, controls his at-bat, and swings at the pitch he wants to swing at. A result of this approach is the free pass.
"Me being a smaller guy," he says, "I'm not going to hit the ball out of the ballpark. So I know my game is to get on base. So if I can draw a walk, hit by pitch, stuff like that, that's my game."
Stealing bases is his game, too. "I've got to use my speed. Because I'm not going to knock a double, triple, home run every at bat. So if I just get my single, I've got to find a way to second and third."
All of this is a mature approach to hitting. It's smart and effective, born of years' experience playing baseball, and born out of Johnson's love of the game. ("We go to school appearances and talk to second graders," he says, "and they'll ask, 'do you like baseball?' I'm like, are you kidding me? It's baseball!")
But it's also born of a flaw in Johnson's tool set – and one that he acknowledges: he rarely hits for power. In those same years he's drawn over 180 walks for the Erie SeaWolves, he's hit only six home runs. And it's this lack of power that might brake his progress in the game. Major-league pitchers with their pinpoint control will pound the zone of a hitter like Johnson, unafraid to challenge him. His walks will drop, and he'll have to hit for high average to get on base.
It's possible. In baseball, anything can happen.
"Obviously I'd love to make it to the majors," says Johnson, "because that'd be a dream of mine come true, absolutely. But, like I said, I know God has a plan whatever I do. So if I make it to double-A, triple-A, I trust that, and use that pedestal He puts me on to reach out to kids, or do something else. Baseball opens so many doors, from being around people, meeting people, and getting connections."
A big part of his mission, his purpose, his opportunity as a ballplayer, are the fans. "I always think," he says, "what if that's my little niece in the stands asking for a ball? I'd love for some guy to come up and give her a ball. What if I were, say, five years old and I'm hollering at Derek Jeter? What would that mean to me if he came up and signed?
"I know that means the world to young kids."
That's a lesson Johnson can teach all of us. It isn't just ballplayers that are always looking ahead to where they want to be, not looking around where they are, now.
"We're all knocking on the door," says SeaWolves manager Chris Cron later. Cron sits at his desk in his office. Against one wall next to a sofa is a set of lockers with a mishmash of uniform tops and pants. Against another wall is a large flat-screen television playing the Tigers game on mute.
"I mean, we're watching the Tigers on TV right now," he says, "we're watching a big league game. Every player in that clubhouse wants to be on TV playing in the big league. They want to attain that ultimate goal they set when they were Little Leaguers. And just a very select few do that.
"Tigers have 25 guys. And there's 30 teams. You're smart enough to do that math."
Cron's a big guy with a military crew cut and a goatee. He leans on his elbows as he talks to me.
"Coaches, same thing," he says. "We want to find a way to experience coaching, just being on the staff, let alone managing. There's only 30 of those guys in the world. There's only 30 guys doing my job, too. In double-A.
"It's a special, special fraternity, group. And we're really, really close to attaining that. Some players are a little closer than others. But as long as you have a uniform on, you still got that chance."
And there's another lesson Cron can teach us. It's to recognize and appreciate talent when we see it. It's not that far from Erie to Detroit, and guys like Brandon Douglas and Jamie Johnson, who are unlikely to be everyday players in the major leagues, are among the handful of elite baseball players in the world.
Cron should know. He was a career minor-league first baseman. He got a couple cups of coffee – six games with the then California Angels in 1991, and another six with the Chicago White Sox the next year – but most of his playing days were in towns like Pulaski, Va.; Durham, N.C.; Palm Springs, Calif.; and Midland, Texas.
His whole life has been moving from town to town and playing baseball. Here in Erie, his routine is simple. He wakes up, hits golf balls, takes a walk, then sits down at his desk and makes out that night's lineup card.
And then comes the development side of the game. The batting practice, fielding practice, the drills, and throwing routines.
"Coaching is what I love to do," he says. "I may be in the worst mood, ever. Maybe golf can't get me feeling good. I can't hit balls. My walk is not making me happy. Listening to music is not making me happy. But when the players start showing up, and I start to do my job? It's like...I turn over" – here he snaps his fingers – "boom! Instantaneously, I love what I do."
Cron touches on all aspects of the game, even pitching. But hitting is his love, his passion.
Back home in Arizona, he had a batting cage in his backyard, where he taught his sons to hit. His older son, CJ, is a top-ranked Angels' prospect, a slugging first baseman who hit 27 homers in high-A last year. His younger son Kevin was selected in the third round by the Seattle Mariners in 2011, but opted to play first base for Texas Christian University instead, where he just finished his sophomore year.
His youngest, daughter Carly, plays volleyball in high school. "The athletic tree is full and blooming nicely," notes Cron, dryly.
Cron acknowledges that the team is going through a tough time with its current losing streak after its strong start. "You know what? We're still learning."
That's the thing about being a minor-league manager. The job is a lot more complicated in double-A than it is at the big-league level. There, you just win games. That's the job. Here, in Erie, sometimes you risk a game to work on a developmental issue or to test a player – leave a pitcher in the game, say, when he's loaded the bases to see how he reacts to the pressure.
"My job is not based on winning and losing the games," says Cron. "It's based on helping players get better so they can play in the big leagues to win games for the Detroit Tigers."
To a guy like Cron who's spent around three decades in professional baseball, this is all normal. The pressure, the constant learning, the striving for greatness, the traveling, the grind of the game, living in new cities nearly every summer, inhabiting apartments on a short-term lease. The baseball life broke his marriage – though he's still friends with his ex-wife, and made his kids a priority.
"You try to explain the life to a normal person," he says. "Normal people are like, 'How can you do that?' I don't know. It's all I've ever done."
Perhaps the hardest thing about professional baseball is the pressure.
"If you don't perform on the field," he says, "it doesn't matter how much weight you lift. Or how much sleep you get. How much good food you eat. The main thing is going out on the field and producing, so you can continue to progress or move up the ladder."
That's why a big part of his coaching duties are helping the kids along, times when he has to "have that father-son talk," as he puts it, with the players that are pressing. Sometimes they forget to enjoy the game.
"You know?" he says. "It's pretty fun doing what we do. It's way funner when you're doing it when you're winning or having success. It's like the greatest thing in the world. But you can still enjoy yourself when you're having some trials and tribulations. And you can't lose sight of that."
I buy a ticket and take my son to the last game of the series with the New Hampshire Fisher Cats. The night before, the SeaWolves dropped the second game, 6 to 2. Hard-throwing New Hampshire lefty Sean Nolin tossed four perfect innings to start the game, while Erie's Victor Larez coughed up five in the first two, and that was pretty much it.
Today New Hampshire puts Marcus Stroman on the mound – a kid I've heard about – a diminutive righty who throws a wicked fastball. Erie opposes Stroman with lefty, Kyle Lobstein, one of the SeaWolves' best starters, with a 6-4 record and an ERA in the low threes.
My son Ben is nine and plays second and third base for his Little League team, the Phillies. He's a student of the game, and as today's set unfolds, I point out the little things to look for from our seats behind the dugout. How the breaking pitches move. The positioning of the fielders. The signal-calling antics of the third-base coach. For his part, he reminds me we need to eat popcorn and drink orange soda and jump up and down when the players toss balls to the fans.
It's sunny and warm – finally – the perfect day to see a game.
Stroman gives up a first inning Hernan Perez homer, but strikes out the side in the second, wowing the fans around us with his electric stuff. Lobstein keeps the Fisher Cats off the board until the top of the fifth when he loads the bases. A Brian Van Kirk single drives in two, and then – on a very strange play – Lobstein drops the ball in mid-windup, and looks guilty like a kid who's just thrown a ball through a neighbor's window. It's a balk, and the runner on third trots home for a 3-1 New Hampshire lead. In the bottom of the third, Stroman also struggles. He too loads the bases with two outs. But instead of giving up the big hit, he strikes out Daniel Fields.
"It's a great spectator sport," says General Manager Greg Coleman during our interview. "If you want to be totally immersed in the game, strategy, and statistics, it's there for you. But if you want to be there in a casual setting and build relationships, you can be there.
"You can sit there with your dad and hear stories, like I did, about how he used to go and see Stan Musial and see Ted Williams."
Coleman remembers his first big-league game, at Veteran's Stadium. He can't remember the details, who played, but the images, sounds, and smells remain with him. And we all have that milestone, our first big league game. Mine was in Fenway. We sat in the shade under the grandstands, and I remember vividly how bright the field looked. I also remember the frenzied buzz of the crowd that accompanied each Jim Rice at bat. My son's first game was at Progressive Field. What does he remember?
It's that sense of connection – of community – that makes Coleman mull, "there's something beautiful and perfect about the game."
Indeed.
Jamie Johnson plays well today. He draws a pair of walks – I explain to Ben why taking a lot of pitches helps his team. (It tires the opposing pitcher out, and forces him to show his whole repertoire.) After one walk, he steals a base and puts himself in scoring position. After the other, he takes an extra base on a single and reaches third. I point out to Ben how that hustle helps his team, too.
In the seventh, with New Hampshire catcher Jack Murphy on second, a single is hit to Johnson. Murphy lumbers around third towards home and Johnson throws a frozen rope to nail him at the plate, and for the third out. We stand and holler when Johnson trots in to the dugout.
Johnson has another chance to make a big play with two outs in the bottom of the ninth. A Corey Jones single and Marcus Lemon double brings the SeaWolves to within one of the Fisher Cats, 3-2. A pair of quick outs are recorded, and Johnson steps to the plate with a chance to tie the game, or at least extend the inning.
This is what we dream about as kids, right? Bottom of the ninth, two outs... But Johnson grounds out to second.
And the difference in the game turns out to be a strikeout instead of a two-out single, back in the fifth. That's a slender gap of difference, but it's everything because it's the difference between a win and a loss. And it also might mark the slender, razor-thin difference in talent between a pitcher who moves up in a system, and one who languishes.
But now's not the time for weighty thoughts. After Sunday games, the SeaWolves open up the outfield to fans to play catch. Ben and I grab our gloves and ball and head out to the grass in left field.
As Greg Coleman says, "If there's one thing that stays with me every single day, is we need to do what we're doing because double-A baseball in Erie is – I'm not going to say essential – but it's impactful.
"I don't ever want to see a day where that doesn't exist."
Jay Stevens can be contacted at Jay@ErieReader.com, and you can follow him on Twitter @Snevets_Yaj.