SeaWolves Drop Second Game in Doubleheader
Howlers lose division lead, as they lose to Binghamton.
August 10, 2013 at 9:38 AM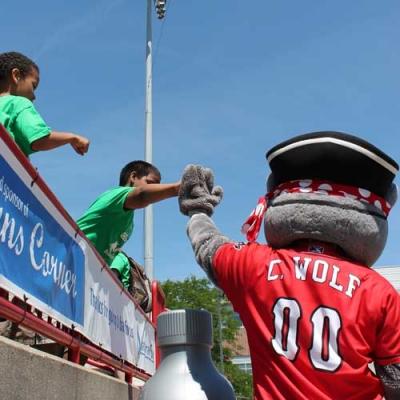 In a back-and-forth game that could possibly be an Eastern League finals preview, the Erie SeaWolves dropped the second game of a double-header to the Binghamton Mets by a score of 7-6. Coming from behind was a common theme for the Howlers throughout the game, but they couldn't come through in the seventh inning of a shortened game on August 9.
Mets second baseman and leadoff man Daniel Muno hit a solo home run to center field, but right-handed pitcher Kelvin Perez (1-1, 3.12) got the SeaWolves out of inning without allowing another run. The Howlers couldn't get anything going in the first against Mets righty Logan Verrett (10-6, 4.13). In the bottom of the second, second baseman Brandon Douglas scored catcher Ramon Cabrera and left fielder Tyler Collins with a three run home run to left center.  After two, the SeaWolves led 3-1.
The Mets tied it back up in the fourth when Muno doubled to score right fielder Travis Taijeron and shortstop Wilfredo Tovar. Adding to his team's lead, Mets left fielder Cory Vaughn scored on a triple from first baseman Rhyne Hughes. That run put an end to Perez's night for the Howlers. Perez gave up six hits, five runs, and walked four while striking out four. He was relieved by righty Will Clinard.
Clinard came in for Perez two-thirds through the inning, but Taijeron, the first batter he faced, homered to left. In the bottom of the fifth, the SeaWolves shortened the three run deficit when Brandon Douglas scored his second run of the night on a single from Jamie Johnson. Johnson stole second and third on his way to scoring on a two run home run from center fielder Daniel Fields. Heading into the sixth, the game was tied 6-6.
Binghamton took the lead back when third baseman Josh Rodriguez scored catcher Xorge Carrillo. The SeaWolves failed to generate any offense in the sixth as they went three up three down for lefty reliever Adam Kolarek. SeaWolves right-handed pitcher Tyler Stohr kept the Howlers in it by shutting out the Mets in his one inning of work. Douglas led off in the bottom of the seventh with a double to put himself in scoring position.
After pinch hitter Marcus Lemon flew out to left, the Mets brought in left-handed pitcher Chase Huchingson to counter Jamie Johnson, who is also a lefty. However, Johnson was hit by a pitch. Suarez grounded out, but advanced Douglas and Johnson. With two runners in scoring position, Fields flew out to end it.
Clinard lost the game for the SeaWolves, while Kolarek won it for Binghamton. Additionally, Huchingson is credited with the save. Erie's western division lead was very short-lived, as they fall a game back to Harrisburg at 62-55. Binghamton stays 12.5 games ahead in the eastern division at 74-45.
The SeaWolves are back in action against the Mets on August 10 at 7:05 p.m. and August 11 at 1:35 p.m.
Adam Unger can be contacted at aUnger@ErieReader.com.