SeaWolves Pitching Coach Ray Burris Shares Storied Past
Ray Burris has no regrets and the SeaWolves need men like him. Jay Stevens checks in with the Howlers Pitching Coach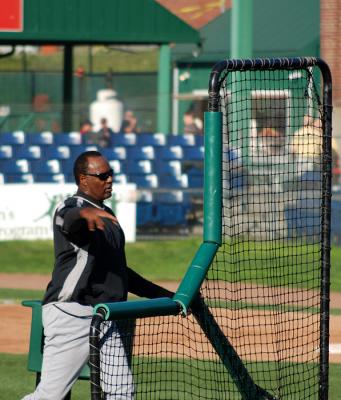 When I tell Erie SeaWolves pitching coach Ray Burris that in 1976 while with the Chicago Cubs he was the fourth-best pitcher in the National League right behind Tom Seaver – and better than Cy Young winner Randy Jones – he looks askance at me. "I wasn't aware of that," he says.
Burris is tall, 6-foot-5, with enormous hands. He's the son of segregation-era Oklahoma sharecroppers and played ball only after the work in the fields was done. The soft-spoken twang of the tobacco, cotton, and sorghum crops still lingers in his voice, and you have to lean in to hear what he's saying, especially in the clubhouse with its constant traffic, murmur of voices, and hum of air conditioning. His formal, distant bearing reminds you he's a self-made man from a bygone era, one that rewarded hard work and instilled a certain kind of pride and humility you don't see much anymore. In Burris' case, he played his way into an athletic scholarship at Southwestern Oklahoma State College and was drafted afterward by the Chicago Cubs. He made the big club quickly and had a long, if unremarkable, career as – what else? – a workhorse for a half-dozen rotations. Since falling out of his playing career, he's bounced around in a number of organizations, working as a scout, in the front-office, and now as a pitching coach.
It's his job to turn boys into major-league pitchers. He oversees throwing sessions, leads them to understand their own mechanics, and teaches them the fundamentals, which he reels off at me like buckshot: "Attack the strike zone. Make something happen early in the count. Cut down your base on balls. Have the ability to trust your stuff. Put the ball in play. Trust your defense, and let's see what happens."
So if there's doubt in Burris' voice when I tell him about his '76 season, that's understandable. Few couple the names of Tom Seaver and Ray Burris. Tom Seaver is a Hall of Famer, a three-time Cy Young winner, and a media darling for his leading role on the '69 Miracle Mets. Ray Burris – if the comments on online fan forums are any indication – was known for perspiring heavily on the mound. That, and as a bit player on the losing side in the fifth and deciding game of the 1981 National League championship, the game in which Rick Monday propelled the Los Angeles Dodgers over the Montreal Expos and into the World Series for their fifth championship with a ninth-inning homer. The Expos never reached the playoffs again and eventually skulked out of town a losing franchise.
But Burris was almost as good as Seaver that year. At least according to new advanced baseball statistics. As listed on baseball-reference.com, Ray Burris in 1976 was fourth in "wins above replacement" (or WAR) – a statistic that takes into account the ballparks he pitched in and the defense behind him, and that mashes his strikeout, walk, and hit rates with other objective indicators of pitching into a single number that rates a player's value for his team. Burris' 15-win, 3.11-ERA season looks a lot better when you consider he pitched a majority of his games at Wrigley Field and backed by a defense that was adequate at best.
Burris describes the pitcher he was as a "strike-throwing machine," a "sinker-slider pitcher with a so-so changeup." A guy who mixed speeds and spotted pitches and relied on batters to get themselves out by making poor contact. In 1976, that contact led to a lot of outs.
"That's pretty awesome," says Burris, "there are some great pitchers there, Hall of Famers." As if uncomfortable with his own mark of distinction, he immediately launches into a glowing dissertation on the pitching of Randy Jones. "It was a lot easier on me to see Randy Jones pitch," says Burris, "how hard he didn't throw. But he won 20 games, a Cy Young award, just groundball after groundball."
And Burris' performance in the 1981 league playoffs looks a lot better, too, when you dig down a little. He spun a 5-hit shutout in game 2 to beat Fernando Valenzuela, 3-0. In game 5, he left a 1-1 tie after eight innings, lifted for a pinch hitter despite having shut down Los Angeles in the latter half of the game.
Did he want to come out? No. "I was getting stronger," he says. Did he tell manager Jim Fanning? Yes. "All you can do is voice your opinion," he says, "his decision is final." If you look for any regret in Burris, you won't find any. "I was able to give my team eight, keeping them in the ballgame," he says. But consider: if Burris stays in the game, maybe Monday doesn't get his homer, maybe the Expos win the game, the World Series. Maybe baseball takes off in Montreal, the team stays. Maybe we'd talk about Ray Burris in the same gushing tone we use when we talk about pitchers like Orel Hershiser, Jack Morris, Bob Gibson.
Baseball is a funny game that way. "When you think you got it all figured out," says Burris, "it'll flip you upside down, and you're wondering what happened."
Take tonight's game, a gut-wrenching 11-8 defeat at the hands of the Altoona Curve. It was an ugly game marred by walks and hit batsmen (including Erie DH Brandon Douglas, who was pegged in the head), a game in which Erie rallied from behind four separate times, only to see SeaWolves' reliever Brendon Wise give up the lead for good with a five-run ninth, the highlight of which was a rare squeeze play by Altoona's Greg Picart for the 11th and final run. The inning drove the game past 10 o'clock, and as the runs scored one by one, the confused and frustrated yelling from the stands diminished steadily until a stunned silence descended on Jerry Uht Park, interrupted only by the sharp wail of an exhausted toddler.
It's games like these that makes men like Ray Burris necessary. This is the hard part of his job and has no checklist. "It's not about what the people are hollering in the stands," says Burris, deadly serious now, "they can't understand because they've never been out there on that mound. They don't know what it's like to give up base hits, they don't know what it's like to go through the failing rate of the sport, which is 70 percent. It takes a special individual to deal with that failure rate. That's what makes him so unique.
"I tell my young men here, when you put on that uniform, it's making a statement. It's saying something to you, of what the organization thinks of you, what your team is thinking of you, what your family thinks of you. Now, what do you think of you? Represent the highest content of your character. And protect it, on and off the field."
Burris says he "has to compete with 12 minds" to get them to "understand what they've got to do." Burris says he works to muster "the energy and spirit that it takes so they'll know I have their best interest at heart." And I believe he does. I believe because Ray Burris believes. And because Ray Burris respects the game that gave him a 15-year stint in the major leagues and took him to within an inning of greatness.