Second Harvest Food Bank Hosts Fundraiser
Move, Mix, and Mingle provides service and networking opportunities.
March 31, 2016 at 12:29 PM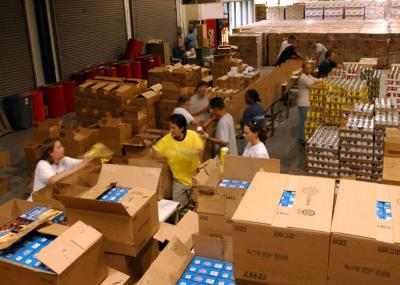 If I were to compose a list of great things about Erie, one inclusion would be the Second Harvest Food Bank of Northwest Pennsylvania. I have been aware of its presence for quite some time, but until volunteering there I had no clue as to the status and scope of the local organization.
The Second Harvest Food Bank has earned the highest rating that Charity Navigator gives for sound fiscal managment nine times. Upon health inspection, Second Harvest Food Bank has received the highest ratings available, which is quite an accomplishment for a place that warehouses so much food. As for scope, Second Harvest Food Bank serves 11 Pennsylvania counties: a huge area.  
In the spirit of service to the community by the community, Second Harvest Food Bank has created a new opportunity for local professionals in Erie to serve and network at the same time. The first ever Move, Mix, and Mingle event will take place on Monday, April 4, from 5:30-8 p.m. The 21-and-older event will include a service project and time afterward to network with peers while enjoying light hors d'oeuvres and sampling local brews from Erie Ale Works and wines from Arrowhead Wine Cellars. The event is also sponsored by Wegmans.
The event is $10 per person, with all funds going to Second Harvest Food Bank to help offset the costs of their service to northwestern Pennsylvania. Space for the event is limited, so reservations are necessary. To reserve a place at the event, contact Amanda Johnson at 459.3663 x 119 or ajohnson@nwpafoodbank.org. 
You can find several other volunteer opportunities for the Second Harvest Food Bank here. Individuals and groups are welcome to contact Johnson and schedule service shifts. The magnitude of this operation requires many volunteers. Through personal experience, I can say that Second Harvest Food Bank treats its volunteers very well and provides a very enjoyable way to serve the community and surrounding areas.