Serial Gamer: Skyrim
Come on--you know you missed him and you know you missed his column... It's back: The Serial Gamer! Need we say more?
December 1, 2011 at 10:00 AM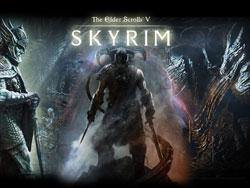 To say that a game can be a single-player experience and a social one sounds like a contradiction, but 40-plus hours in, Besthesda Games achieved both with "Skyrim."
"Skyrim" is a fantasy-action role-playing game set in a massive world--so massive that I have only traveled to half of the game's nine major cities. It's hard to describe the world of "Skyrim;" it begs to be played, but more to the point, experienced. Hours fly by like minutes while playing.   Something as mundane as sitting at an alchemy table for an hour, mixing and matching ingredients (flowers, herbs, plants, food) to see what potions and poisons are yielded is where "Skyrim" really shines. The game has an uncanny ability to hint and the possibilities, while allowing you freedom to explore. My favorite moments so far are the random ones unique to my play-though.
As I said, "Skyrim" is a social game.  It seems like all of my friends (except Michael Bennett) are playing. Social interaction in games has been taken out of context with the age of PSN and XBOX LIVE. Developers have a way of funneling the player toward objectives. I played "Batman," "Uncharted," and "Battlefield" this fall and can tell you that I have seen everything those games have to offer, and if not, soon will. "Skyrim" is different. It reminds me of games from my youth--the days before games got easy and everything was meant to be seen. It brings back memories of finding that last empty bottle in Zelda and bragging about it to friends. This makes "Skyrim" a social game, and in fact, it's the best of the year, and I can't wait to get back in and explore.