Seven Ways to Love Outdoor Activity in Winter
You don't have to stay indoors to achieve those New Year's resolutions.
January 4, 2017 at 3:00 PM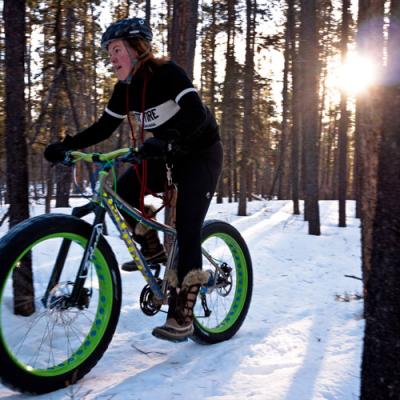 It's cold outside. As northerners, we expect this. We pack kayaking, biking, and festival-going into a few summer months. When the first polar winds bully their way onshore, we seek fireplaces and fleece blankets. For warm-blooded creatures, avoiding the cold is both logical and practical.
Except for one fact: Our bodies need activity. For heart health, for improved immune systems and moods, to increase energy – and for those of us with a belly bulge swelling like attendance at a January spin class, we need activity to burn those pounds away.
And while it's perfectly okay – and even good – to rely on weight rooms and group fitness classes to achieve fitness goals and New Year's weight loss resolutions, there might be a better solution to the cold than avoidance. What would happen if we decided to approach winter with a new perspective? What if we accepted ice and snow right into our fitness routines?
Two years ago, Laith Wardi, president of Executive Pulse and an avid cyclist, chose to embrace the cold rather than avoid it and took his winter workouts outdoors.
"I like being outside all year, but I didn't have an outdoor winter activity until my brother-in-law talked me into fat tire riding," Wardi says. "Now I can't say enough about the bikes and the ability to be outside year round."
For those of you open to adding a new outdoor activity (like Wardi), or for those simply looking to try something new, below is a list of fun winter ways to burn calories before lighting that fire and plopping under the fleece.
FOR ALL TERRAINS
Fat Tire Biking (FTB)
Fat tires have done for biking what the internet has done for information gathering (well, almost). With tires four inches or wider capable of handling rocks, snow, sand, and other seemingly impassable terrains, FTBs have turned biking into a year-round sport, even here.
"I can literally ride into the middle of nowhere," says Wardi. "In the winter, a group of us will ride across the frozen bay, around the Presque Isle beaches, and back to Scott Park. The visuals are spectacular."
The extreme upside of fat tire biking? Riders can burn as many as 1,500 calories an hour, which is some serious holiday cookie unloading in one spin around the peninsula. The wide tires and slower speeds make transitioning from road or mountain biking relatively easy, and due to increased popularity, retailers now carry a wide selection.
FTB cons: The bikes tend to run a bit heavier than other bikes and while the massive tires improve terrain grip, they also decrease bike speeds – an aspect that might not appeal to the speed chasers.
As Wardi says: For anyone who wants to be outside year-round, the FTB is a viable option.
Information: icebike.org/fat-tire-bike
ON THE ICE
Ice Boating
If speed is your thing, consider ice boating, a sport that can top 100 mph. Ice boats utilize a sail and range in size and price from the homemade, single-person boat to the more extravagant boats capable of carrying a crew and costing upwards of $30,000. Many coastal towns, including Erie, have local fleets, making it easy for beginners to learn ice safety and boating techniques.
Information: erieyachtclub.org/fleets/iceboat-fleet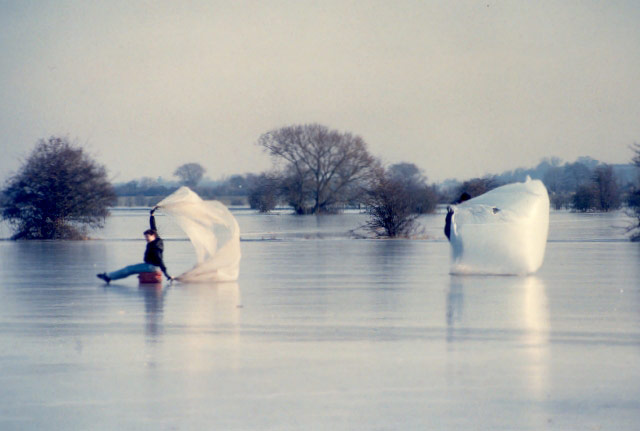 Wind Skating
Another sport for speed lovers, this activity requires only an easily-transportable wind "kite" and plenty of well-fitting safety gear. All you really need is a desire to hold a wind sail while standing on solid ice. In a region where we grow quickly weary of arctic winds, wind skating provides the perfect excuse to wish for more wind. These kites also work with skis, snowboards, and skateboards. Give this one a try if you are an experienced skater or skier.
Information: kitewing.com
Ice Biking
Want to be a trooper about winter but don't skate or ski? Ice Bikes of Buffalo, New York has the solution with their bike that sits within a steel frame fitted with blades, negating all need for balance. A rider simply pedals over the ice rink at Canalside in Buffalo. Those not interested in fat tire biking may find ice biking on Presque Isle's bay to be a fitting alternative.
Information: waterbikesofbuffalo.com/ice-bikes
ON THE SNOW
Downhill Skiing, Tubing, Snowboarding
At some point in our lives, most of us have tried at least one of these activities and liked it. So in this case, it's less about trying something new and more about remembering that with two nearby resorts, we have ample access to some of winter's most popular sports at affordable prices. If you just want to do that big-kid thing and go sledding for an afternoon, check out Frontier Park, where Winterfest will also take place Feb. 12.
Information: pknpk.com, skimountpleasant.com, leaferie.org/winterfest
Cross-country Skiing, Snowshoeing
Two entirely different activities, cross-country skiing and snowshoeing are lumped together here not because they might attract the same fitness type, but because they can be enjoyed by all fitness levels from true beginners to the most experienced. These activities are fun both solo and in groups, and equipment for either sport can be rented inexpensively. In other words, you can try before you buy. The big bonus: Both workouts are great calorie-burners, with cross-country skiing and snowshoeing capable of burning up to 600 and 1,000 calories per hour, respectively.
Rental information: asburywoods.org/rentals
ANYTHING WITH THE DOG
Yes, this one is about our dogs, and not just because we like to talk about them in fitness articles and show them in car advertisements. In fact, if we followed the natural fitness routines of our dogs, we would live in a much healthier society. Run every morning and evening and wrestle/play after every meal – it's not a bad plan. Buy short-haired dogs a coat, and with the exception of extreme temperature days, follow this routine regardless of weather, and we are guaranteed to burn more calories. Go snowshoeing or build snow people (or dogs), run through deep snow, or throw snowballs high in the air. A simple game of fetch will burn more than 100 calories in one hour. The benefit of the outing will clearly be mutual: Our dogs will be happier (and more tired) and we'll be happier (and, ironically, have more energy).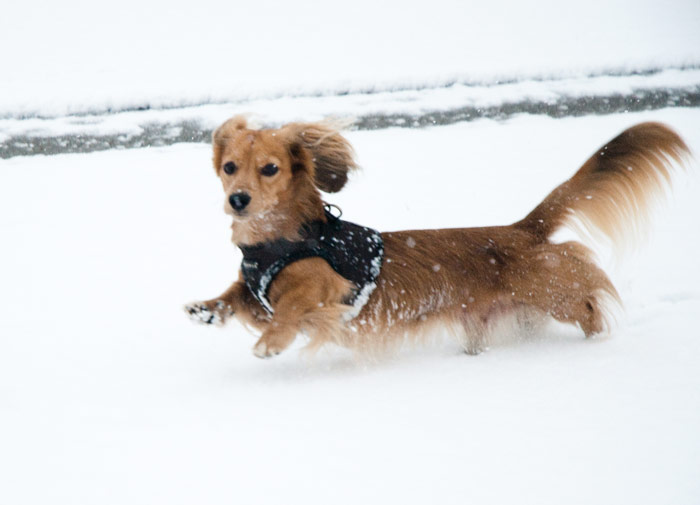 As with all activities, pack plenty of water, dress in layers, and remember your safety gear.
Although winter is currently meandering around at the decibel of a cub's cry, we are certain to experience the lion's roar by winter's end. We might as well plan to enjoy it.
Ti Sumner can be reached at TSumner@ErieReader.com