Shamrock Around the Clock
Celebrating St. Patrick's Day in Erie
March 13, 2019 at 10:00 AM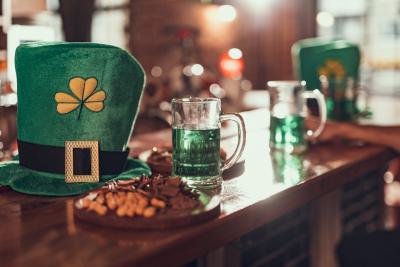 By: Hannah McDonald
The island of Ireland — which includes the province of Northern Ireland (part of Great Britain) and the independent Republic of Ireland — has a reported population of nearly 7 million. Across the pond, 10.5 percent of the U.S.'s population report ancestry from the Emerald Isle, and they are proud to celebrate this fact.
These 33 million Americans (and others who simply enjoy a good time) celebrate their Irish roots on a grand scale once a year. Chicago and New York City host the largest St. Patrick's Day celebrations, each of them attracting over 2 million spectators.
Erie's turnout is quite a bit smaller, but our Rust Belt city still revels in its Irish ancestry. After the city was incorporated in 1851, the U.S. received several waves of immigrants from Europe, and many of them settled in Erie. According to the U.S. Census Bureau, nearly 20 percent of the Erie population today is made up of immigrants and almost 15,000 Erie residents report Irish ancestry.
While the Irish are widely known for their ethnic pride, this weekend they're bringing it to the forefront with St. Patrick's Day-themed events across town. Expect Irish pubs like Lavery Brewing Company, Molly Brannigan's, McGarrey's Oakwood Cafe, Sullivan's, Irish Cousins, and Cornerstone Bar & Grill to be going the extra mile all weekend long, with most bars joining in on the festivities as well. Here's just a small sampling of some of the special events going on around the city.
Erie's Annual St. Patrick's Day Parade
A staple of any St. Patrick's Day celebration, the parade gets the celebration rolling. The festivities will include Irish-themed floats, dance troupes, traditional Irish music, face painting and more. The parade begins at 11th and State streets and makes its way down to (surprise, surprise) St. Patrick's Church on East Fourth.
Saturday, March 16, 2 p.m. // Downtown State Street
Food and Drink
Luck of the Irish at Harley-Davidson
If you're feeling the luck of the Irish, test it out with chances to win prizes at Harley-Davidson's cornhole contest. There will even be free beer, and wings courtesy of their neighbors, Odis 12.
Saturday, March 16 10 a.m. - 1 p.m. // Harley-Davidson of Erie, 3712 W 12th St.
Luck o' the Irish Weekend Celebration at Room 33
Room 33 celebrates all weekend with live music, extended hours, drink specials and a unique Irish inspired tapas menu. The speakeasy-style bar will open their doors at 11 a.m. on Saturday so you can warm your belly before the parade. They'll be ready to welcome you back after the event for live music from Dan Dahlkemper, Tom Kitchen, Tommy Link, Jim Tometsko, and Jon Sedelmyer. On Sunday (if you're up for it), they'll greet you with a warm Irish style breakfast and more live music starting at 10 a.m.
Saturday. March 16, Opens at 11 a.m. // Room 33, 1033 State St. // No Cover // 21+ // Facebook.com
Bringing Back the Snakes at IronStone Meadery
Not feeling the green? Wear some orange and black for a contrarian celebration, and stop down to the IronStone Meadery for their "Bringing back the snakes" celebration featuring 10% off bottle and glass sales. The LIL Wagon food truck will be on hand to offer up some Long Island flavor.
Saturday. March 16 1-8 p.m. // IronStone Meadery, 9333 Tate Road #205 // 21+
Pastrami-O-Rama at Erie Ale Works
When the party starts so early in the day, it's easy to lose steam before the night has even begun. Food truck The Que Abides will be at Erie Ale Works creating custom pastrami sandwiches. They'll make a nice bed in your belly so the drinks can rest and you can dance.
Saturday. March 16, 2-8 p.m. // Erie Ale Works, 416 W. 12th St. // Facebook.com
Millcreek Brewing Company
Pennsylvania State Senator Dan Laughlin will host a special celebration at the Millcreek Brewing Company. For $25 you'll be treated to appetizers, soft drinks, and beer.
Saturday, March 16, 4-6 p.m. // Millcreek Brewing Company, 4102 West Lake Rd. // $25 // RSVP to melanie@votelaughlin.com to attend
Dave's Diner
With special extended hours, Dave's Diner will feature "shamrock shakes," Irish coffee, shepards pie, and reubens will be added to the menu.
Sunday, March 17, 7 a.m. - 7 p.m. // Dave's Diner, 26 North Park Row
Plymouth Tavern
Stop in to the famed local watering hole for some green beer, giveaways and specials, and even some free green popcorn.
Sunday, March 17, 11 a.m. - 2 a.m. // Plymouth Tavern, 1109 State St.
Music and Dance
Parade Day and St. Patrick's Day at Lavery Brewing Co.
The Mulligans will be dropping by two days in a row (more on them in this very issue) to the local Irish craft brewery. Catch a special brunch menu on Sunday morning and extended hours for the holiday.
Saturday 11 a.m. - 12 a.m., Sunday 11 a.m. - 8 p.m. // Lavery Brewing Company,
Division Street Machine at Molly Brannigan's
After the parade, Division Street Machine will be bringing their danceable funk and rock to Molly Brannigan's, voted Erie's Best Irish Pub – surely one of the key places to be all weekend long.
Saturday, March 16, 5-9 p.m. // Molly Branigan's Irish Pub & Restaurant, 504 State St.
The Tradesmen with Steve Trent at the 9th Street Beer Cafe
The Tradesmen, Erie's longrunning band of Celtic punks, will be at the 9th & State Beer Cafe playing hits inspired by bands such as Ramones, The Dubliners, and Flogging Molly for their annual St. Patty's Day show.
Saturday. March 16, 8-11 p.m. // 9th & State Beer Cafe, 832 State St. // Free // 21+ // Facebook.com
Barefoot Fisherman at Mound Grove
Just south of the city, The Barefoot Fisherman — a rock band from Wattsburg — invite Erieites out to be Irish with them. Their four-hour set at the Mound Grove Golf Course will feature $2.50 Yuenglings all day.
Saturday. March 16, 8-12 p.m. // Mound Grove Golf Course, 10760 Donation Rd., Waterford, PA // Facebook.com
The BIG St. Patrick's Day Bash
This BIG place to be will be open all day and night, giving out free shirts to the first 250 guests. Local country heroes Small Town Revolution will hit the freshly renovated stage from 4-8 p.m. There will be DJs all day long, with giveaways, and a party bus transporting folks from BIGBAR to Resolution Nightclub and Coconut Joe's, specially opened for the holiday. Coconut Joe's will host a free breakfast buffet starting at 8 a,m.
Sunday, March 17, 8 a.m.-2 a.m. // BIGBAR, 14 E. 10 St., Resolution Nightclub and Coconut Joe's, 28 North Park Row, // 21+
St. Patty's Day Dueling Pianos
On Sunday, Jr.'s Last Laugh will keep the party rolling (for free!) with the riff-war of the year; a piano duel.
Sunday. March 17, 11 a.m.-3 p.m. // 1402 State St. // Free // 18+ w/ 25+ chaperone // jrslastlaugh.com
Stormalong Scoundrels, Drednecks, and Paper Matches
If you're feeling a little rowdy and shanty-ready, let your inner pirate out with the Stormalong Scoundrels, Erie's very own picaresque ensemble. Catch the raucous antics of the Drednecks, and the alt-rock sounds of the Paper Matches to boot.
Sunday, March 17, 6 - 11 p.m. //  301 German St. // $5 // 21+