Shopping Local? Stitch Together a Plan
Gem City brings together creators from every corner
November 18, 2021 at 10:00 AM
To fashion a story about how to shop local this holiday season, I pulled some strings. As soon as I'd tug on one thread, I'd find another story about an entrepreneur or artisan eager to boost Erie by creating, making, and innovating.
Erie's maker community is always tight-knit, but they are especially easy to spot at this time of year, when, as Flagship City Press says, "At Christmas, all roads lead home." That greeting graces one of Flagship City's holiday cards, featuring a whimsical map of Erie that loops around from the heartland of Erie County to the heart of downtown.
Graphic designers Dena Rupp and Corinne Kraus, who still have regular full-time jobs, started Flagship City Press in 2019.
"I love to send cards to friends; I have a lot who grew up here and don't live in Erie anymore," said Rupp. When she lived in Pittsburgh, she enjoyed shopping at Wildcard. "Talk about inspiration. It's the epitome of a stationery dream, not just highlighting cards, but prints, wrapping paper. It's an ode to Pittsburgh and the flavors that Pittsburgh offers — pierogis, tailgating, the Steelers, Mister Rogers. It has a little bit of everything," she said.
"We have a lot of flavor here, too. We can highlight quirky things — snack foods, pieces of history," she added. The two women asked family and friends about the things they fondly associate with Erie. Among the items mentioned? Orange-and-vanilla twist cones from Sara's. "We went from there and started making some fun, interesting, unique designs," she said.
After their creative venture was featured on the front page of the Erie Times-News in 2020, local businesses wanted to start selling their cards and other items. "This was at a time when people were just looking for a breath of fresh air," Rupp said.
Today, their cards can be found at 17 Erie businesses, including Pressed Books & Coffee, Romolo's Chocolates, Glass Growers Gallery, Michelle's Boutique on Buffalo Road, and five Country Fairs.
Visit flagshipcitypress.com to view the whole catalog. Click on "stockists" to find local businesses that sell their products, or use the link to buy from Etsy.
Flagship City Press is also one of more than 30 businesses with homemade goods that will be featured at the first annual Western Pennsylvania Marker's Market in Perry Square on Saturday, Nov. 6, from 11 a.m. to 3 p.m.
Designing Women
Also at the Maker's Market, Blair Mead Designs will preview four unique pieces of clothing that have sprung from Mead's imagination to computerized design to mock-up to sewing machine.
With bold colors, stunning floral and geometric patterns, and sumptuous fabrics, the poncho, jumpsuit, wrap skirt, and tunic shirt look like something a sophisticated shopper would seek out in Milan, Paris, or the Fashion District in New York City.
Instead, this clothing is being created in a warehouse in Erie's Little Italy, although the fabric is purchased abroad because U.S.-made textiles are hard to find.
Mead's design team includes Reem Al-Misky, design/fashion consultant; Gloria Mifetu, sewing manager; and Yifan Wang, associate designer. Mifetu, from Ghana, and Wang, from China, were recruited from the highly regarded School of Fashion at Kent State University.
The four outfits, part of the company's spring line, will be available for sale at blairmead.com on Dec. 5.
But Mead's vision involves more than making stylish clothing in Erie. She wants to make a statement in favor of sustainability and against what's termed "fast fashion" — the practice of churning out cheap clothing overseas in sweatshops that pollute the environment and exploit child workers.
"A lot of fashion is wasted," said Al-Misky. Clothing is produced for one season, then relegated to the clearance rack before it's thrown out.  The Mead business model is to pay workers a living wage and to use sustainable fabric. "We command prices that are slightly higher," she said.
Her goal is to develop an internship program for high school students and, by 2023, to launch a patented wearable device that can be used to cool down or warm up the person wearing the clothing. Such clothing would be a godsend to women going through menopause, workers laboring in hot shops, Southerners coping with climate change, or customers shivering during an Erie winter.
Engineer DJ Krahe is working with Mead's sister company, Azeylo Technology, on designing and testing the wearable device, small enough to fit into your palm and light enough to be incorporated into or outside the clothing item.
As far as the artistic prints she designs for her fashions, Mead sees them as "a call to be bold, to stand out. I call it visual self-confidence."
Capping a Decade of Success
Karen Rzepecki wanted to engineer a sustainable container for homemade salad dressing by designing reusable lids for Mason jars. Ten years ago, on Nov. 9, 2011, the KickStarter campaign for her business, ReCap Mason Jars, met its goal. She had also won the Innovation Erie design competition. "Between Innovation Erie and KickStarter, it gave me the funds to tool up," she said.
Now known as masonjars.com, her business, housed in the Renaissance Center, has an entire line of lids and gadgets for jars, including sprayers and pumps, with most of the products manufactured in Erie.
In addition to stocking goodies and snacks like Hershey Kisses in capped jars to give as gifts, you can use jars to dispense homemade cleaning products or soothing bath balms.  "Take some Epsom salts, add some lavender or sage from your garden, put the sprigs in with a flip lid, and you have a bath salt present," Rzepecki said.
"Annoyed" that big outlets, such as eBay and even Etsy, had become resellers of products from China, Rzepecki created a technology company to design and launch online marketplaces. "I wanted to make my own marketplace. How hard could it be?" she wondered. "It's hard," she admitted.
But since the Wholesalerie marketplace launched two years ago on her company's website, it has attracted 200 independent brands and small entrepreneurs. One offering is formulated CBD. "That's a big deal. You have to get a lot of approvals," she said.
The multi-seller marketplace is "social commerce," she said. "When you go to our site, you get inspired. You can find recipes, how-tos and stories. You can learn to do a lot of stuff," she said.
Rzepecki also designed shopthepawilds.com, with goods from north central Pennsylvania. At $12, the spiral-bound State Park Passport, highlighting Pennsylvania parks and forests, is just one of many appealing, affordable products.
"The time will come when we have an Erie-made marketplace," she predicted. "We are coming together as a society, as a community, and promoting our local makers. It can be our beacon to the world of all the cool products we have in Erie — and we have a lot of them," she said.
In addition to online, her Mason jar products can be found at Wegmans, the Erie Food Co-op, Franco's Café, Traditions, and Country Fair.
Smoothie Operator
Speaking of jars, the Juice Jar in the Colony Plaza is a place to find healthy meals, drinks, and grab-and-go items made in its scratch kitchen. "We really cater to the people looking for a vegan or gluten-free option," said owner Holly McMaster, who bought the business 11 days before COVID hit in 2020.
"That forced me into the nitty-gritty of the business to figure out what works. We survived and we're chugging right along," she said. The pandemic, she said, "puts more of a focus on people's health than ever before."
The Juice Jar is environmentally conscious. "We're very eco-minded," said McMaster. It uses coconut bowls and provides bamboo straws, which customers can take home and re-use. Greens from No Dirt Farms in Fairview go into its salads and sandwiches and Nova maple syrup, from Hartstown in Crawford County, goes into its granola and other menu items.
You can also buy Nova maple syrup at the Juice Jar, as well as honey from MV Power in Millcreek and Raintree Farms in Cambridge Springs; Happy Mug Coffee, roasted in Edinboro; goat milk soap from Al-By Farms in Union City; Hawthorne 1204 organic bath fizzies; and organic lotion bars, salves, and sprays by Andrea Chesley.
McMaster encourages customers to visit the makers themselves. A trip to Al-By Farms makes for a fun family outing and you can buy more of their products, she said. Selling local products in her shop is " a nice way to introduce people to the cool things we have in our region."
Gift certificates are available online, but from now until Nov. 6, you can buy one gift certificate and get a second one at half price by shopping in person.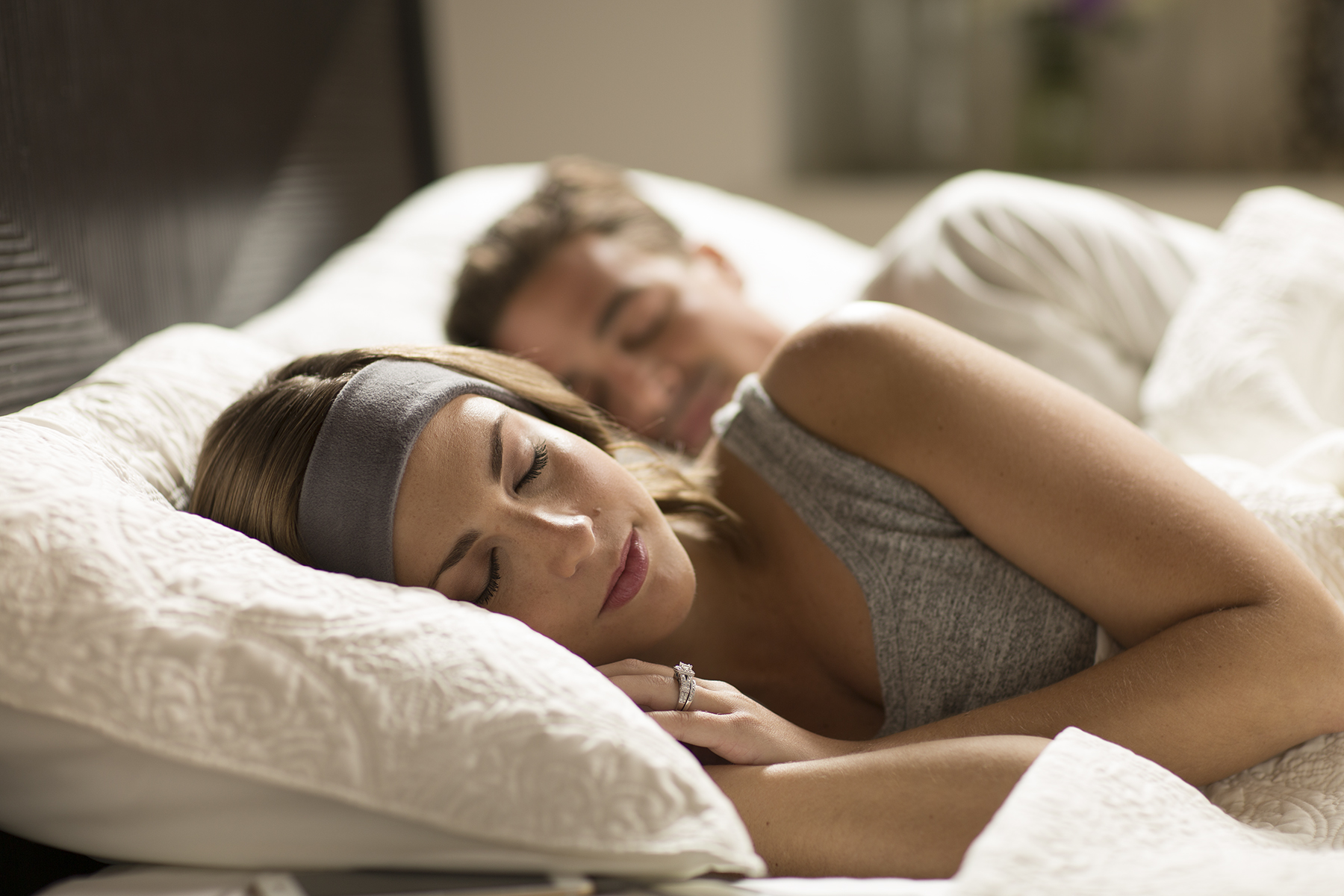 Acoustic Sheep, founded in Erie, sells its SleepPhones and RunPhones online, by phone and at the business at 2001 Peninsula Drive.
Easy Does It
Patronizing local businesses is less of a hassle than jostling crowds at a big box store, but any kind of shopping can be stressful, especially in the midst of a pandemic.
So we decided to check in on AcousticSheep, which has garnered lots of attention since Dr. Wei-Shin Lai, a family physician, and her husband, Jason Wolfe, founded the business in their home in 2007. By 2013, they had left their day jobs and opened their business at 2001 Peninsula Drive.
Today, you can shop online at sleepphones.com for their trademark headband SleepPhones and RunPhones but you can also shop in person at the Peninsula Drive location or order by calling 877-838-4790.
"Our lives have changed significantly in the nearly two years since the pandemic began and it's no surprise that worldwide, there has been a huge spike in insomnia and other sleep-related issues," said Andrew Dalton, PR outreach manager. "On the physical side of things, lockdowns, social distancing, and work-from-home arrangements have made many of us more sedentary than we typically are. Our products provide solutions to these issues by promoting healthy, happy and well-rested lifestyles," he said.
Dalton explained how AcousticSheep meshes with Erie's local business community. "Erie is a tight-knit community in the heart of the Rust Belt. Our chief technical officer (Wolfe) is originally from this area and had a dream of one day coming back to Erie with a 'Silicon Valley mindset' that is bringing good-paying jobs and exciting tech opportunities for the city with him," Dalton said. "This dedication to the future of our area is something that resonates heavily with the residents of our city. That is why we think that part of our story helps the shop local/small business movement."
Liz Allen hopes that this story prompts her to get her Christmas shopping finished with time to spare. You can reach her at lizallenerie@gmail.com.
Coming Up
Erie Arts & Culture is partnering with the Erie Downtown Partnership and PH&G to host the first annual Western PA Maker Market. It takes place in Perry Square on Saturday, Nov. 6, from 11 a.m.to 3 p.m.
Representatives from the NWPA Innovation Beehive Network, made up of local universities and the Erie County Library, will be available to explain the Beehive's services for entrepreneurs. "Our goal is to promote makers as a great resource for gift items leading into this year's holiday season," said Patrick Fisher, executive director of Erie Arts & Culture.
The Shoppes at The Colony will hold its holiday-themed open house on Saturday, Nov. 6, and Sunday, Nov. 7.
The Erie Downtown Partnership will sponsor the Local Lovin Small Business Saturday Market on Saturday, Nov. 27, starting at 11 a.m. at the Boston Store.