Small Business Saturday
Be part of something meaningful 
November 22, 2017 at 3:45 PM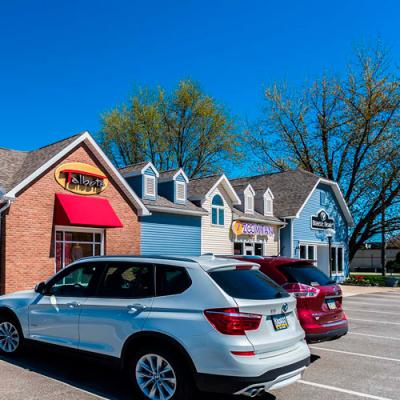 Back in 2010, American Express founded Small Business Saturday as a way to infuse the country's independently-run companies with energy, life, and in some cases, much needed traffic. Considering that in Pennsylvania alone there are over 1 million small companies in operation — and "small" is defined as having 500 employees or fewer, according to the Office of Advocacy's Small Business Profiles — people likely patronize local businesses more frequently than they think. Yet these often family-run organizations still compete against big box retailers which can offer bright, shiny goods at a cheaper price. By shopping locally on the designated date, November 25, we can do our part to create a stronger community, we can demonstrate our investment in hard-working entrepreneurs — who often take quite the leap to open their own businesses, and we can lend our support to the realization of a dream, in many cases. 
"We have such a vibrant small business community here in Erie, and Small Business Saturday is a great way for us to celebrate our commitment to them and to the downtown area — we can keep the positive energy and momentum going in this neighborhood by heading out to enjoy the local businesses."
Or, as Emily Fetcko, assistant director of the Erie Downtown Partnership explained, by heading out to these local companies on Small Business Saturday, we are rallying behind efforts into which people "put their heart and soul." She added, "We have such a vibrant small business community here in Erie, and Small Business Saturday is a great way for us to celebrate our commitment to them and to the downtown area — we can keep the positive energy and momentum going in this neighborhood by heading out to enjoy the local businesses." 
Downtown Erie boasts an impressive number of locally-owned companies and restaurants, several of which opened recently. Among these are Voodoo Brewery and Dave's Diner, which is next door to Alkeme, a Mediterranean cafe and bar that opened around this time last year. Other favorites in this part of town include Ralph Miller Jewelers (an Erie institution), the delectable Ye Olde Sweet Shoppe, and Glass Growers Gallery. Of the jewelers, Fetcko said the team there is "all about Small Business Saturday and will be doing special in-store promotions." She also mentioned how companies in the Renaissance Centre will be marking the day: Isaac Baker Menswear will have discounts and specials; those who want to venture up to the ninth floor can visit the holiday pop-up market for gifts and locally-made delights. 
Glass Growers Gallery owner Deborah Vahanian was a huge advocate for generating traffic to locally-owned companies way before Small Business Saturday was established. "Since 1974 we have supported local artists, and we feel very enthusiastic — especially this year — that many people will want to give a meaningful gift of art or American crafts," she said. "These gifts are the ones that last, because they become precious to their owners and subsequently contribute minimally to our landfills." She believes that people truly still treasure precious and beautiful things and owning a place that sells such items "has helped create a personality for our community and a legacy for our children."
If you head into Glass Growers Gallery on November 25, enjoy free gift wrapping services and the opportunity to put your name in to win a gift certificate to the store. Vahanian feels that she is building a legacy by participating in Small Business Saturday and working towards something larger than just her company. "We are strong supporters of shop local, " she said. "We know that more of our dollars stay here in our area. We are so grateful for that." 
Spending close to home is extremely important for emerging neighborhoods like the budding Independence Hill, which is located around the intersection of Peach and W. 26th streets. David Steel, owner of the vintage furniture and curio retailer Black Eagle Goods, is optimistic about how things are developing in that area and is pumped to participate in Small Business Saturday. "The whole Independence Hill concept is starting to create good buzz, and the kind of attention we want as local business owners. We want people to know that we are going to be here and that we are going to expand the area. We want to try and energize and push the small business world to make this neighborhood the ideal starting point for people interested in stepping into the realm of small business ownership." 
Steel is "super excited" to work with other companies in the vicinity on Small Business Saturday because he is inspired by the "independent business owners in our area who have been working so hard to make our area that eclectic and unique shopping atmosphere." As for Black Eagle Goods, stop in on November 25 to experience specials on select items of furniture, deals on taxidermy items, grab-bag discounts and special pricing on glassware. 
It's extremely encouraging to local residents and other small business owners that more companies are excited to participate each year, with new shops appearing around Erie on a regular basis. Over at The Colony Plaza, the sheer variety of retail outlets — locally-owned, of course — have infused the shopping center with great vibes and eclectic offerings. Visitors can pick up wine at Presque Isle Cellars, seek treasures for the home at Twig, grab a coffee at Brew Ha Ha, a bite to eat at The Juice Jar, or purchase a special-occasion gown at Anne Gregory Couture. 
Also in the plaza is Preppy Pickle, which specializes in unique, monogrammed gifts. Owner Christine Myers' business is proudly family-run, and those who stopped by in the summer may have spotted her son and daughter following in her entrepreneurial footsteps; they set up a lemonade stand right outside the front door. Myers describes the Preppy Pickle as a "live Etsy or Pinterest store," where patrons can bring in their own items to be monogrammed, or select from the unique offerings she creates inside. The shop is about to celebrate its first anniversary, and she wants people to stop in to look for unique presents and to use their own creativity: "You can't go wrong with a custom-made gift," she said. Shoppers can enjoy 10 percent off any monogrammed items on Small Business Saturday and might want to indulge in apple cider or hot chocolate which her kids will be selling. 
Another key hub for local businesses is Village West. The aptly named plaza on West 26th street is memorable for its colonial style storefronts that literally come together like a New England village – ready to be adored. With a current checklist of 19 specialty businesses, the walkable shopping epicenter will give you no problem finding some Christmas list inspiration. The Lavender Rabbit offers boutique oils and vinegars, artisanal accessories, and items made in Erie. New at the plaza — and, just in time for Small Business Saturday — the aforementioned Ralph Miller Jewelers just opened up its second location, for custom designed jewelry and more. Then you have Wild Birds Unlimited, with everything you need for the ornithology enthusiast in your life. Find something to get involved with at locations like Board and Brush, where you can design your own custom wooden signs and bring your Pinterest dreams to life. Kelly's Sewing Corner offers 1,000 bolts of fabric, along with custom sewing and hemming, to start or finish any textile project you want. There's always the gift of passes and classes, with Accurate Performance's music lessons, Plasha Yoga's sessions, V-Gallery's photo classes, Maki Karata Acupuncture's offerings, Nail Creations' special touches, and Gallery 16 Salon's new looks.
The West Erie Plaza is also one of the best places to shop local. The iconic location is growing and reinventing itself seemingly every day. In addition to some delicious places to catch a quick bite, the shopping center offers several unique boutiques and storefronts. Looking for a delectable holiday treat made from scratch? Try out Icing on the Lake. If you have some runners in your life, be they seasoned or warming up for their New Year's resolutions, then Achilles Running Shop Erie has what you need. Pair that with a membership to the plaza's just-opened Planet Fitness for a little synergy. Claytopia offers classes and pottery you can feel good about. The newly opened Pet Supplies Plus has what you need for your animal friends without the Peach Street hassle. And for stylish women's fashion, E. Lane Boutique has everything you need, along with jewelry and accessories to boot. 
There's something genuinely heartwarming about the fact that so many different business owners unite over wanting to make Erie better and their livelihoods better. While they may differ greatly in goods sold, all of these entrepreneurial superstars are tackling the huge job of becoming a success, and the best thing we can do is show that we care — about their dreams, about their efforts, and about making this community the best it possibly can be. 
Miriam Lamey can be reached at mlamey@eriereader.com.