Small Statures, Big Stories
Why little people like Erie's Alice Zenda are among history's greatest omissions
October 21, 2020 at 1:45 PM
In 2019, Pennsylvania officially designated October as Dwarfism Awareness Month, with Oct. 25 named Dwarfism Awareness Day. After seeing a concert skit by Zac Brown Band using a little person in a way that was widely seen as degrading, Nick Sorensen, a local member of Little People of America , reached out to State Rep. Ryan Bizzarro and soon, they were working to create and pass the bill that made this a reality.
The resolution (HR 497), which passed unanimously and was adopted a year ago on Oct. 29, 2019, states that it is "recognizing dwarfism with the hope of raising positive awareness about dwarfism and promoting the welfare of people having dwarfism in this Commonwealth."
"People with dwarfism have also faced a negative view in the media, one that has caused stereotypes or misinformation," Sorensen (who works as digital content manager for JET/FOX/YourErie as well being a stand-up comic and the founder of his own popular podcast BUDDYCAST.) recently wrote for eriereader.com. "Just like you, we are human beings, maybe just a foot or two smaller. We are not mythical creatures, stunt objects, jesters, or sporting equipment."
October was selected because Oct. 25 is the birthday of Billy Barty., the well-known actor who founded Little People of America in 1957. Barty was integral in bringing together people with dwarfism, who in turn would organize and fight for civil rights legislation over the following decades.
Despite this progress, in written histories, people with dwarfism are often marginalized or outright absent. When those with dwarfism *are included in our histories and popular stories of the past, they are frequently portrayed as lacking historical agency — defined as individuals having the ability to act and make choices independently.
When such stories are told, they are often stories of exploitation. While exploitation *was sometimes apparent, the stories are usually centered around those committing the exploitation, rather than coming from the perspective of the person or people with dwarfism.
In the history of Erie, one such overlooked woman was Espiridiona Cenda, better known to the public by her stage name of Chiquita (meaning "little girl") and to those close to her as Alice Zenda.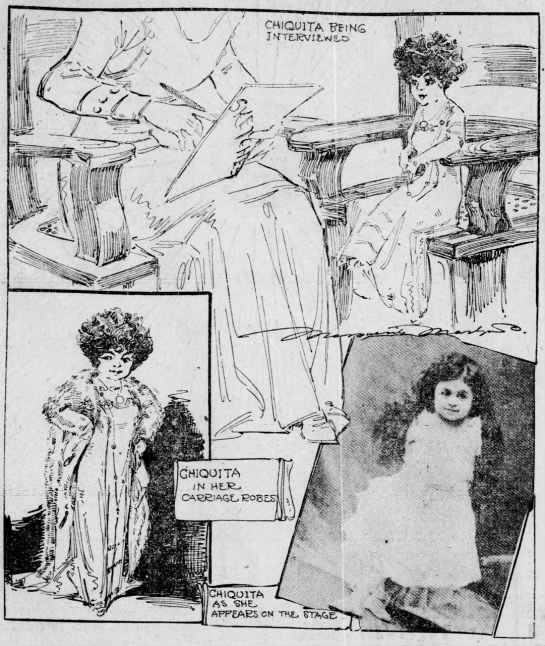 Alice appeared in thousands of American newspapers throughout her lifetime. One of the earliest of these mentions was the July 24,1896 issue of The New York Times when she was set to make her New York City debut at the Metropolitan Hotel. The story described her as a 26-year-old university graduate who recently arrived from Mantanzas, Cuba with her brother and cousin. The Times inferred that she was a proponent of the Victorian dress reform movement (a tenet of first wave feminism) and described her on stage as the "most graceful little lady imaginable" who could play instruments, sing, dance, and was fluent in numerous languages. She wore colorful, silky dresses as she sang, danced, and charmed her audiences. She was also 26-inches tall, having been born with a form of primordial dwarfism.
The Times article is not completely reliable. Alice was indeed 26-inches tall, but she was born in Mexico, not Cuba. That detail was a part of her Chiquita persona and was, perhaps, chosen as public sympathy for the Cuban people was growing due to their oppression by the Spanish Empire. Much about her life before arriving in the United States remains uncertain.
Alice's newspaper appearances increased significantly after the Times story. That winter, she began performing in Boston at an attraction called The Zoo. The language used in advertising her shows was demeaning and stereotypical for the time, including the concept of marketing her alongside various exotic animals — but in a society that was still largely driven by agriculture and industrial labor, Alice was forging a path towards financial independence.
Her manager was a man named Frank C. Bostock. His family had been in the business of exhibitions for nearly a century at that point. His grandfather, George Wombwell, had first taken wild animals on the road in Britain in 1804. Wombwell's daughter Emma married James Bostock and the two eventually took over the family business.
Frank's two brothers worked for their parents, but he was interested in taking an act of his own across the Atlantic. He arrived in the United States in 1893. He organized his show in Brooklyn and began exhibiting exotic animals: monkeys, parrots, lions, and a boxing kangaroo. A few years later, he would meet Alice and she would quickly become a cornerstone of his exhibition.
In 1901, Bostock took his show to the Pan American Exposition in Buffalo, N.Y. — known infamously for being where President William McKinley was assassinated that September.
Alice held early morning receptions where guests could pay to meet and talk with her and listen to her sing. She would show off her gowns and jewelry. She was gifted an electric vehicle, which she would drive during the daily Midway parades. Some reports claimed she accumulated over $100,000 in a personal fortune during these times.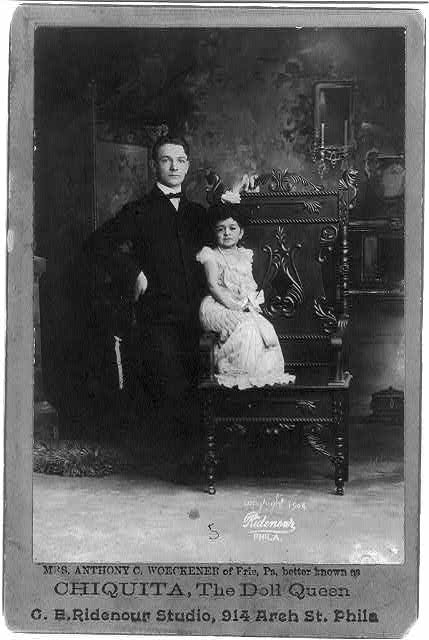 "They made her the mascot of the fair, which is just telling in all sorts of different ways," Margaret Creighton, author of 2016's The Electrifying Fall of Rainbow City, wrote. "At two feet tall, she resisted being treated as a child. She fell in love and escaped from her manager [Bostock], and he kidnapped her again."
She had fallen in love with the Erie born-and-raised Anthony "Little Tony" Woeckener. Although only a teenager, Tony was taking tickets and playing the cornet for Alice's show. They quickly bonded and, that November, they married in secret.
Alice snuck out one evening, scaling the fence of her exposition and met Tony for a "midnight marriage" at the home of Justice Thomas H. Rochford. When she returned that evening with her new husband, Bostock's men were waiting for them. According to Tony's account, this was at gunpoint. Tony rushed away to get assistance from the police, but before he was able to return, she was allegedly "whisked away [and] abducted to Canada."
Tony soon found out that she had been taken to Boston. He immediately traveled there. By early January of 1902, they were in court in Boston. When Tony took the stand, it was the first time that he had seen Alice since their November marriage.
"[Tony is] small for his age," the Pittsburgh Daily Post reported. "His manner on the witness stand showed that he was very much in earnest."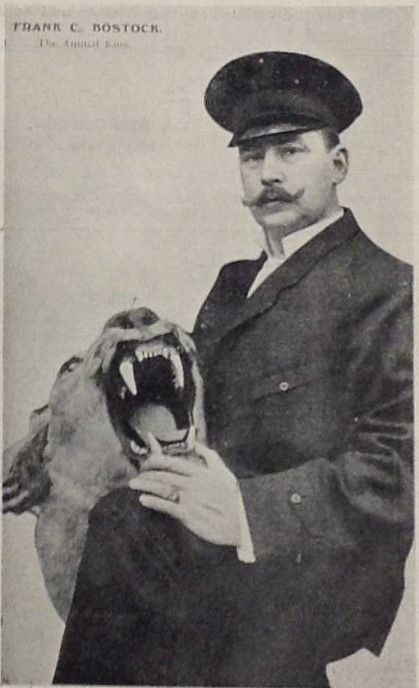 "Chiquita was placed upon the stand and testified that she wanted to live with Tony, but also wanted to carry out her contract with Bostock," the Buffalo Evening News reported.
The judge believed that there "was no evidence to show that Chiquita was restrained of her liberty," but then he adjourned so that "the couple could determine whether they wanted to live together or not."
"The statement that I am keeping Chiquita from her husband is not true," Bostock claimed. "The fact is Chiquita is fickle-minded and she wants nothing more to do with Woeckener."
On the following court date, Bostock's counsel appeared. Chiquita was not present. The judge granted another hour, but she again failed to appear. Bostock's counsel stated she could come the following day. On the following day, she was "questioned as to the state of her mind," but the judge concluded that she was content to stay with Bostock.
Judge Morton argued that the marriage never should have happened. "I do not think the marriage was the offspring of love or affection," he said in court. "There seems to be some ulterior motive behind this. I think it is our duty to look beyond the mere surface and ascertain the motive."
That Judge Morton alleged there was an ulterior motive for Tony, but not Bostock is notable, as well as his adding that he did not believe that Alice was capable of making decisions for herself, stating the "wife is not an ordinary person [and] not of ordinary capacity and intelligence" and that he would "hesitate to give her wishes the same force and effect that I would give to those of ordinary persons of her years."
Tony returned to Erie without Alice. His lawyer told reporters that Tony "would never give up the fight" and they were "prepared to go on with this case." He fumed that Alice had consented to Bostock's wishes in court only by persuasion, perhaps even threats. The Buffalo Evening News reported that Bostock offered to hire Tony permanently if she consented to remain with his show without further litigation.
"Tony Woeckner will never enter the employ of Mr. Bostock," Tony's lawyer countered. "That part of it is settled."
In March, newspapers were again advertising Alice alongside Bostock's other performers and exotic animals in Boston. Sometime that August, Alice escaped with Tony, saying that Bostock had taken her over his knee to "tame" her.
"The evidence in the case will unfold a most remarkable love story," the Pittsburgh Press wrote of the couple in November. They recounted the story of their marriage and separation, then reported that they had been back living together again in Erie since their August escape.
The problem? Bostock had her under contract. He had an injunction served that forbade any performances by Alice for two more years under any other management but his own. Alice ignored the injunction and began to manage herself. Tony assisted.
In April 1903, The Evening Republic in Meadville described how Alice was set to perform "passionate love songs" all week at 178 Chestnut St. across from the Midland Hotel. The article noted her ability to speak multiple languages and waltz and stated she would "converse and shake hands with all who attend the show." The article also described three diamond rings she wore, one from President Theodore Roosevelt and others from famous stage actresses Julia Marlowe and May Fisk.
Soon after, she became pregnant. One of the leading surgeons in Erie, Dr. Frank A. Walsh, attempted a cesarean section at St. Vincent's hospital in October. He was able to save Alice's life, but the child did not survive.
She went back to performing by that spring after her recovery, but court battles with Bostock persisted. In June 1905, a U.S. Circuit Court settled Bostock's case against Alice. He had argued that he "discovered" her and "enhanced her value as a star by clothing her in costly garments, decking her in miniature jewelry especially made for her, and having her educated." She shot back, describing his "cruel treatment, which consisted of locking her in apartments and refusing her permission to see her husband." With their settlement, he agreed to dissolve his injunction.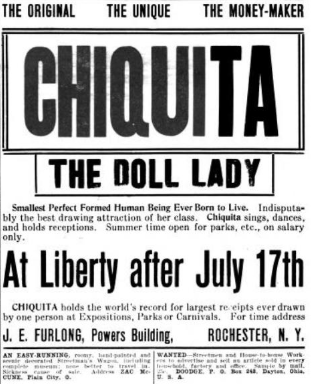 She and Tony continued putting on shows over the next few years from Pittsburgh to San Francisco. In 1908, the Pittsburgh Press wrote, "No artist, public performer, past or present, has ever received the same continuous proportionate stipend as this little lady."
The two retired from the business the following year. Many reports claim they moved to Mexico, but not much is known about the rest of their years, although by most accounts, she lived until 1945. Still, one aspect is known: Alice was free from Bostock's legal grasp. He died in 1912.
Stories like Alice Zenda's are important always, but especially deserve attention during Dwarfism Awareness Month, when the complexity of lives such as Alice's can be explored, the adversity which she overcame highlighted, and her determination to forge her own path as a performer and businesswoman admired.
Jonathan Burdick runs the historical blog Rust & Dirt. He can be reached at jburdick@eriereader.com