Sneaky Pete's Takes It to the House
Centenarian building serves criminally good drinks, eats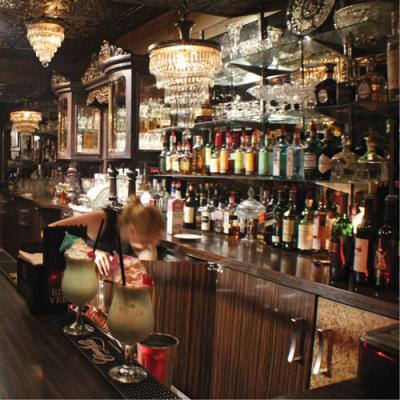 Darrell Knopfel likes having people over. Whether they're familiar faces stopping by after a round of golf or complete strangers showing up after dark, he is eager to pour them a drink or strike up a conversation. Whereas others might sound an alarm for trespassing, Knopfel says, "make yourself at home," explaining, "Without the customers, I'm no one."
Sneaky Pete's is both Knopfel's living place and his livelihood, a historical relic and a modern-day revelation in a bar-and-restaurant industry lacking character. The unassuming two-story house looms much larger in local lore, dating all the way back before Prohibition as a "blind pig" establishment. The term originated in the late 19th century, when crafty saloon or bar proprietors would charge customers for "entertainment" (e.g., a pig) and slip them a drink as a courtesy for their patronage. In this way, "blind pig" owners circumvented liquor licensing laws because their basis of operation was the so-called "entertainment."
During Prohibition itself (1920-1933), the "blind pig" was the divier counterpart to the classier speakeasy, with a more relaxed dress code and emphasis on the beer and liquor (speakeasies typically offered full menus and booked bipedal entertainers over quadrupeds).
Knopfel pays respect to this tradition with the vintage striped pig plaques outside (the unofficial logo of the "blind pig" network), but otherwise models Sneaky Pete's after a speakeasy. After all, pouring 35 years of culinary experience down the drain would be a true crime, even if the authorities do come knocking. A not-so-anonymous tip: This place is an old-timey beauty, replete with Waterford crystal, Tiffany lamps, and Art-Deco flourishes straight out of the roaring '20s. The three menus – charcutERIE, pub (salads, flat breads, and sandwiches), and blackboard dinner specials – are all thoughtfully composed, with descriptions for everything.
The charcutERIE menu includes cured meats and cheeses from Italy, Spain, and France and has proven especially popular with golfers from the nearby Kahkwa Club. Unique to Sneaky Pete's is a wine, beer, and spirit recommendation for each menu item. No matter your preference, you will not be excluded. That brings us to the Beverage Encylopedia, a tome worthy of Solomon – the complex flavor notes and characteristics of each libation are all laid out, so you will always have a good idea of what you're getting into. And if you're still squeamish, either Knopfel or one of his very knowledgeable bartenders will give you the scoop.
There is a story behind every bottle prominently displayed behind the counter, and their historical reference points are often fascinating. Take, for example, Wigle Distillery's line of spirits. Did you know that Western Pennsylvania was the birthplace of American whiskey? In the 1790s, George Washington sentenced a Pittsburgh distiller named Philip Wigle to hang after he refused to pay taxes on the whiskey he produced, thus sparking the Whiskey Rebellion (he was eventually pardoned). By 1808, Allegheny County was producing a half barrel of whiskey for every man, woman, and child in the country – a spicy concoction known as Monongahela Rye. Those who fled the Rebellion for Kentucky favored corn, which led to the bourbon boom.
Knopfel sums up his business as such: "It's a speakeasy that puts out damn good food and damn good drinks."
There's something about knowing the taboos behind your booze that makes sipping (or swigging) it all the more satisfying. Further proof: the Speakeasy cocktail selections, inspired by the days when America's alcoholics illicitly distilled gin in their own bathtubs (because priorities). Sneaky Pete's itself, on the other hand, has nothing to hide. Knopfel sums up his business as such: "It's a speakeasy that puts out damn good food and damn good drinks."
Nonetheless, it is a loving homage to a period when people did not feel the need (or have the means) to divulge absolutely everything about themselves outside of face-to-face interaction. To clarify: Sneaky Pete's is a screen – and smoke-free environment, making no attempt to appease technophiles. Of course there is nothing to prevent you from smuggling your electronic devices onto the premises (don't worry, we'll keep it on the hush-hush), but Bluetooth bootleggers will not get the most out of the experience. Prohibition is over (!), folks, and conversations above a dull whisper are both welcome and encouraged.
If you're not talking, there's a good chance you'll be eating, because the plates are returning to the kitchen empty. Knopfel, a graduate of Mercyhurst's Restaurant Management program and former manager of Shakespier's (at the site of the current Sloppy Duck), instituted his Blackboard Dinner Menu in February. Each week's menu features 3 P's (a protein, a poultry, and a pasta entree) and an S (seafood) and the variety has been staggering – not a single repeat yet. On the first and third Tuesday of each month (excepting July), Sneaky Pete's continues to hold its pairing dinners (featuring wines, beers, or spirits on a rotating basis), which regularly sell out with no promotion.
Since Knopfel acquired the building from former owners Pete and Laura Ciacchini last year (with the help of investor Chuck Herron), it's become more and more difficult to find a place to sneak into Sneaky Pete's (10 bar stools and 35 restaurant seats, no reservations). Even a blind pig could see that both the host and his guests seem poised to stay a while.
Sneaky Pete's is located at 6116 Swanville Road in Fairview and open for business Tuesday through Saturday nights from 4 p.m. to close. Call 790.5254 or visit sneakypeteserie.com for more info.