Soak up the Summer Sun while Sipping Sangria
Melissa Bruno mulls some fruit and adds some red wine to come up with a classic Spanish Sangria.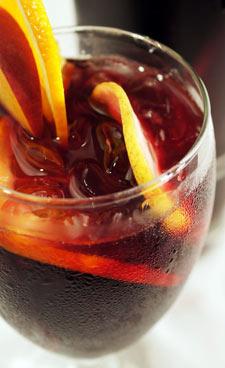 A fun-to-make terrific drink to have on hand as the summer months sizzle through is delicious fruit-filled Sangria.
Sangria, the word that once meant "blood," is now considered one of the most popular drinks in the world. Many people typically drink this refreshing concoction—usually made of fruit soaked in red wine—during the hot summer months. But what are its origins? What is the history of Sangria? And why does it serve as a delicious summer drink?
In order to discover the true history of Sangria, we must to go back thousands of years when the world seemed much larger, when modern history was unwritten, and when grape vineyards were beginning to spread across the Iberian Peninsula.
And the people who did this—the people who planted the ancient vineyards of Spain—did not arrive peacefully. Instead, they arrived spilling blood – after all, they were the Romans. Sometime around 200 B.C., the Romans conquered Spain and subsequently planted vineyards that would one day become responsible for the very first sip of Sangria. And for that we say, "Hail to the Romans!"
In their quest for refreshment and alcoholic enjoyment, the Romans created fruit punches from the red wines they were enjoying. They called these drinks Sangria—they were the color of blood and packed quite a punch because they were often fortified with a "punch" of brandy.
This also explains why red wine is the most commonly used base for Sangria—because those very Romans who planted vineyards thousands of years ago discovered that red grape varietals produced the best wine. Thus, red grapes were planted, red wine was made, and red wine Sangria was born. A very active wine shipping trade promptly began soon after, and the beautiful wines of Spain began supplying much of Rome's drinking desires.
But why the emphasis on wine? Remember that until modern times, water was often unsafe to drink. As history tells, people would bathe in it, wash their horses in it, and so on. Also during that time, milk was considered a "baby food" only. That meant - even for toddlers - that the only safe liquid to drink had to have at least some alcohol in it. The alcohol would kill any of the bacteria in the drink, making it much safer than water. Most households made some wine from fruits and berries in the area. It was very natural to "liven things up" by adding more spices, fruits, and other items to the wine to give it a different flavor.
Now, fast forward thousands of years to when history was made in the United States when Sangria was introduced by Spanish immigrants at the 1964 World's Fair in New York City. Originating from the Mediterranean region, Sangria is a wine fruit punch that started as a summer drink in Spain and Portugal.  But, Sangria is no longer limited to Spain or the Romans who planted the grape vineyards – and instead, is a popular drink worldwide. Unlike many other drinks, Sangria is one of the simple pleasures which can be enjoyed universally in any season and throughout the year. But, the best time to enjoy chilled and refreshing Sangria is when summer sizzles.
Today, Sangria is enjoyed around the world in restaurants, cafes, bars, and especially at home. This drink is easy to make and looks so cool that any house guests you serve it to will be amazed. You can even buy pre-made sangria, but we recommend making your own. It is easy and far more delicious with your personal choice of fresh fruits, wine, and any amount of "punch" you desire. Sangria's appeal is all about taking your favorite wine, your favorite fruits, and experimenting with them.
Sangria has so many different variations that it would make heads spin trying to discuss them all – but, the drink is typically created from red wine, fruit juices, lemon-lime soda, fruit, and sometimes brandy or rum. When making your own Sangria, use a good quality red wine – Bordeaux or Cabernet – or Rioja to get an authentic Spanish flavor.  Typical fruit accompaniments for Sangria can be: oranges, apples, lemons, limes, cherries, plums, tangerines, or any other fruit that you particularly enjoy.
Although Sangria is typically made with red wine, feel free to use a nice white wine instead – this is commonly known as Sangria Blanco. A nice Chardonnay or Pinot Grigio will mesh very well with a blend of sweet and/or citrus fruits.  Typical fruit accompaniments for Sangria Blanco can be: lemons, limes, apples, kiwis, peaches, pineapple, mangos, strawberries, star-fruit, or any other fruit you can conjure up.
But most importantly, choose a wine that you like. After all, you are the one that will be drinking it! Just remember, this is an alcoholic concoction that you should have fun with.  Really, there is no rule on how to make Sangria. The rough guideline of Sangria making is mixing wine and fruit – and for an added "punch" – you can add any type of brandy, vodka, or rum that your heart desires. 
You will be surprised how easily and inexpensively Sangria can be made. That is not to say that Sangria is a cheap drink. Instead, it happens to be cheap by nature, and it is great and fun to make and drink. You get alcohol and fruits, and combine them together, making a delicious summer treat.  
But, Sangria is not just a delicious alcoholic beverage. Truth be told, this drink has much more to offer – good health being one of them! Sangria is not only rich in nutrients like vitamins and minerals, but it also is very low in carbohydrates. While red wine provides us with heart-healthy and cancer-fighting anti-oxidants, citrus fruits present in the drink are rich in healthy vitamins, minerals, and proteins. So, no need to put restriction on fun while dieting (after all, bikini season is almost here!).
Classic Spanish Sangria
Ingredients:
·         1 orange
·         1 lemon
·         1 lime
·         1 medium apple (something flavorful, I suggest a Macintosh Apple)
·         1 cup pitted cherries
·         1 cup fresh pineapple chunks
·         1 cup of brandy or rum (I suggest blackberry brandy or a spiced rum)
·         1 (750 milliliter) bottle dry red wine
·         Lemon-lime soda to taste
·         1 extra-large pitcher
Directions:
Slice all fruit into small pieces, put in a bowl, and add the rum or brandy (the extra "punch" can be omitted if you desire). Gently crush (mull) the fruit with a large spoon and cover. Let the mixture sit overnight (or for at least an hour before consumption) in the refrigerator.
When you are ready to make the Sangria, take the fruit/liquor mixture and put it in the extra-large pitcher. Then add the entire bottle of red wine and mix.  Take a glass and fill it with ice (a large wine or pint glass works the best). Pour the wine, fruit and liquor mixture into the glass, filling it about halfway. Top off the glass with the lemon-lime soda, and enjoy your Sangria! (Note: It's good to have a straw on hand while drinking Sangria. I like to save my fruit for the end of the drink – it's like a rewarding desert!
Yield: 6-8 Servings