Solar Revolution LLC
Solar Revolution LLC, of Erie, works to meet demand and increase knowledge and the power of solar panels.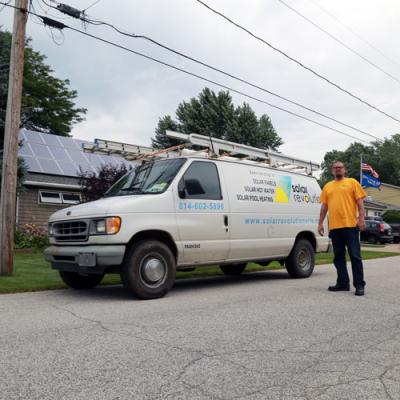 The morning finally arrives. A Saturday, mid-September. We've hoped for sun and summer temperatures. Instead, autumnal winds blow threatening clouds across a gunmetal gray sky.
Not the most ideal day to start a solar revolution on our rooftop.
A little dejected, we pour coffee and mope into the living room. Moments later, a decisive knock awakens us beyond any coffee's capability. In walks John Purvis, president of Solar Revolution LLC, a local solar company that designs and installs solar in Pennsylvania and New York. With the same enthusiasm that sold us on solar, Purvis arrives early to meet his contracted electrician and hook up our system for good.
Once everything is connected, we circle around our electric meter. Purvis flips the switch, officially converting us to solar power. Ninety seconds later — though appliances and lights are still consuming electricity in our house, and clouds fill the sky — our meter starts spinning backward.
We're giddy. And though he's seen it hundreds of times by now, so is Purvis. His excitement is contagious and powerful. He's a modern-day Helios for the masses, hellbent on turning us all toward the sun.
Purvis is not your typical bearded-and-Birkenstocked environmentalist. Nor does he fit the starched, stuffed shirt image of the president of a thriving business. He's tall and tattooed, broad and bald-headed, with thick black glasses and heavy black boots. "I've knocked on doors and had people ask 'where's Mr. Purvis?'" he laughs. "People first see me as a big, burly, biker-looking dude. Then I start talking, and they realize I do know what I'm talking about. They see, 'oh, he is an environmentalist. One older woman I installed for said, 'John, I gotta tell you: you kind of look like a crazy barbarian.' But it's just that old saying: don't judge a book by its cover."
Admittedly, I also had a different picture in mind before Purvis arrived — early and ebullient — for our initial free solar consult. Environmentalism too often manifests as dull earnestness tinged with resigned austerity. It's all a little too well-behaved. Bland. And elitist. No wonder many people are reluctant to get on board. Where's the egalitarianism? Where's the empowerment? Where's the excitement?
Now, it's impossible to imagine anyone but Purvis as the one to lead this aptly named Solar Revolution. I ask how he chose that name. "Here I am with my big personality," he replies. "And I always wanted to be a revolutionary leader. So it just fits. Were gonna change the way we power everything."
Purvis graduated from high school in 1991, and says the reemergence of environmentalism in that era helped to turn his mind toward solar. "We started having recycling bins in school, there was talk about Styrofoam, and the ozone layer," he says. "Maybe that's where the seed got planted."
After high school, Purvis served in the Army for about a decade. There, he began to turn toward the sun. "They were using a ton of solar in the military by the time I got out in 2000," he recalls. "It was clearly an upcoming technology. The Department of Defense has huge solar arrays on military bases all over the world. Huge contracts. And when the government is taking advantage of something, you know it works.
"So it caught my attention," he continues. "And anytime I started to think about foreign dependency, wars on terror, gas prices … solar was always in the back of my mind. It's something that is good. That doesn't hurt anyone.
"I can feel good about doing this," Purvis reasons. "It's all plusses. The only negative I ever thought of was: am I going to be able to eat?"
He needn't have worried. This June, Solar Revolution celebrated seven years in business. They employ student interns from local universities, and are now working with school districts and municipalities interested in large-scale projects.
"I knew this was going to be a thing of the future and I rolled the dice," he declares. "People asked if I was crazy: in Pennsylvania?!?!'" But today, according to the National Renewable Energy Laboratory's Open PV (Photovoltaic) Project, Pa. ranks 7th in the nation by number of PV systems installed, and has more solar panels than Florida.
In Ecowatch, writer Anastasia Pantsios discusses the top twenty U.S. cities using solar at the end of 2014. As expected, Pantsios points out, sunny cities rank highly. "But," she clarifies, "demonstrating that solar's potential is not limited to the sunny south, Indianapolis—which averages 187 sunny days annually compared to Los Angeles' 292—came in at number four, Denver at number eight, and New York City at number nine. Newark and Boston also cracked the top 20."
Erie, incidentally, averages around 160 sunny days per year. But as it turns out, that's largely irrelevant.
"It's UV radiation that makes it work," explains Purvis. "It's daylight. In Arizona or California, they need a panel or two less [to generate the same amount of power]. Here, we need a panel or two more.
"Look at where we are on longitude, around 42 degrees," he continues. "Germany is north of us, and they're leading the world in solar. It's not about where you are. Solar panels can work anywhere there's daylight. Anything that runs on electricity can run on solar, equal to or cheaper than electricity."
Purvis always knew the real hurdle to converting people to solar would be educational. But he is the consummate educator: brilliant, eloquent, and passionate about sharing his ever-expanding knowledge. He has mastered his subject, and teaches with the persuasive patience of a man on a mission.
"I chose solar for its own sake," he says. "I knew it was going to be a thing. I'm a purpose-driven person. I decided: I'm going to try to offer this and make this work. I took a gamble, and I'm glad I did."
Keeping himself educated is a job, in itself. He gets up at 4 a.m. just to research what sorts of advances have transpired in the world of solar while the sun was down. "Everything's developing so quickly," he says. "A lot of the work is just staying on top of everything."
To that end, Solar Revolution's next big move will be to employ someone in the realm of IT and public relations. Someone, Purvis insists, who also can get on the roof and then be able to explain to customers the solar process.
But for now, he mostly handles the highly educational and persistently political Facebook posts on the Solar Revolution page. He ends many posts with "Term limits for Congress!!!"
"I am an American," he states. "I fought for my freedoms. I will not be silent [about political matters].
"The government is owned by rich wealthy corporations in America, by big interests and lobbyists. Oil has huge lobbyists; the environment doesn't. Doing what's right doesn't. And it's going to be that way until we move money out of politics and common sense in."
A recent essay published in The Progressive by Wisconsin Rep. Chris Taylor, about attending his second American Legislative Exchange Council (ALEC) conference, certainly corroborates Purvis' point.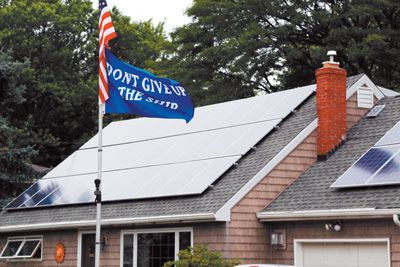 "Though the renewable energy sector is growing," writes Taylor, "is popular with the public and is generating new jobs — and the solar industry now employs 140,000 more people than our nation's coal mines — conference attendees focused on hindering this sector, especially solar.
"Legislators from Utah and Oklahoma bragged about slowing the development of solar energy in their states," Taylor continues. "Oklahoma Sen. A.J. Griffin passed a bill to tax individuals using distributed generation from solar panels or wind turbines to 'protect our most vulnerable utilities.' ALEC wants to tax people who use small scale solar or wind or who drive electric cars. According to ALEC, property owners should have a right to kill a person on their property, but not use solar or wind energies on their property without paying a tax."
So how likely are our local legislators to get behind solar? Not very, according to numbers published on Oil Change International, "a research, communication, and advocacy organization focused on exposing the true costs of fossil fuels." Using data provided by OpenSecrets.org, Oil Change International reveals non-renewables' claims on our legislators' hearts, minds, and votes. Since 1999, Sen. Pat Toomey (R-PA) has received "dirty energy money" contributions of $953,504. Sen. Bob Casey (D-PA) has received $296,550, and Rep. Mike Kelly (R-PA) has received $267,600.
Though these numbers speak volumes, I nevertheless ask Purvis why solar hasn't taken off. "It has!" he exclaims. "We're just getting off a bad governor curse. Other states around us are doing huge things. New York has incentive and loan programs, and a state tax credit. Still, last year was [Solar Revolution's] busiest year ever, even without a state rebate."
Meanwhile, the federal tax credit of 30 percent back on solar installation cost will expire in December 2016, "unless this Congress gets its act together," adds Purvis.
Regardless of incentives, however, he emphasizes that "solar is a resource that's easier to install and cheaper every day. And it's there. Every home or business has a roof, or a parking lot. Architectural solar is also getting really big: panels on pergolas, parking ramps, even at amusement parks.
"Now, there are a ton of panel manufacturers. But I buy American. I use time-tested American companies that have been around, that have good warranties. I'm not going to try out something brand new on my customers." Instead, Solar Revolution installs a 25-year warranty system that's paid off in ten years or less. "It is an investment," Purvis grants. But one with about a 205 percent return, and prices dropping rapidly.
"Some naysayers say to me, 'solar is subsidized,'" Purvis says. "But everything is subsidized!" Especially fossil fuels. PennFuture's recent "PA Fossil Fuel Subsidy Report" states that each Pennsylvania taxpayer paid $794 in subsidies to the fossil fuel industry, in fiscal year 2012-2013." If solar had equal subsidies to natural gas in Pa., Purvis points out, "Everyone in Pa. with a roof could have solar."
In "Revolution," John Lennon sang: You say you got a real solution / Well you know / We'd all love to see the plan.
Clearly, John Purvis is the man with that plan. And you know it's gonna be … all light.
"Back in 2008," Purvis recalls, "I had a politician who obviously didn't believe in solar asking me, 'What kind of guarantees can you make about solar?'
"I told him, 'I can guarantee that the sun is going to come up every day.'"
For more information, to see photos of solar installations, or to schedule a free solar consultation, call Solar Revolution LLC at  (814) 602-5896, or visit http://solarrevolutionerie.com.
Katie Chriest can be contacted at kChriest@ErieReader.com