Sounds of the Underground
Screamed vocals. Aggressive guitars. Fast-paced drums. Welcome to the Sounds of the Underground.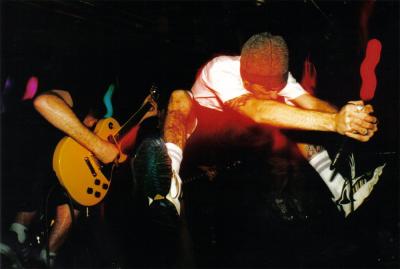 My interest in underground music, specifically punk and hardcore, grew out of the disdain for the mundane and normalcy that I saw in nearly everyone from my high school.  Everyone was listening to Nickelback and whatever one-hit-wonder hip-hop dance song was popular at the time, and I knew without even having to think about it that none of that was for me. Hearing the sounds of harsh, screamed vocals backed by aggressive guitars and fast-paced drums of punk music was like a beacon calling out: Tommy! Come join us! This is where you belong!
Lacking a music scene in my hometown of Jamestown, Pa., where there's only one stop light, graduating classes of 50 or less, and as much diversity as a 1950s 2.2-kids, white-picket-fence suburb, it wasn't until I came to college that I became aware of the strong punk and hardcore music scenes present in both Erie and Edinboro.
I went to a show at the Hangout in Edinboro in the summer of 2010 to see my favorite band, Comeback Kid, and watched a band from Erie called In The Day open for them.  I was instantly hooked on that band and started going to as many shows as I could between Erie and Edinboro.  I became a regular at places like Basement Transmissions and The Hangout (before it closed in January of 2012) and became acquainted with people who were heavily involved in the scene long before my arrival. 
Erie has had a strong underground music scene spanning over two decades.  It was right under my nose, and it still took until I was in college to learn of its existence. 
This blog will help people become more aware of the Erie music scene, so that people who aren't content with what radio music and mainstream culture has to offer can find a place where they feel like they fit in. 
Music can be a very positive outlet for people to vent their frustrations or just to have a good time.  For some, it may be slow smooth guitars and clean, happy vocals performed on the best equipment money can buy, and for others, it may be fast and aggressive guitars behind emotional, angst-ridden lyrics screamed into a cheap microphone. 
This blog will be bringing the best sounds of Erie's underground -- anywhere from bands touring through Erie to Erie locals of any genre, to a wider audience so that the Erie music scene can continue to prosper.
Tommy Shannon can be contacted at tShannon@ErieReader.com.