Spoken Word and Music Thursday Night at Poets? Hall
Don't miss this rare and exciting performance.
September 25, 2012 at 1:29 PM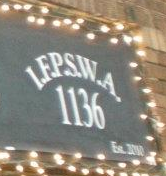 Poets' Hall may be relatively new to your cultural consciousness, but that's about to change. The Erie Reader editorial board – which includes some picky, ornery, grouchy characters – stopped in last Saturday night and were collectively blown away; the only reason this place gets two thumbs up is because none of us has three.
Here's your chance to see what all this thumb-raising is about: stop by 1136 East Lake Road on Thursday, Sept. 27 at 8 p.m. and catch Steve Trohoske, Tony Grey, Rickie Hopkins, and Monica Igras for the third in a series of three musical and spoken word performances held in this intimate venue. Bring your own booze, walk through the door, drop a couple of bucks in the fishbowl (suggested donation is whatever you think you can afford) and grab a seat on one of the big comfy couches. Owner Cee Williams has big plans for this place, so stop in and remember to bring your third thumb; there's sure to be cool poetry and hot tunes.
For more information on Thursday night's show or other upcoming events at Poets' Hall, find them on Facebook – and give them a "like," will ya? There's no reason a place like this in Erie should only have 85 likes.