Sports Corner: The Super Bowl
Is the adage "offense wins games, defense wins championships" always true?
January 28, 2014 at 8:21 PM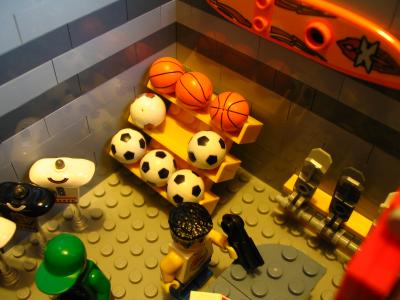 As a junior in high school, I wasn't alive the last time that both first seeds met in the Super Bowl. The year was 1993 when the Troy Aikman and the Dallas Cowboys gave O.J. Simpson and the Buffalo Bills a 52-17 beating. Nine future Hall of Famers played in that Super Bowl, and in the next matchup of first seeds over twenty years later, viewers across the country will most likely be watching several future Hall of Famers going to work at Metlife Stadium.
The 13-3 Denver Broncos, led by Peyton Manning, will be going toe-to-toe with Russell Wilson, the 12th Man, and the Seattle Seahawks in New York City's first Super Bowl Sunday, Feb. 2. This year's Super Bowl not only features both first seeds, but it also pits the NFL's top scoring offense in the AFC-champ Broncos against the NFL's top scoring defense in the NFC-best Seahawks.
Although the maxim "defense wins championships" got the Seahawks to the Big Apple, in an offensive league, the best offense will prevail. Peyton Manning will win his second Super Bowl in a prolific and decorated career, throwing a wrench into the "Best QB of All Time" arguments in the process.
A second ring would put Manning, who already has the statistical advantage, on par with New England Patriots QB Tom Brady, who has three. And Manning would join the likes of Bart Starr, Joe Montana, Terry Bradshaw, and John Elway with a second Super Bowl victory. He would also separate himself from Dan Marino, who did not win a Super Bowl during his 17-year career, and Steve Young and Brett Favre, who each have just won one.
Manning was spectacular this season, breaking Drew Brees' yardage record with 5,477 passing yards and Tom Brady's touchdown record, throwing for 55 touchdowns this season. The Broncos offense also set a record as a whole: five different skill players scored at least 10 touchdowns for the Broncos this season.
Those five players are wide receivers Demaryius Thomas (14), Eric Decker (11), and Wes Welker (10), tight end Julius Thomas (12), and running back Knowshon Moreno (13). Of those five, who usually appear on the field together as a personnel grouping, how many can Seahawks standout cornerback Richard Sherman, the self-proclaimed best cornerback in the league, cover?
The correct answer is one. Sherman will most likely cover Demaryius Thomas for a majority of the game. Another member of the "Legion of Boom," cornerback Brandon Browner, has been suspended for several substance abuse infractions.
That leaves former sixth-round pick Byron Maxwell to cover Decker or Welker, and second-year corner Jeremy Lane to cover the other. In other words, Decker and Welker will find ways to get open.
Seahawks free safety Earl Thomas plays best as a center-fielding safety: he provides deep help for the rest of the "Legion of Boom" and plays the ball on a regular basis to allow his larger, stronger teammates to play their man.
Kam Chancellor, the Seahawks' strong safety that is 6'3", 230 pounds, and runs a 4.6-second 40-yard dash, would be the ideal player to cover Julius Thomas, if anyone is capable of covering the former college basketball player.
Denver's other tight ends, former Colt Jacob Tamme and Virgil Green, still have yet to even be mentioned, let alone rookie running back Montee Ball, who has excellent hands and lines up in the slot when the Broncos come out in an empty set. Who will cover them? Linebackers? They can try.
In short, while having the No. 1 scoring defense in the NFL is a feat for head coach Pete Carroll and the 12th Man to be very proud of, the 2013 Seattle Seahawks aren't the 1985 Chicago Bears. They're facing the best scoring offense (37.9 PPG) that the NFL has ever seen in this year's Denver Broncos. It's also worth noting that Denver allows just as many rush yards per game (101.6) as Seattle.
In a matchup that many predicted at the beginning of the season, Peyton Manning will find a way to silence and humble Richard Sherman in snowy New York City. The kickoff of the first outdoor cold-weather Super Bowl is scheduled for 6:25 p.m. Feb. 2.
Adam Unger can be contacted at aUnger@ErieReader.com. You can follow him on Twitter @AdamUnger28.