State board files formal charges against Erie County judge
Court of Common Pleas Judge Stephanie Domitrovich characterizes state's allegations as "devoid of merit"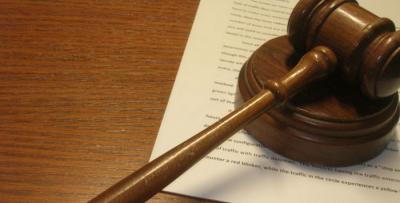 A formal complaint filed Monday by the Judicial Conduct Board alleges that Erie County Judge Stephanie Domitrovich exhibited "on-bench, impatient, intemperate, belittling, overly-critical or disrespectful treatment" of lawyers, litigants, witnesses, Erie County employees and her personal staff.
The 37-page complaint – the first formal complaint filed by the state Judicial Conduct Board in 2014 – contains six counts of judicial misconduct in all. Among those counts is an allegation that Domitrovich provided misleading answers to the board's counsel during a deposition conducted in February.
Other allegations include that Domitrovich exhibited "impatient, undignified and discourteous behavior" in several instances, failed to listen to all parties at a pre-trial status conference and engaged in bullying behavior toward an employee. Such actions, the complaint states, brought the judicial office into disrepute, which is grounds for disciplinary action.
According to the Court of Judicial Discipline rules, Domitrovich will have an opportunity to respond to the charges and have a public trial before the Court of Judicial Discipline. If the court determines that the charges have been proven by clear and convincing evidence, it will schedule a sanctions hearing.
Possible sanctions include reprimand, suspension or removal from office. Domitrovich could appeal any sanctions to the state Supreme Court.
The board was created in 1993 to investigate allegations of judicial misconduct, disability or impairment. Since 2009, it has filed formal charges in 21 cases. Last year, one state judge – Thomas P. Nocella – was removed from office. Of the 784 complaints received by the Judicial Conduct Board in 2013, only one resulted in formal charges being filed. 
According to the complaint against Domitrovich, the Judicial Conduct Board launched its investigation upon request from county President Judge Ernest DiSantis. The investigation request presented a number of allegations regarding Domitrovich's conduct.
Domitrovich's legal team, meanwhile, called the allegations "devoid of merit." In a press release, Leonard Ambrose, Domitrovich's attorney, said he and his legal team are "determined to expose the motivation behind the allegations," which the board made public Monday.
DiSantis would not comment on the matter but he did verify that Domitrovich remains on the bench, where she has served since January 1990 after being the first woman elected to serve on the Court of Common Pleas in Erie County.
However, there's no telling how long she will continue to serve. In addition to filing formal charges against Domitrovich, the Judicial Conduct Board also filed a petition asking the Court of Judicial Discipline to suspend Domitrovich with or without pay because the pending allegations "undermine both public confidence in the judiciary and its reputation."
The petition states that if Domitrovich is permitted to continue hearing cases, "the public's confidence in the judiciary will continue to erode."
DiSantis said if Domitrovich were to be suspended, her cases would be reassigned to "our sitting judges and probably use our senior judges to the extent that they are available."
"As of this point, she's presumed innocent of the allegations and she is sitting and she is hearing cases," DiSantis added.
The Judicial Conduct Board's complaint notes that Domitrovich was – and is – engaged in a number of regional, national and international educational, charitable and civic endeavors. But it also states "in stark contrast to her record of non-judicial public service, the judicial administrative authorities in Erie County have received numerous and consistent complaints regarding Judge Domitrovich's demeanor and concomitant behavior both on the bench and off the bench."
For example, in one custody matter assigned to Domitrovich in the summer of 2012, she told one of the parents that he had put his 6-year-old son in a "very powerful position," one that would enable the boy to manipulate his parents. "And do you know who manipulators are?" Domitrovich asked? "They are criminals. They are criminal defendants because they learn how to manipulate their parents."
The complaint also states that Domitrovich shouted at parties in court on several occasions, screamed at a former secretary for a scheduling mistake, was overly critical of the same employee's job performance and engaged in "inappropriate behavior" that made it impossible for the employee to develop the skills needed to perform in that particular job.
The complaint alleges that Domitrovich tried to terminate that employee while she was on medical leave, but DiSantis would not sign the necessary papers.
The complaint also alleges that during a deposition conducted by the Judicial Board Counsel in February, Domitrovich said that the same employee had been sending pornographic email to people. But the complaint states that an investigation by the court administrator found that the employee received one objectionable email containing a nude photography and that the employee did not send or forward that email to any other court employee.
The complaint also states that during the same deposition, a board attorney asked Domitrovich if her husband, an attorney named Ronald Susmarski, had ever done any substantive work on Domitrovich's cases such as helping draft opinions. Domitrovich answered, "No, sir." But the complaint states that a number of Domitrovich's former staff members told the board that Domitrovich often sent legal materials to her husband for "review, consideration and, where appropriate, editing."
Frank Garland can be contacted at fGarland@ErieReader.com.