Stay Local: Two Historic B&Bs in the Heart of Erie
Take a trip back in time at the Spencer House and the Victoria Inn
"Stay Safe. Stay Small. Stay Inn." Vicke Marz came up with this tagline for her historic bed and breakfast, the Victoria Inn, shortly after the pandemic hit. The Victoria Inn, previously known as the George Carroll house, offers gorgeous historic lodging in Downtown Erie. And with a maximum capacity of 20, the small inn presents less risk than larger capacity hotels. Steve and Lisa Freysz, the owners of Spencer House Bed and Breakfast just a few blocks away, also feel like staying small has become a priority for people traveling during the pandemic. "This past year we have seen quite a few first-time B&B-ers, who would have previously stayed at one of the big hotels on the Bayfront, but because of the pandemic, they just didn't feel safe staying in the same building as a hundred or couple hundred people. Here we have a lot less people, a lot fewer touch points, and it's easier to keep your distance," Steve reflects. 
Now, after a year living through the pandemic, it strikes me that Marz could add "Stay Local" to her tagline and appeal to the history lovers right here in Erie. While it may not be safe or practical to take a long trip away from home right now, one can take a metaphorical trip back in time at either of these iconic homes and seize the opportunity to see our city from a different perspective, learn some history, and experience what it was like to live in a grand old Erie mansion for a night or two.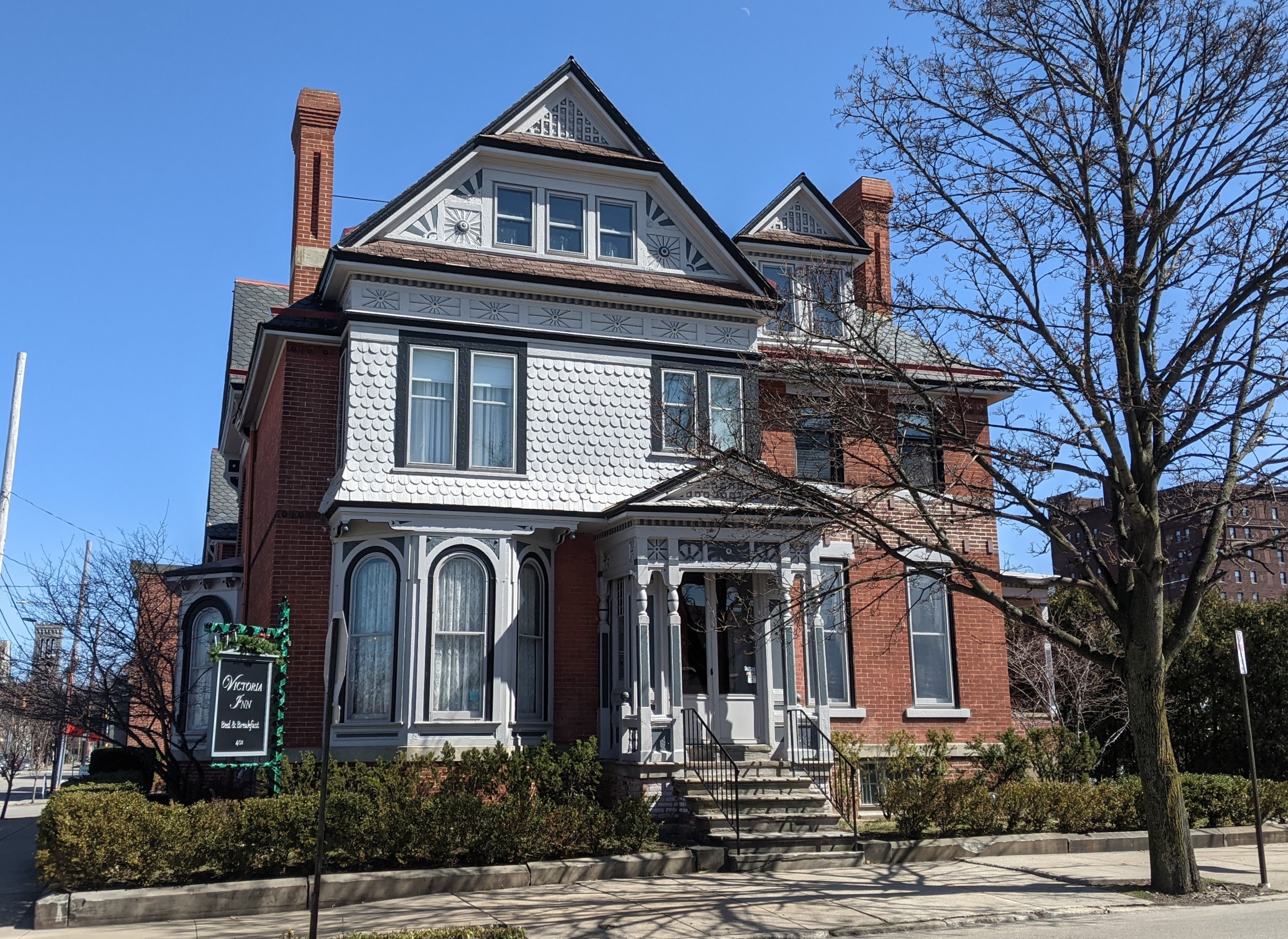 The story of the Victoria Inn dates back to 1872, when George Carroll and his wife, Lavina Clinkenbroomer Carroll, built their home at 401 Peach St. George was born in Toronto in 1828 and came to Erie with his brother, Thomas, to begin a lumber company at the foot of State Street in 1868. The business quickly grew and expanded into a planing mill, producing woodwork and decorative moldings. Carroll was committed to Erie, and each time the brothers expanded their business, George was steadfast in his use of local materials. An article from the Erie Morning Dispatch in 1886 on the expansion of his lumber mill stated that "Mr. Carroll believes in patronizing home industry, and nothing about the mill which could be obtained in Erie was purchased elsewhere." His business was very successful and it stands to reason that much of the millwork on the interior and exterior of his own home was of his own mill's making. George and Lavina had seven children, they held many large parties, hosted out of town guests often, and took in family as needed. Carroll's obituary noted: "His home, at the southeast corner of Fourth and Peach streets, was the center of refined hospitality."
Vicke Marz, the current steward of the George Carroll house, now the Victoria Inn, tells me that the home was kept and occupied by a member of the Carroll family until the 1920s. After that, the home was converted into a boarding house and began its slow decline into ruin. In the late 1970s the home was boarded up and during that period, a lot of damage took place. It was vandalized and looted, and many of its original fixtures, hardware, lighting, and even some of its woodwork were stolen. In the early '90s, the home was actually slated for demolition when the Iverson and Laughlin families purchased it together, restored it, and turned it into a bed and breakfast. They ran it as such for about a year-and-a-half, when they sold it to someone who kept it as an office. It then stood empty and for sale for a few years until the home was purchased by Jeff and Patti Kidder who turned it back into historic lodging in 2006. Many of the rooms have restored fireplaces and trim, one has an antique bathroom with original tile, tub, and sink. Jeff Kidder made custom headboards himself for many of the rooms out of reclaimed antique doors. 
Vicke Marz had just moved back to Erie when her neighbors, the Kidders, took her to see the George Carroll house and she fell in love and bought it from them. It wasn't her original plan to run a bed and breakfast, but when she bought the home in 2018, she (and her entire supportive family) dove in head first. They have made the place their own by adding in some personal touches and as the pandemic lingers on, Marz has set her current focus on the exterior of the home by working to create outdoor spaces the guests can enjoy with gardens and privacy hedges. "We want to be a piece of history in the city where people can come and enjoy downtown, but also feel like they are in an oasis in the middle of the busy downtown."
If you live in Erie, you are likely aware of the Spencer House, even if you haven't had the opportunity to stay there. It is one of the most pristine homes on Erie's Millionaire's Row at 519 W. Sixth St. It is an example of Victorian Stick style architecture with some Second Empire influences, including a slate mansard roof, decorative brickwork, and roof cresting which are all perfectly intact. Period-representative details are present in the interior as well, with rich, unpainted oak woodwork, ornate moldings, and tongue and groove doors filling the home. The first floor library has dark and moody black walnut woodwork, with an ornate fireplace and glass built-ins. The home boasts so much of the original it is easy to feel like you are swept back in time as soon as you walk in the door. 
William Spencer, for whom the Spencer House was originally built in 1876, was born to Judah C. Spencer and Lavinia Sanford Spencer in Erie on June 14, 1848. It was William's father, Judah (named for his uncle, a founding citizen of Erie, Judah Colt) who had the home built for his son as a wedding present. William married Mary DuPuy, and after some hesitation, they moved into the grand home (the hesitation was due to the fact that William was betrothed to another woman who jilted him. The house was originally built for them and Mary felt like the home wasn't truly for her. Luckily for all of us, she came around). William's father started the First National Bank of Erie and William went to work for him after his schooling. Eventually William took over the bank presidency and was an influential citizen in Erie for many years. 
William Spencer died in 1920, but not without leaving behind his legacy in the form of a home that would stay in his family for another 60 years. William and Mary had six children, and their son, Judah Colt Spencer, continued to live in the family home until 1980. It is a rare and fortunate thing for one family to occupy a residence for over 100 years, and as a result, the original design of the home remains largely unchanged. After Judah Colt Spencer passed away, the home sat vacant for a number of years before it was purchased by the Hagenbuch family, who lovingly converted it into a bed and breakfast in 1992. It has been operated as such ever since. The Hagenbuchs added bathrooms to every room, but made sure that demolition was kept at a minimum, fitting those bathrooms into closets or in hallways between rooms. As current owners Steve and Lisa Freysz tell me the history of the home, Steve reflects: "It is in such pristine condition. None of this home was a part of any renovation, this is all original woodwork. And that is part of what attracted us." 
When Steve and Lisa met, they realized that they both had the same dream of owning a bed and breakfast someday. They weren't necessarily looking for a historic property, but when they came to Erie from their home near Lancaster, Pa. to stay at the Spencer House, they were pretty easily convinced that this was their shot. "We liked what we saw in Erie, we really liked Presque Isle, and the few people we ran into here were really friendly. We came back to stay here again for a weekend in April 2018 and got the whole tour of the home and got to check out Erie more, and we fell in love with it." They haven't had to do much work to the house since taking it on, as it has been well-maintained over the years, but they did finish off the third floor to create a few more rooms to rent. Their current capacity is 16. The Freyszs live full time in the Spencer House and appreciate the mansion and the Erie community more and more as time goes on. "We love sharing the house with the community. We've done the Erie Philharmonic Holiday Tour of Homes, we've been on Historical Society walking tours, and this summer we're looking forward to participating in the Our West Bayfront Porch Fest." 
During the pandemic, The Freyszs have noticed an uptick in local people coming to stay at the Spencer House. "We've had a few people from Erie stay just to get away for the weekend. One guest from Erie said to me, 'If I'm off but still at home I'm always thinking about what needs to be done, the laundry, the yard work, but when you're away from home you can just relax more.'" 
One local Erie couple, Spencer and Jennifer Cadden, have stayed at the Spencer House on multiple occasions. The couple love the historic feel of the inn, and Spencer reflects: "The place was as charming as ever and I would not hesitate to go back. It is an extremely pleasant walk downtown and you get to see the best buildings and churches in Erie. Staying at the Spencer House made me feel like I was in a different time and place entirely. It made me feel like we were on a little adventure through some unknown city in 1913 rather than five miles away from our actual house."
George Carroll and William Spencer were residents of Erie at a time when living downtown was the best, most prestigious place to be. They likely worked together, had mutual friends, and attended each other's parties. They were contemporaries, in much the same way that the Marz and Freysz families are now contemporaries. Both families purchased their respective bed and breakfasts within a week of each other and are very supportive of each other. They are now the stewards of these special old Erie homes, and care for them so that all can enjoy them for generations to come. So, the next time you feel like getting away from it all, consider staying local but traveling back in time instead.
Erin Phillips runs the Instagram @olderieonfoot, an in-depth look at local architecture "by foot, stroller, papoose, bike, and occasionally minivan."