Still Dreaming Comes to MIAC
Get the scoop on Still Dreaming, a film coming to MIAC on March 1.
February 23, 2015 at 11:30 AM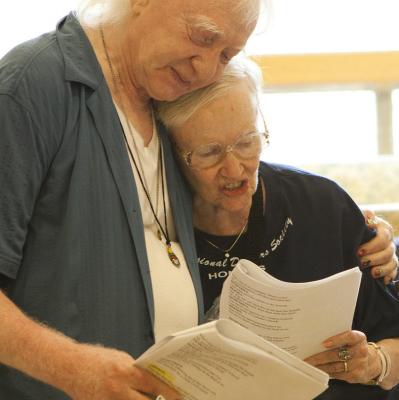 "It shall be called Bottom's Dream, because it hath no bottom; and I will sing it in the latter end of a play…" exclaims Nick Bottom in the fourth act of Shakespeare's classic A Midsummer Night's Dream, after having his head returned from that of an ass. Much like Bottom's Dream, Midsummer deals with themes of perception, memory, and the interplay of reality and dream.

Fittingly enough, then, the documentary Still Dreaming follows members of the Lillian Booth Actors Home as they put on a production of A Midsummer Night's Dream. Seeking to boost the quality of life of the home's patients, Ben Steinfeld and Noah Brody of New York City's Fiasco Theater agreed to lead the production, casting the retired actors and entertainers to help recreate the classic Shakespeare play.

This is where Still Dreaming comes in to the story. Directors Hank Rogerson and Jilann Spitzmiller stated "What we witnessed during the rehearsal and performance process of Midsummer is that the huge talent of these former entertainers is still alive and well, despite their physical and mental challenges." Refusing to shy away from the difficult topics that surround aging and the elderly, such as Alzheimer's, dementia, sight and hearing loss, among others, the film attempts to challenge many of the ill-held notions about those in their golden years.

The film will be screened at the Taylor Little Theatre on Sunday, March 1 at 2 p.m. After the screening, the Mercyhurst Institute for Arts & Culture will host a discussion with Rogerson and Spitzmiller, whose collaborative works have earned over 20 festival awards. Tickets are $6 for adults, $5 for seniors and students, and $1 for Mercyhurst University students (with school ID) and can be purchased by calling 824.3000 or by visiting their website. For more information about the film itself, check out Still Dreaming's official website.