Storm the Bay Tops Multi-genre Bill at Basement Transmissions
The very best from both ends of the punk spectrum. 
April 29, 2015 at 4:30 AM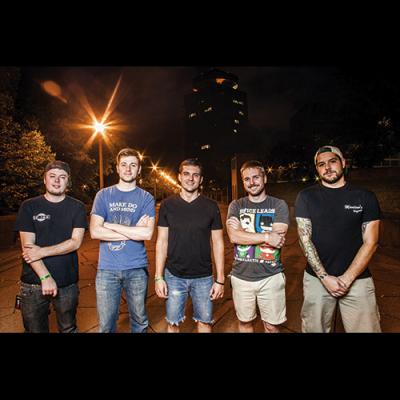 Rochester, N.Y.-based pop-punk quintet Storm the Bay is coming to Basement Transmissions on Saturday, May 2, along with a mix of other genres from local and regional bands.
Storm the Bay's high-energy style and catchy melodies have earned them a considerable amount of fans among Rochester's thriving music scene and beyond. Formed in 2008, they've grown their fan base off of three EPs and a self-titled full-length album that came out in 2014 – all of which were self-released without the help of a record label.
Adding a hardcore element to the show are Harvey Pekar and Cattle Dogs, both on tour from Cleveland. Harvey Pekar's album Upward, Not Northward has a more melodic hardcore sound, comparable at times to Have Heart circa Songs to Scream at the Sun era and Defeater, but with harsher vocals. 
Cattle Dogs have a more typical hardcore feel – fast, heavy, and easy to mosh to. Like Harvey Pekar, they do have some melodic tendencies, but focus more on the rhythm section than the lead.
The opening acts for the night are Archway (featuring yours truly) and The Standby from Erie and surrounding areas. Both bands play a pop punk/'90s emo fusion, comparable to bands like Lifetime and Citizen. Archway is finishing up its debut album My Heart, A Home at the end of April.
This show is a great showcase of two ends of the punk rock spectrum, and anyone who appreciates diversity should come out and have a great time. – Tommy Shannon
Doors at 6 p.m., Saturday, May 2 // Basement Transmissions, 145 W. 11th St. // $10 All Ages // facebook.com/basementtransmissions