Strange Deaths, Ghosts, and Legends at the Erie Cemetery
Newly founded foundation reanimates public tour series
October 9, 2023 at 8:00 AM
"A" is for Amy who fell down the stairs, "B" is for Basil assaulted by bears… "C" is for Charles who died retrieving a pencil and "W" is for William who drank water, too cold? These last two are not quite what Edward Gorey wrote in the 1963 macabre children's classic The Gashlycrumb Tinies, but no less strange — these latter two real-life, mysteriously gothic, intriguingly bizarre deaths are included on the revived public tour series through the Erie Cemetery, which was reestablished after the recent creation of their Erie Cemetery Association Foundation.
Tour leader, historian, and educator Anna Foll tells the stories of these two deaths of Charles and William, as well as many others, during her cemetery tour entitled "Strange Deaths." Little William VanValkenberg rests in his family's plot in the southern portion of the Erie Cemetery. He was just a 10-month-old baby when he died in 1858 from "drinking ice water." Upon seeing this cause of death in the internment books, Foll immediately got to work researching how this could possibly be. Apparently, it was not an isolated occurrence.
Foll comments on her research, "Apparently in 1820 in Boston, 16 people allegedly died from drinking cold water." The truth of the matter is much more likely that there was an underlying, undiagnosed cardiac issue with poor baby William that was exacerbated by the shock to his system from drinking very cold water. Foll continues, "Actually, in 1999, there was a case of cardiac arrest in a 12-year-old who drank a frozen slushie really fast. The cause was found to be cardiac arrhythmia, due to an undiagnosed cardiac condition. Something similar is likely what happened with William."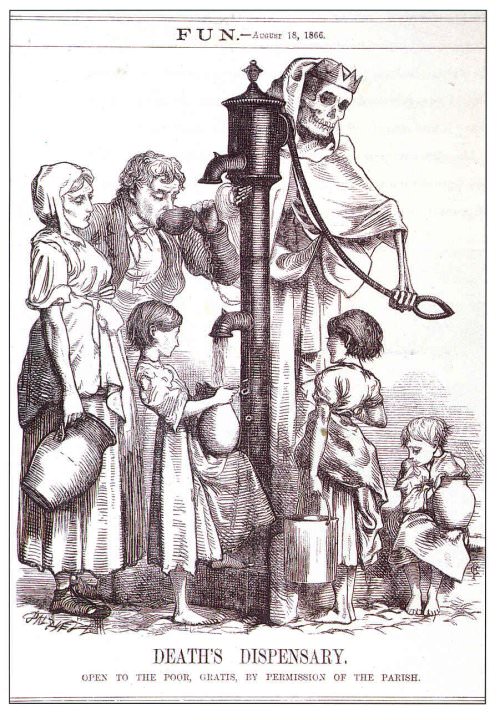 This advertisement in an early 1800s Boston area newspaper warns those of the perils of drinking, not only public water, but drinking it too cold. Death itself is working the pump. Photo contributed by Anna Foll
The case of Charles Finn, who lies in an unmarked grave closer to the entrance to the cemetery, is no less bizarre and upsetting. A 17-year-old boy working at the Erie Manufacturing Company (which was located at 1030 W. 12th St.) was riding in a freight elevator when he dropped his pencil down into the elevator pit. He went into the pit to retrieve it and didn't realize the elevator was already descending with a large load of freight. He tried to leap out onto the floor above, but his effort was too late and he was crushed between the elevator and the floor. The Erie Times News article from March 25, 1912 reported on his death stating, "He died without uttering a word. Had he remained in his position at the bottom of the pit, and not have attempted to get out, he would not have been harmed."
Foll's current slate of tours, happening on Saturdays and Sundays throughout October, is the "Ghosts and Legends" tour, which covers some of the more spooky cemetery legends that have grown, changed, and become more elaborate through the generations in Erie. There are approximately 10 stops on this tour covering everything from the legendary break-in at the Scott mausoleum to the infamous Vampire Crypt and Witch's Circle: if you've heard an urban legend about it, Foll will take you there.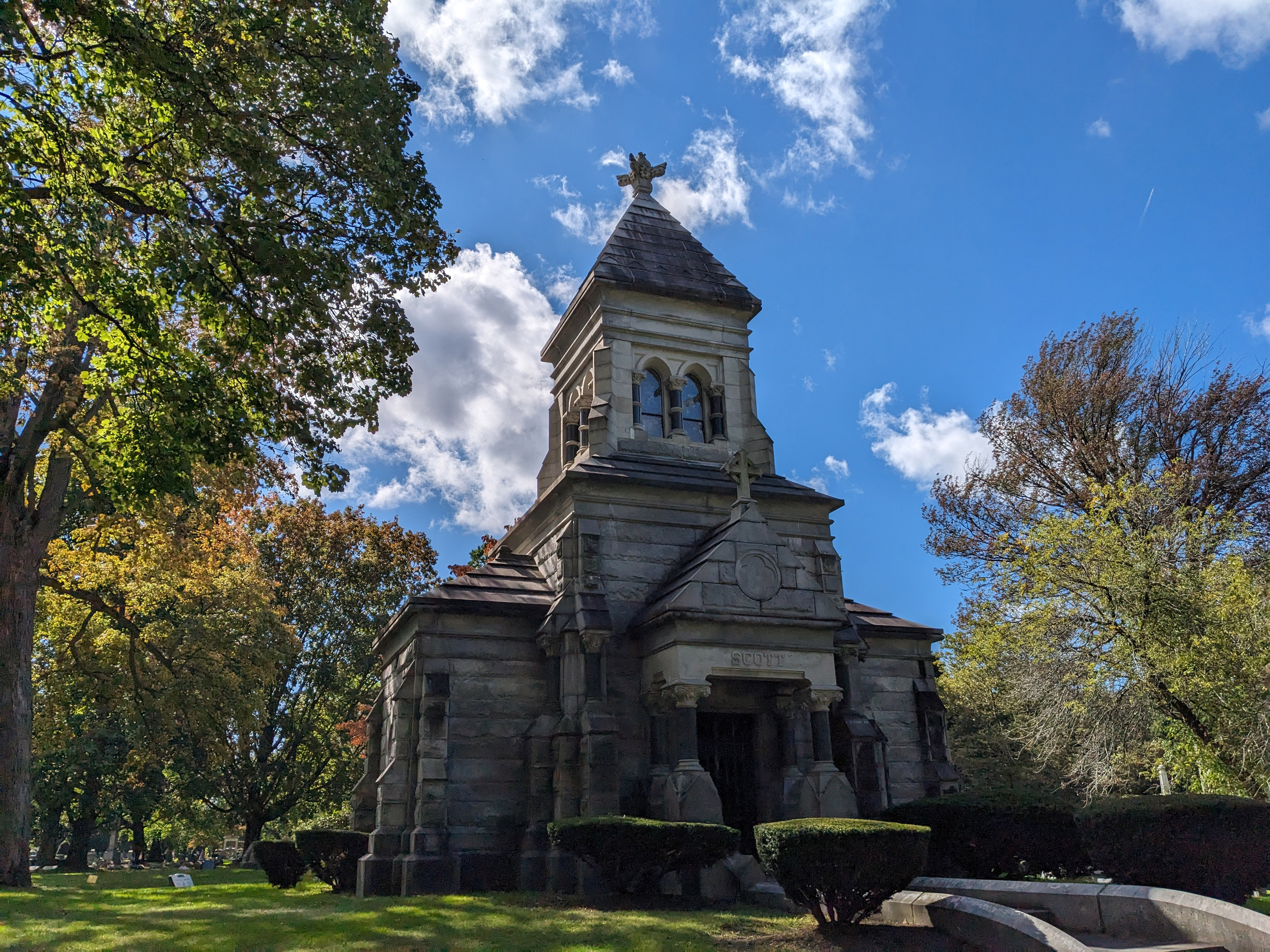 The desecration and subsequent zany investigation of the impressive Scott Mausoleum is the subject of one of the stops on the upcoming Ghosts and Legends tour of the Erie Cemetery. Photo: Erin Phillips
Foll will recount the stories you may or may not have heard, all their various versions, and then tell the true stories as best as she can. Some may prefer to continue on believing in the legend, and that's, in a way, what Foll hopes will happen, "As historians, we always want to know the truth. But if you'd like to think there's a vampire in this crypt, go ahead and keep believing that. Urban legends are cool and they fascinate people and get them to interact with local history."
As she shows me around the impressive Scott mausoleum (a massive, church-like structure that sits a few dozen yards west of the main entrance), she reflects on the importance of learning about local history: "The popularity of these tours makes me excited as a historian and educator, to think people are interested in hearing about local history. I was raised in Erie and we never learned much about our own history. So all these people on my tours, whether they're tourists or are actually from Erie, are excited, and it makes me excited to talk about some of these historic gems here in the cemetery."
The Erie Cemetery Association Foundation (ECAF), which was established in 2020, not only brings fascinating tours to the public with varying themes ranging from Strange Deaths and Ghosts and Legends to more serious subject matter like African American trailblazers, Erie artists, and military tours — the Association also addresses issues long lacking a steward in the cemetery including gravestone cleaning, preservation, as well as providing gravestones for previously unmarked graves (hopefully someday one for poor Charles Finn).
One of the major accomplishments of the association thus far was marking the Burleigh Waters family plot with a memorial. Harry T. Burleigh, composer, musician, and arguably one of the most nationally famous historical figures from Erie, along with his family were buried in the Erie Cemetery for generations but no one knew their location because their graves were unmarked. Betsy MacKrell, director of the ECAF comments, "There are 11 members of the Burleigh family buried there, and they were all civil rights workers in their own rights, some in quiet ways. They deserve to be marked, to be able to be a part of school tours, and to carry on Harry T. Burleigh's family legacy."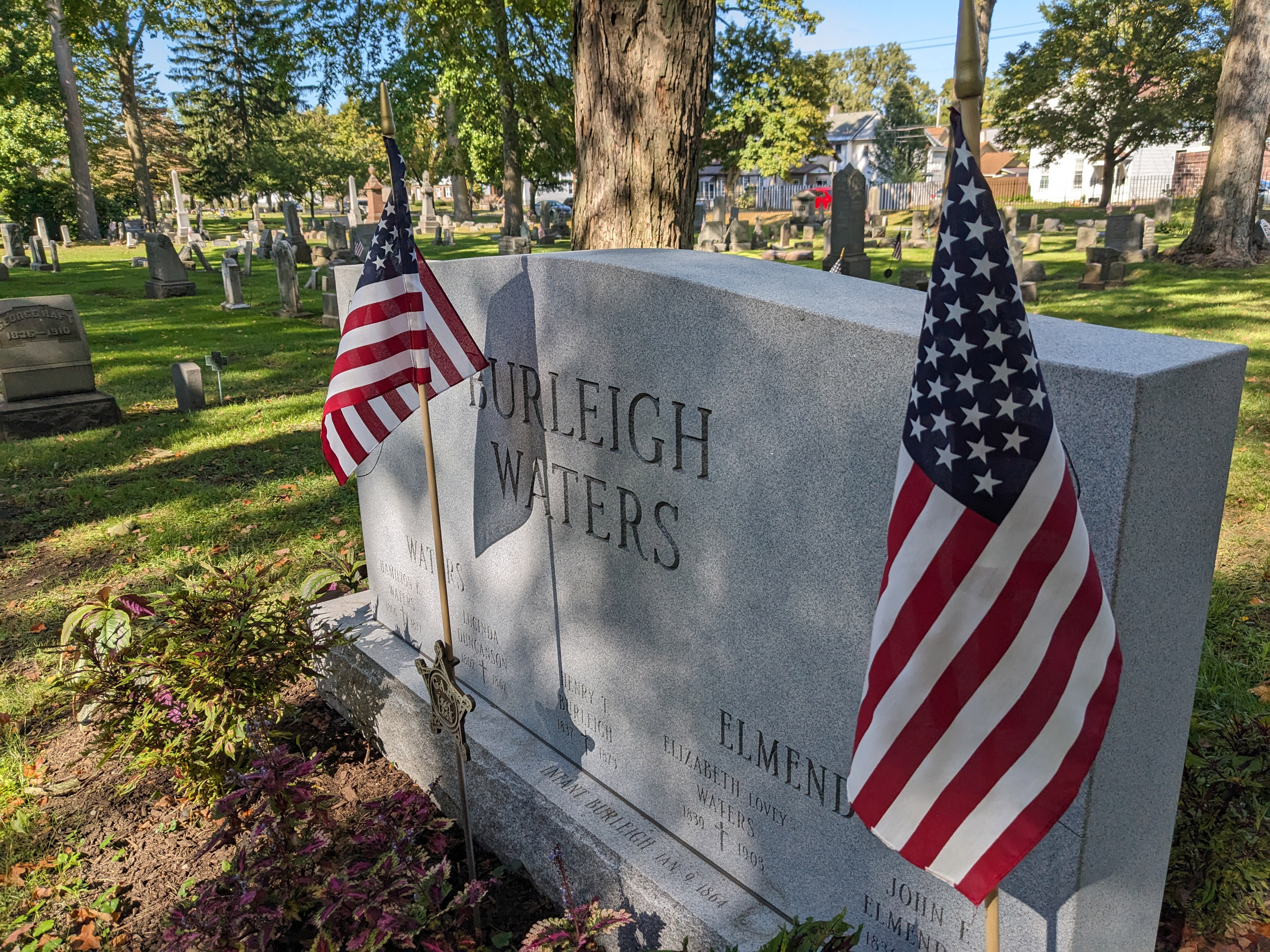 The Erie Cemetery Association Foundation has recently succeeded in erecting a monument to the Burleigh Waters family, as their grave plots were previously unmarked. With the new memorial to Harry T. Burleigh and his family, the site can now be a part of school tours, public tours, and Erie's recorded public history. Photo: Erin Phillips
One of the most intriguing ways to learn about local history is by taking a walk through a historic cemetery and the Erie Cemetery, being the oldest non-denominational cemetery in Erie (established in 1851), is a great place to start. With graves dating back to Revolutionary War veterans, there's something to spark anyone's interest — urban legend-wise or just basic local history. Every grave in the cemetery has a story to tell (some more bizarre than others), but it is through learning and sharing these stories that we keep these people alive.
With modern technology, researching the names on gravestones is now easier than ever. With free online resources like findagrave.com, genealogical websites, and the Erie County Public Library's subscription to NewsBank (which allows one to search through hundreds of years of local newspapers as easily as doing a Google search), you can leave your curiosity behind and actually learn the stories of those resting in our own historic cemetery.
MacKrell comments on the importance of preserving and learning the history of our cemeteries, "Everybody has a story to tell and everybody's story is important. And if we keep telling the histories of the people in our cemetery, we help keep their stories alive."
One can speculate about the afterlife, heaven, hell, etc. One can share spooky stories of ghosts and zombies wandering the earth after they've shuffled off this mortal coil. The only way someone truly lives on after death, especially if that death was generations ago, is through someone taking the time to discover and share their memory and the story of their lives. As old marble gravestones become moss-covered, weather-worn, crack, and crumble — the names, dates, and words left behind fade, and the only way to know the people below the stones is to learn their stories.
If you'd like to join Foll on one of her upcoming Ghosts and Legends tours of the Erie Cemetery, you can do so by emailing eriecemeterytours@gmail.com or by calling 814-459-2463. The tours are held on Saturdays and Sundays throughout October, each day at both 1 p.m. and 5 p.m. and cost $12 for adults, $8 for children, rain or shine, at the Erie Cemetery, 2116 Chestnut St.
Beyond the Erie Cemetery
The Erie Cemetery isn't the only establishment calling upon its history and heritage this spooky season. The borough of Girard is also hosting cemetery tours, for those residing on the western edge of our county. Local historian and author Stephanie Wincik has scheduled tours of the Girard Cemetery, sponsored by the West County Historical Association, happening on Oct. 6 and 7. These tours will cover some major historical figures buried in Girard. Wincik also hosts Candlelight Ghost Walks in and around Main Street in Girard throughout the season. For more information visit: candlelightghostwalks.com
When Erin Phillips isn't wandering among the gravestones, she can be found on her computer, searching for the names and stories of the dead. She can be reached at erin@eriereader.com