Street Corner Soapbox: Where does voter ID stand in Pennsylvania?
Pssst...Read this. Then pass it on.
October 31, 2012 at 8:30 AM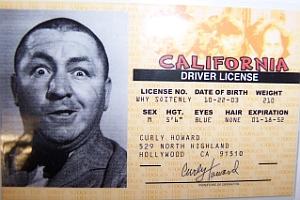 You remember the law that the commonwealth passed. Essentially, it boils down to this: You needed show proper identification to vote. That identification had to be a state-issued card, U.S. armed forces card, an ID issued by a state-care facility, or a Pennsylvania college or university ID card. If you didn't have one of these ID cards, tough luck. Your constitutional right to vote didn't mean squat.
Only a Pennsylvania judge a few weeks ago ordered the state not to enact the law for the upcoming election. Why? Judge Robert Simpson ruled that the state hadn't done enough to provide photo IDs for voters that lacked them. Simpson feared too many voters would be disenfranchised.
This is a good thing. It turns out that photo ID cards necessary to vote required an expiration date -- and Penn State student ID cards, for one, lack expiration dates.
The university quickly added them to the cards of incoming freshmen and provided university-issued stickers with expiration dates for upperclassmen, but required the students to report to "pick-up locations" to get their stickers -- and given the lack of communication about the law and the stickers, it's far too likely many students would have shown up at their polling places only to be turned away.
Penn State students are only one example of the different demographics of voters that would have suffered disproportionately under an active voter ID law. Elderly, poor, and minority voters were also more likely to be lacking proper ID – and also are more likely to lack the means to acquire them. They are the least likely groups to have adequate transportation to ID-issuing locations, the public records such as birth certificates required to get a valid ID, or the time to acquire IDs. But then, that's the plan, isn't it? Those groups are the most likely to vote Democratic, and Republican strategists are on record saying voter ID laws weaken Democratic turnout. Former political director of the Texas Republican Party Royal Masset said in a 2007 interview with The Houston Chronicle that a voter ID law would "add 3 percent to the Republican vote."
But even though Pennsylvanians are not required to have a photo ID to vote – we'll all be asked for photo ID at the polls, but will still be allowed to vote if we don't have photo ID – the damage may already by done. That's because there's still so much confusion about the photo IDs. A Pennsylvania Department of State advertising campaign, for example, features "Show It" in huge letters – while the disclaimer that photo ID isn't required to vote only appears in small type. Other messages are just plain wrong. The Philadelphia power company PECO, for example, sent with its billing letters to its 840,000 customers a note saying voters must have photo ID to vote.
The result may be that many potential voters will simply stay home on Election Day, for fear they'll be turned away for not having a state-issued photo ID card. If that's the case, then Pennsylvania's law worked as it was intended to, even as it was halted by Judge Simpson.
You do not need a photo ID to vote on Tuesday, Nov. 6.
Pass it on.
Jay Stevens can be contacted at Jay@ErieReader.com.