Street Fashionista
Five items, five accessories, and one chic lady. Leslie McAllister dishes.
June 29, 2011 at 12:30 PM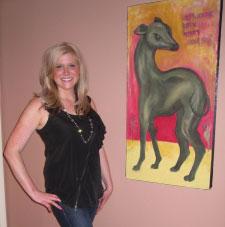 Refined chic.  It's something we all try to achieve; this edge of style that says, "oh, this old thang." 
This is a tailored mentality to dressing.  We are talking clothing that fits and flatters.  Elements and details that surprise and make garments even more special, like asymmetry and ruffles, and cut-outs, and necklines.  Something that takes a basic black tee and punches it up a notch. 
These are items in your closet that you always grab for because you know they work, items you bought three years ago, 15 years ago that make the cut. 
They are five things:  anything black, dark wash jeans wide legged or skinny, anything military or nautical, a white button down and a pencil skirt. 
The five accessories are:  a killer pair of spiked heels, a ballet flat, string of pearls, chandelier earrings and too-die-for-sunglasses.  I promise, you will look great every time.
Where?  Chez McAllister, Erie, PA
Who?  MaryLyn Lessnau
Why MaryLyn? MaryLyn's look says it all.  She's flawless yet sophisticated.  Her sleek lines and classic accessories get her noticed.  The asymmetrical zipper seam on her silk, ruffled tank make an everyday blouse and super special.  I love how she pairs her dark wash skinny jeans with a classic ballet flat!  So chic and effortless. Bravo!
Style Icon: Madonna, "She is always reinventing herself and morphing into something different.  I also love the signer Duffy, she has great hair and style, and of course, Gucci, such sexiness."
Style Motto: MaryLyn is a natural she says, "I don't put much thought into it.  However, I do feel as though I have moved into a period of my life where my style is becoming more refined.  I guess I would label my look as bohemian classic with a little preppy undertone.  I also am drawn to subtle sexiness; showing not too much skin!"
When ML isn't out popping by friend's birthday parties she's cutting and styling hair at Possibilities at 26th and Elmwood.  A true talent MaryLyn, is the one to watch in Erie.  Coming from experience, MaryLyn has taken my bleached out platinum locks in desparate need of help to beachy, boho fabulousness!  Trained by Aveda, MaryLyn has learned all the tricks to get you noticed!
Find me out on the town and challenge yourself to get noticed by the Erie Reader!