Street Fashionista: Music Fashion
A conversation with Taylor Herbstritt, Monica Lewis, and Kayti Stadler.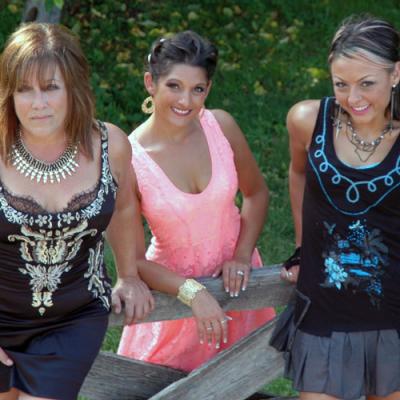 I think we all can agree that one of the best parts of living in Erie is the summer. After being corralled indoors for months, all we want is to breathe the fresh, warm air, feel the sand between our toes, and listen to music – outside! Erie is fortunate to have an abundance of talented musicians and vocalists. Many of these performers not only entertain with their songs, but with the distinctive style they bring to the stage.
I recently met with three female entertainers whose style exudes personality while conveying an authenticity true to each. Kayti Stadler (Key West Express, Lucky Dog), Monica Lewis (Stiletto, Ruby Port), and Taylor Herbstritt (Taylor Maid, Sunday Sound) took a break from their jam-packed schedules to tell me what inspires their fashion choices and how fans can emulate their respective looks.
Although Kayti's style tends to be different for each band, she has her look down to a science. Regardless of whom she is singing with, you can bet she'll be donning some type of fun and flirty ensemble!
Lili Morton: How would you describe your style?
Kayti Stadler: I would say Flirty/ Girly. I love bright colors, flowers, lace, bows, and sparkles.
LM:  A performance is scheduled last minute and you haven't thought about what to wear; what do you do? What is your go-to look?
KS: A cute, flirty sundress, and a bow or flower in my hair to match. I tend to only wear flowers when I sing with Key West Express. With Lucky Dog, I accessorize more with my jewelry.
LM:  When shopping for your gigs, what are your favorite stores? Online retailers?
KS: I Love Charlotte Russe. Their clothes are fun, bright, trendy, and they are super affordable!
LM:  Favorite lipstick color?
KS: I can't live without my Buxom lip gloss from Sephora. My shade is Zoe. I am not a huge lipstick gal, but I always have my gloss on!
LM:  Best fashion advice ever received?
KS:  "Just be yourself."  I find myself questioning my fashion sense all the time and I have to remember that if I like the way I look, that is all that matters! Who cares if someone else doesn't like it!
Monica Lewis created the female-fronted, powerhouse band Stiletto in 2010. She is also a vocalist for the ten-piece horn band, Ruby Port. Donning killer stilettos (of course) and an impressive set of pipes, no one would know she is a latecomer to music.
LM: How would you describe your style?
Monica Lewis:  I would describe my style as Edgy/Pretty. I like to be a little dressy, but always try to incorporate a little rock edginess to it. Sometimes, I have to create this by cutting clothes apart and totally rebuilding them on my sewing machine. The right accessories can also accomplish this combination.
LM: For fans who love your style, how can they "copy" it?
ML: Fans of Stiletto just have to follow the band name: Super. High. Heels. I have a pair of black, strappy sandals studded with big, chunky clear rhinestones at the toes and ankles. A fan once described them as "designed by the devil himself." So far, I have written down the brand name and website of these shoes for no less than three people.
LM:  What are some of your current fashion obsessions?
ML:  Boots! In Stiletto, I bend the rules a little and wear very high stacked heels instead of stilettos. And when I sing in my acoustic show with Julio Quezada, I love wearing a pair of western knee-high boots with three-inch stacked heels, a skirt, and a casual top.
LM: Where do you go to seek inspiration?
ML: I actually watch the vocal competitions on TV. They have great fashion stylists on those shows with some unique ideas.
LM: Best fashion advice you're ever received?
ML: My doctor told me to wear flats, but he knew I wouldn't listen so he said to take two Tylenol after the first set so my feet won't hurt. He was right.
After wearing a uniform all day at her 9-5, Taylor's creativity has the opportunity to shine on stage, both through her music and her laid-back, rocker style.
LM: Tell us about your style.
Taylor Herbstritt: I'm kinda all over the place when it comes to my style [laughs]. I guess it depends on my mood that day. I love skulls and black clothing, but sometimes I like sporting a cowboy hat.
LM: How can fans emulate your style? What is a style or article of clothing you typically always wear?
TH:  I love wearing crazy outfits, and I also like making my own shirts! I like to cut up plain shirts and make my own style. I get a lot of compliments on them and people ask where I got them. When they find out I made them myself, they ask me to make them one!
LM: '90s Grunge or '60s Glam?
TH:  Definitely '90s Grunge!
LM: Heels, Booties, Wedges, or Flats?
TH:  Definitely flats.... Or barefoot!
LM: Most memorable look?
TH: Probably on my 30th birthday gig at Oasis last year. It was an awesome, red and black lace corset top with shiny, black jeans. My friend Julie styled my hair with red spikes; it looked so cool! Best. Birthday. Ever!!
LM: Best fashion advice ever received?
TH: Don't try to be like everyone else... Create and be proud of your own style. And I do!
Lili Morton can be contacted at LMorton@ErieReader.com, and you can follow her on Twitter @SatinAndScotch.