Street Fashionista: Philip D. Orinko
Is it funky? Is it classic? Or is it Eclectic Electric?
January 26, 2012 at 8:00 AM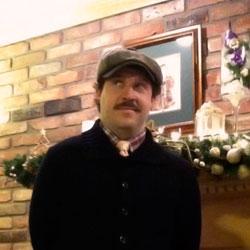 Eclectic Electric
I think the most interesting style, be it for a man or woman, is one that is ambiguous—one that comes alive through many different inspirations and is effortless. That, to me, is true personal style. 
Fall and winter dressing are great times to awaken this because of layering.  Girls can do just about anything with this:  leggings, leg warmers, turbans, tutus, tank tops, boas—ahem, Cindy Lauper.  Guys can achieve this look with T-shirts, thermals, plaid button downs, sweaters, and the like.   Adding accessories is key to that eclectic vibe: hats, ties, scarves, cool shoes—all of these rolled together make for a very interesting and unforgettable outfit. 
But wait, don't just go all willy-nilly on it, or you'll end up looking wacky and out of place. Eclectic is a very delicate bird.  The best way to win with this look is to stick to classic components and neutral tones with an occasional entree of bold colors.  There are two veins to this: Classic Eclectic and Funky Eclectic; my focus is on the latter... I was a Funky Eclectic up until my mid-20s. Then, I had to transition to the Classic version or I may have been committed (think Helena Bonham Carter at the Golden Globes 2011 and her mismatched shoes).  Okay, let's face it: the Classic Eclectic is just classic with a kick, kind of like Walter Murphy's unforgettable disco phenomenon "A Fifth of Beethoven."
Who?  Philip D. Orinko
Where?  Celebrating the New Year on Contessa Lane, Erie
Why Philip?  I love his whole look here.  I know it's a classic feel, but I can't place it. Is it Fisherman-esque (a nod to the sweater and the off-the charts-cool kelly green suede Sperry's)? Is it a throwback to the 1950s paperboy (inspired by his hat, of course)?  He's just so newsy!  What a simply cool look! 
For those of you who have seen Phil around town, you've seen how he has made a sophisticated transition from the tie-dyed shirts of yore.  Phil has really come into his own and adapted his own style.  I love his tweed Newsboy hat, his plaid shirt with a pink tie, and Fisherman's sweater.  He pulls it all together with a pair of khaki trousers.  It doesn't make sense, but it totally makes sense.  A style enigma at its most perfect!
Describe your personal style.  In true form, Phil says he dresses by how he feels that day.  (I saw Phil two days after the New Year, and there he was in total fisherman form, from the Pea Coat to the ivory knit hat).  Phil says, "I just take a look in the old closet and throw on what I feel might look good."
Style Inspiration?   Phil confesses, "I don't necessarily admire any one persons style.  I would like to think I take quite a bit of many styles and mismatch them!" Phil just likes to be different!
Favorite Places to Shop in Erie:  I had to know where he likes to find all his cool duds.  I did find out the Sperry's come from the Providence Mall in Rhode Island.  But locally, Phil likes to haunt Peacock Joe's—a men's consignment shop near the West Erie Plaza, Macy's, and the Express. 
Favorite Erie Nightspot:  Since Phil is a man about town here are his go-to places to unwind: "The Vermont Tavern, there is phenomenal food and drink for a great price."  The second is The crooked i, "I love the local and national acts and there's always a great drink special!"
Phil spends his days working for the Barber National Institute at the Federal Courthouse in building maintenance and custodial work.
Find me out on the town and challenge yourself to get noticed by the Erie Reader!
Full Profile