Summer Interns Keep Erie Humming
Students give back as they gain experience
August 14, 2023 at 11:00 AM
Tianyuan "Jamed" Dou, 26, whose family lives in the city of Zibo, China, plans to work for a National Basketball Association team in a global partnership or sponsorship capacity. He hopes that his summer internship in a different sport, with the Erie SeaWolves baseball team, will help him achieve that goal, after he receives his master's degree in recreation, sport, and tourism from the University of Illinois at Urbana-Champaign. He also has bachelor's degrees he earned in China's Shandong Province and from Simon Fraser University in Vancouver.
"I have three different countries' cultural experiences and I feel like I can use my knowledge and experience to make some contributions to the world," he said.
Taniah Stephens, 23, a Fairview resident and Villa Maria Academy graduate, aims to host a nationwide show — on TV, as a podcast, or in both formats — where a group of knowledgeable women can have candid conversations about sports. She is starting a master's degree program, specializing in psychology, sports management, and strategic communications at Ohio University, where she earned her bachelor's in the journalism news and information track.
"Women get talked down to about sports a lot," said Stephens, who knew by fifth grade that she wanted a career in sports broadcasting. She already successfully pitched a weekly radio show and podcast idea, GenZ-Erie, to TalkErie, where she is interning. Station manager and host Joel Natalie is delighted at her initiative and drive. "We're getting great feedback," said Natalie. "Her numbers are incredible."
On her live show, Stephens tackles "crucial" topics for her generation, including relationships, dating, mental health, entrepreneurship, work life after college, financial literacy, sports, and faith. The format is to invite one or two guests — usually one of her peers and an expert on that week's topic — and to take calls from listeners. You can hear her show on Thursdays at 7 p.m. on 105.9 FM or find it on Facebook and Spotify.
How does she keep the conversations on an even keel? "We're trying not to look at anything negatively," Stephens said. "I'm a really optimistic person and trying to be consistent with positivity." It helps that she is the "daughter, granddaughter, stepdaughter, niece, and goddaughter" of Christian preachers. "My foundation is on faith," she said.
Dou and Stephens are among hundreds of college students who are enlivening workplaces in Erie and elsewhere during their summer internships. They are burnishing their resumes and championing creativity and innovation as they bolster their confidence for future employment.
Erie Insurance alone boasts 115 interns — 100 are new and 15 returned from last summer. "They represent 50 different colleges and universities and work in more than 20 departments across the company. The largest number of students work in the areas of IT, claims and actuarial," said Matthew Cummings, manager of public relations and social media.
"Internships are important for both the student and the employer," said Edwin Voll, assistant director for student employment at Gannon University. "The student is given a real-world opportunity to apply their skills and increase their knowledge and the employer benefits from evaluating interns as potential candidates for future employment," he said. An internship can be viewed "as an extended job interview," he said.
At PennWest University, "Internships are professional learning experiences that offer meaningful, practical work related to a student's field of study or career interest," said Christopher LaFuria, deputy communications officer. This summer, PennWest's Edinboro students, for example, are working in graphic and interactive design at the Franklin Chamber of Commerce and in marketing and communications at the National Comedy Center in Jamestown, New York.
Mercyhurst University students are also interning at the Comedy Center, as well as at the Hagen History Center in Erie, at Disney, Bristol Meyers, the Buffalo Bisons AAA baseball team, Country Fair, the Royal Canadian Mounted Police, the FBI, and NCIS, among many other places, according to Frank Rizzone, employer relations specialist.
Thirty years ago, employers outside of Erie didn't know where Mercyhurst was and weren't familiar with its Intelligence Studies program. "These kids have taken the word out there," he said. "Now, (employers) come to us looking for interns." When Mercyhurst students are hired full-time after graduation, they recommend Mercyhurst students for internships, he said. "It helps us to build an alumni network that is unbelievable," he said.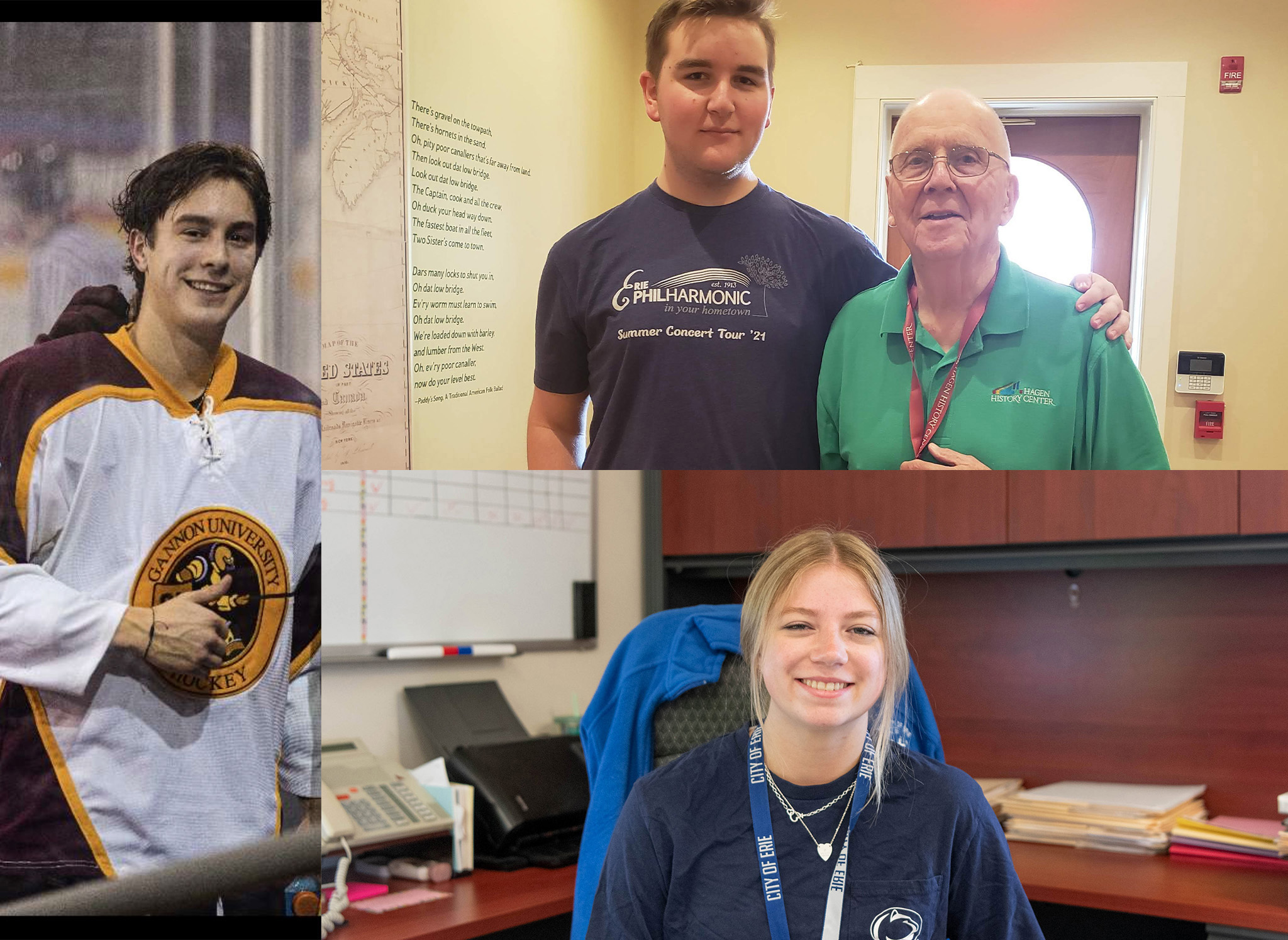 (Clockwise from top left) Aiden Hicks is a rising senior at Gannon University, and is an intern with the Erie SeaWolves this summer. Wade Williams, a rising sophomore at Behrend, is interning at the Hagen History Center where his grandfather, Howard Wright, is a volunteer. Penn State Behrend graduate Laney Douglas interned in the City of Erie's Human Resources department, where she now works full-time.
Lauri Enterline, associate director of career services at Penn State Behrend, said that employers encourage students to land internships as early as possible during college. Doing more than one internship is also a plus, she said. Behrend students are introduced to the internship process as freshmen, she said. "We are in front of them in their first-year seminar class," she said. The internship process is then integrated into each academic discipline, as students can learn how to prepare a resume, write a cover letter, and practice for a job interview.
Nathanial Clark, 20, a Fairview High School graduate, just completed his sophomore year at Behrend, as an English major in secondary education. He's in the 2 + 2 program and will attend Penn State's main campus for his final two undergrad years. He learned about internship opportunities at the Hagen History Center through Behrend's Excelerate Program, which is endowed by Erie Insurance.
"In general, history and English go hand-in-hand," said Clark. "You need to be able to craft a story to tell history." Clark originally wanted to go into mechanical engineering but his interest in media "and its consequences to society" led him to English. In middle school, a teacher introduced him to Fahrenheit 451, he said. "I just deeply connected with it and understood its purpose," he said. "It's crucial for people to see what can happen if you almost attempt to censor or to change a subject," he said. His internship duties have included helping to prepare for the History Center's detective and architecture camps for youngsters but he is excited about having access to all of the history center's resources. "There is so much history in Erie that is not discussed enough," he said. "I have an inspiration to tell those stories and bring them to light and communicate about them."
The best way to help bridge the divide we are witnessing today is to "talk more on how history or reading or literature acts as another way to understand people's concepts or viewpoints," he said. Such understanding is "a way for society to continue," he said.
Wade Williams, 18, graduated from high school in Texas but has family roots in Erie. "Texan blood is inside of me. I'm very much a fan of the Second Amendment. I drive a truck and wear a cowboy hat," he said. Williams just finished his freshman year at Behrend. He is in the 4 plus 1 program, so he will earn his bachelor's and master's in education in five years.
At the Hagen History Center, he is compiling files of objects in the archives, he said. He was familiar with the history center because he often accompanies his 88-year-old grandfather, Howard Wright, who volunteers at the museum. Williams sought out the internship on his own. "I came in and said, 'Hey, let me be an intern here.'" History Center staffers have also been treated on occasion to Williams' talent as a bass singer in a barbershop quartet. The Wood-Morrison House, in turns out, has marvelous acoustics.
Rising college seniors Abi MacKrell and Jem Neumann, both 21, are interns in Erie Mayor Joe Schember's office this summer, working mostly on Celebrate Erie. MacKrell, a member of the Lion Entertainment Board at Behrend, enjoys learning about "the mechanics of getting things booked, writing professional emails and getting invoices set up." She is also working on organizing the Family District for Celebrate Erie.
A graduate of a small high school in Butler County, MacKrell is looking forward to hearing the headliners and all of the live music at CelebrateErie. She will be in familiar territory. Since age 4, she has been singing at small festivals with her guitarist dad, who is a meat cutter in his day job.
Neumann, a Gannon student, is from State College, and is also busy with two other internships this summer — one as a Gannon tour guide and another doing social media for the Erie Art Museum. The City Hall internship is appealing, Neumann said, because it's a chance to learn about public sector work, in addition to the nonprofit world.
"Erie is a really great place, the perfect size to be able to do anything you really want to do and it's still accessible," whereas in State College, "you get into this competition mindset," said Neumann, whose mother, father, two sisters, nephew, and the family's foreign exchange student from Germany are excited about visiting Erie to see Celebrate Erie headliners Flo Rida and Parmalee.
In addition to her job as an administrative assistant at Penn State, Neumann's mother does wedding planning. "I grew up helping with those a lot," Neumann said. "I always felt like I was doing it well and realized that everybody needs people to do that and that I could work in any field."
Literally being flexible about the field you choose for a summer internship helped Aiden Hicks, a rising senior at Gannon. His dream job is to work for the National Hockey League, as a general manager, scout, agent, or in management/marketing. This summer, he's working for the Erie SeaWolves baseball team.
Hicks, 21, grew up playing soccer and hockey in Coldwater, a small town in Ontario, Canada, near Barrie. He then played soccer in Spain until the pandemic hit. Now, he plays both hockey and soccer at Gannon, where he is a senior double major in sports management and marketing. "Growing up, I never competitively played baseball nor was it as popular in my area compared to the U.S.," he said. Nevertheless, as a junior associate at the SeaWolves, he is learning about many aspects of sports management by "working at the sales table, box office, concession stands, selling 50/50 tickets, jersey raffles and communicating with fans/consumers," he said.
"Being able to see how game days operate from opening to close is very beneficial and provides me with the experience needed." Hicks advises college students who have not yet had internships to "go out of your comfort zone."
For his SeaWolves' coworker Dou, pursuing a dream career also required being nimble and flexible. His father encouraged him to go to Simon Fraser University in Vancouver after attending the University of Jinan in China. "I spent 21 years in my comfort zone and doing my college degree inside of our province of Shandong, so it is like I never left home for a long distance and a long period," he said.
That's an understatement. Dou has been away from home for four years due to COVID-19 and at first, found it difficult to make friends when he moved to Vancouver. A college professor, who became his "Canadian mom," pushed him to go to the U.S. for his master's degree. He also credits Stan, a mentor he met while working in maintenance at a driving range, with helping him reach his goals. "He asked me to write down my SWOT (Strengths, Weaknesses, Opportunities, and Threats) analysis for him and I really did. It sounds ridiculous. I worked in the labor force and someone asked me about my personality from my business knowledge." His mentor, a graduate of Stanford and Princeton universities, "taught me a lot of knowledge that I could not have learned in a book."
It seems fitting that my internship story is running in the Erie Reader's annual Erie Gives edition. Whether they are working for private businesses, nonprofits or in public service, Erie's interns give a lot to our community through their drive and personalities.
Stephens, at TalkErie, likes to banter with Natalie, the station manager, about the greatest basketball player of all time. Natalie's pick is Michael Jordan, but for Stephens, there is no competition. It's LeBron James. She has that in common with Dou, who explains why he nicknamed himself Jamed. "I named myself after LeBron James and the 'D' comes from my family name," he said. As with all of the interns, he's gaining practical experience in the workplace. But the favorite aspect of his internship? "I love communicating with different people, especially the kids and the elders, since they all give me positive motivation with a big smile on their faces, which can make my day."
Liz Allen still keeps in touch with interns she met during her career at the Erie Times-News. You can reach her at lizerie@aol.com.
If you're interested in an internship with the Erie Reader, fill out our online application here.
Internships offer paths to jobs
Career experts say that internships lead to full-time careers after college graduation, and there's proof of that axiom from local employers. "Our internship program, which began more than 20 years ago, has helped launch the careers of hundreds of current Erie Insurance employees and offers paid, competitive internships across several areas of the company," said Matthew Cummings, manager of public relations and social media. "The Erie Insurance Future Focus internship program has been named to the Rising Insurance Star Executive (RISE) list of the insurance industry's 50 best internship programs for several consecutive years.
Ours is continually rated one of the best in the industry," said Cummings. At the Erie SeaWolves, Laina Banic, director of fan engagement, and Sean Taylor and Andrew Hoban, both account executives, are all former interns.
Two former interns for the City of Erie now have full-time jobs there. Mercyhurst University graduate Adrienne Nannen, originally from Smethport, interned there in 2019, focusing on Celebrate Erie. She is now the city's event manager. Behrend grad Laney Douglas, an Oil City native, interned in the Human Resources department for close to a year before being hired full-time as an HR administrative assistant in May. "I knew after my first psychology class I wanted to go into the field of industrial organizational psychology, which is the science of human behavior in the workplace," she said. "Throughout my experience as an intern, I learned the ins and outs of how the city's HR department works. I learned the hiring process, internal employee moves and so much more," said Douglas. During her internship, she became familiar with the four unions at the city — fire, police, Teamsters, and AFSCME. "I was also given the opportunity to help with police and fire new hires with our assistant director, Carol MacWhirter," she said. "I knew as soon as we had a full-time position I wanted to apply, even though I did not finish school until May 2023," she said. Laney has witnessed how interns make a positive impact in the workplace.
Interns "bring a fresh set of eyes into the department," Douglas said. It's also wise to encourage interns to speak up. "If you have someone new asking all these questions, it can help create new ways of thinking. Some teams might get stuck in the way they do certain procedures, and a new set of eyes might be able to help change things to be more efficient. "One thing I loved about interning was my ability to ask questions about anything and not feel judgment, and the ability to learn how City Hall works." She's also come to appreciate city life outside City Hall. "One really cool thing I have experienced and learned about Erie while working at the city is all of the summer events and festivals that happen downtown. I know that when I was at Behrend, I did not really know of anything happening downtown, like Celebrate Erie or the cultural festivals."