Super Bowl XLV Recap
Despite the valiant second-half comeback by quarterback Ben Roethlisberger, it was not enough as Green Bay defeated the Steelers 31-25.
February 8, 2011 at 10:00 PM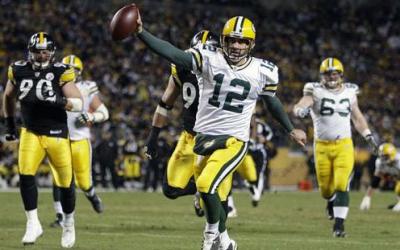 For three consecutive road playoff games, I have retreated upstairs to my room to watch the Green Bay Packers.
By myself, with no interruptions.
On Sunday night, I took a risk, bundled up and walked down the street to my uncle and aunt's house to watch Super Bowl XLV.
"If things start to get bad," I said, guzzling a glass of wine, "I'm going home."
"Just sip your wine and sit down," my grandfather said, "Get comfortable, you're not going anywhere."
I sat in a black office chair for the entire game. I cheered, I cursed, I screamed, I bit my nails down to nothing.
For the entire week, I kept a deep, dark secret to myself: I had doubt that my beloved Green Bay Packers wouldn't get it done against the Pittsburgh Steelers. Any fan would say that's blasphemy, I say it's realistic thinking.
With 1 minute, 59 seconds left to go in the fourth quarter, Pittsburgh got the ball back on its 13-yard line, desperately needing a touchdown. Pittsburgh pushed it to its own 33-yard line, but Green Bay's defense forced Roethlisberger to make three consecutive incomplete passes.
No matter how in-depth analysts get, no one can predict turnovers. The Steelers committed three costly ones. Despite the valiant second-half comeback by quarterback Ben Roethlisberger, it was not enough as Green Bay defeated the Steelers 31-25.
Poor execution: I was stunned how poorly the two-minute drill was executed by Pittsburgh. You can blame it on the quarterback, the offensive coordinator or the head coach, but in the end, this is not what a so-called 'experienced' football team should be showcasing. Roethlisberger, unfortunately, picked the wrong day to have a bad game.
Mike Tomlin, one classy guy: Tomlin came right out and said there were no excuses for how his team played. Pittsburgh just didn't get it done.
"What I will do is say Green Bay played a pretty good game and made the necessary plays to be world champions."
Class act.
Green Bay's offense: Aaron Rodgers finished the game with 304 yards, three touchdowns and named the game's Most Valuable Player. In just his third season as a starter, Rodgers has emerged as a quarterback wise beyond his years.
The offensive game plan for Green Bay was simple: Spread the field, take Troy Polamalu out of the game.
Mission accomplished.
Polamalu finished with just three tackles, no sacks. The Defensive Player of the Year was an absolute non-factor.
Let's just stop comparing Brett Favre and Aaron Rodgers: Comparing these two quarterbacks is like comparing apples to oranges. I'm going to leave it at that.
With the 2010-11 season in the books, there is a more serious matter to attend – The Collective Bargaining Agreement between players and owners.
The hope is that both sides come to a mutual agreement and meet somewhere in the middle. If and when that happens remains unknown.
However, after this year's Super Bowl, how can anyone entertain the thought of no football?