Surfing the Lake Erie Waves
Winter winds bring in a swell of surfers
December 7, 2022 at 12:00 PM
While most locals stop or scale back their visits to Presque Isle State Park during the winter months, there are some who can't wait for the bitter temperatures and high waves the winter season brings. You've likely heard of the popularity of ice fishing, but there's another winter sport that is bringing in those who dare to brave the icy waters and frigid wind chills.
Surfing the Lake Erie waves is definitely a thing, and finding out how to get involved is as easy as making a stop at Erie's local surf, skate, and snowboard shop, The Isle Surf and Skate (3628 W. 12th St.). Owner Dan Parra, who was born and raised in Erie, opened the shop in April 2022 and has been surfing for about 17 years.
"We in Erie are blessed for surfing because we have Presque Isle which catches wind from all directions," Parra said. "We need cool air and warm water, when the winds are blowing it will blow bigger waves. Usually we surf right up until the ice dunes form and then transition into snowboard season."
Although Presque Isle is a popular spot for surfing, it is only officially authorized by the park on Beach 1 and the far east end of Beach 10 due to concerns about surfing into the breakwaters. "There is a push to get those rules changed," Parra said. "It was made about 20-25 years ago and the Presque Isle shoreline moves around constantly so the rule is outdated. We want to bring people here to surf and for the community to also experience that. We have a pretty healthy surf scene here. People are always shocked to find that out, but nobody goes down there this time of year to check out the lake. You have to think outside the box," Parra said.
The ranger station at Presque Isle State Park confirmed these rules and that there is the potential to have them either reexamined or more clearly defined by the state in the future.
"For recreational purposes it's really doing a disservice to people who want to be out in the water. You can surf on a paddle board or a kayak but board surfing is specifically outlawed," said surfer Ryan Burke, owner of PI Surfboards.
In Lake Erie, surfers also paddle out at Edgewater/Pinched Loaf on the far west side of Cleveland, at the east end of the Cleveland Harbor breakwall, Hamburg Beach, Luna Pier, Point Abino, Port Maitland, Reebs Bay, and Sterling State Park. With the windchill sometimes reaching -10 °F (-23 °C) on the lake, surfers battle the cold temperatures for a limited time until the lake freezes over. Peak season for surfing is usually October through January, but Burke says you can surf most of the year. "Presque Isle is the best surfing on Lake Erie; we have the better waves. I've been surfing it for about six years, and especially in the warmer months, late summer, you can still have a beach day and surf," Burke said.
The Great Lakes' coastline measures approximately 10,500 miles, so it is commonly called the United States' "Third Coast," and the waters are well known for being inland seas due to their ocean-like characteristics. According to SurferToday, the very first surfers hit Lake Erie in Buffalo, N.Y., in the 1960s, although there are reports of wave riding activities in the region as early as the late 1940s.
The popularity of surfing the Great Lakes has been growing throughout the years, with a current Great Lakes Surfing Association Facebook group at 5.4K members and the Presque Isle Surf Club Facebook group at more than 900 members. In the 2005 documentary Unsalted: A Great Lakes Experience produced by Vince Deur, you can see surfers walking over the snow and falling through sheets of ice to reach the surf in thick wetsuits to handle the cold waters. Photographers often capture Great Lakes surfers coming out of the swells with beards full of ice formations. The strong winds off Lake Erie are bitterly cold and provide an extra layer of danger to the sport that is not to be taken lightly.
Surfers agree the wetsuit is the most important piece of equipment for a lake surfer. Generally speaking, November through April requires a thick suit and gloves. For someone interested in learning about Lake Erie surfing, The Isle Surf and Skate Shop offers a package deal for $99 for a four-hour rental. For that price you get the board, the suit, the gloves, and a one-hour lesson included. "My best advice is not doing it alone, and knowing your limits; don't go out there when the waves are too big," Parra said. "If you're going out for the first time, come by the shop, talk to us and let us steer you in the right direction. You'll need to know how to swim and know about rip currents. It's a growing community but it's small, so we really watch out for each other."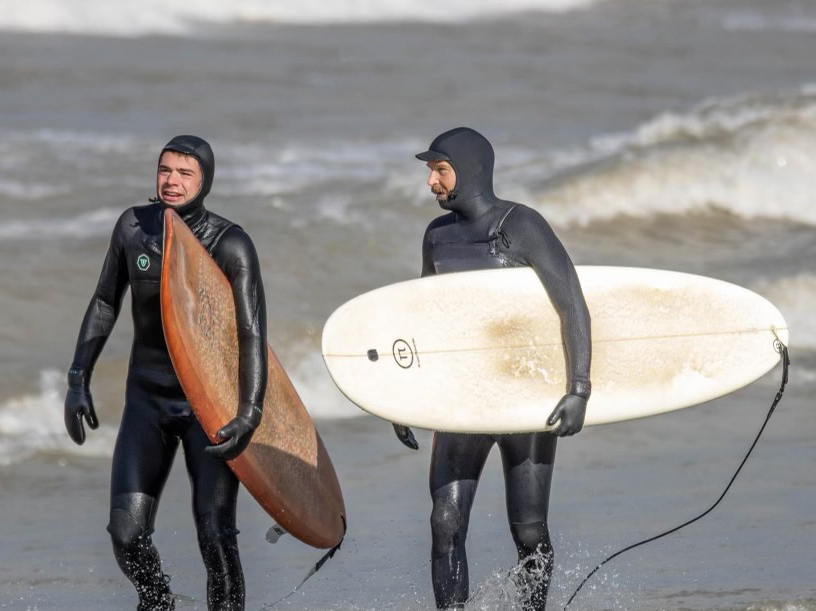 Local surfers Ryan Cedzo and Jim Samuels set out on Presque Isle in their wetsuits, ready to
face the frigid waters for their chance to ride a freshwater wave. Photo credit: Karen Bukowski
Although the Great Lakes do not have enough area to generate groundswells, they do have enough space for wind swells to create highly surfable waves. Erie can generally produce waves up to 12 feet high when the wind hits 30 knots. The lakes provide their own challenges to surfers including paddling out in choppy waters, strong onshore winders, and short wave periods of four to five seconds. As a result, local surfers will duck and dive several times in freezing waters, resulting sometimes in headaches and brain freezes, but Burke says this shouldn't be a deterrent if you're interested in trying the sport.
"If you're surfing you're always going to have to dive under waves and if the water is really cold it can give you a headache, but it's just part of it and it doesn't stay cold," Burke said. "If you have the proper equipment, it's not so bad. The wetsuit insulates you and if you are working hard, it's aerobic exercise so you are warming yourself as you're working out there and then you get your time to rest too. It is cold at first but it's exciting to test yourself," Burke said.
Surfing in freshwater also means less buoyancy and more drag which presents another challenge. Freshwater surfers usually use larger, wider, and thicker surfboards to compensate for the loss of flotation compared to the ocean waves. Burke conceives and produces his own specially designed lake boards, PI Surfboards, which are locally sourced and manufactured in a 650-square-foot warehouse. His boards have a few more liters of volume (foam) and an extra half-inch of width compared to ocean boards which he says are also better for paddling and catching waves for beginners. The boards are also a bit longer.
"The learning curve is really steep and it helps to have a mentor," Burke said. "Lake surfing is different from ocean surfing. Every day the conditions are a little different, it engages people a lot and it's difficult. It looks easy but you have to start learning and reading the language of the water. It's a challenge so that's what brings me back. There really is surfing on Lake Erie and it's really fun and anyone can get into it," Burke said.
You can find more information about PI Surfboards at @pisurfboards on Instagram.
Amy VanScoter is a marketing communications professional and certified yoga teacher with a passion for health and wellness. She can be reached at avanscoter@gmail.com