Take a Shot at Some Classic Christmas Fun with A Christmas Story: The Musical
And no one will get his or her eye shot out.
December 9, 2015 at 9:30 AM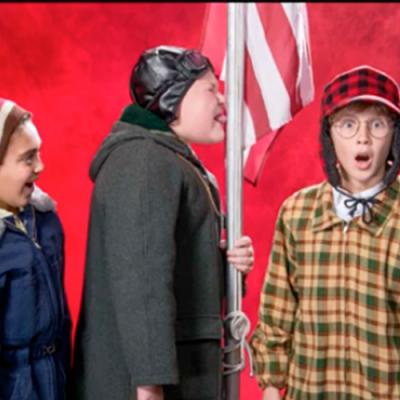 Wednesday, Dec. 9
As we launch head-long into the frenzy of the holiday season, the Erie Playhouse is offering up A Christmas Story: The Musical to take both adults and children to the brink of anticipation as they follow Ralphie and his brother Randy through those last agonizing few weeks before Christmas.
Modeled after the 1983 movie of the same name (which is based on the writings of radio humorist Jean Shepherd), this story is well known to most who have an affinity for Christmas. The time is the 1940s, Ralphie Parker longs for a Red Ryder BB gun from Santa, and he's scheming to figure out a way for his parents to be aware of his desires. In the classic charm of a bygone era, he and Randy have to face the neighborhood bullies and put up with the smothering attention of Mom, who wants to make sure her children are well fed and dressed warmly for the cold.
The Old Man, meanwhile, curses up a blue streak from the basement and falls in love with his quirky new prize from a crossword puzzle contest: The now famous leg lamp.
All set to perky music and including numerous dance numbers, A Christmas Story follows the storyline of the movie quite closely. So it should please traditionalists who love the movie, entertain fans of Broadway-style musicals, and keep antsy kids occupied for at least a couple of hours.
And no one will get his or her eye shot out. What more could you need? — Mary Birdsong
Dec. 3 to Jan. 3, Thursday through Saturday, 7:30 p.m.; Sunday, 2 p.m. // Erie Playhouse, 13 West 10th St. // 454.2852