Taking Things in Stride: Hopscotch on the Bluffs
Liz Allen's third in a series brings her to Erie's bayfront promenade
April 14, 2020 at 11:14 AM
Ever since I decided to explore Erie on foot during the coronavirus shutdown, I've done at least a half-dozen social-distancing walks, but I'm not writing about them in chronological order.
Rather, I decided it would be more relevant to write now about my first walk in which I wore a mask, on Saturday, April 4, one day after the U.S. Centers for Disease Control recommended that we all should cover our faces.
Actually, I should have heeded my brother's advice to wear a mask well before the CDC action. With a master's in public health, he's the trusted source when my family has questions about COVID-19.
An epidemiologist for the Pennsylvania Department of Health, he tracks HIV/AIDS cases. He previously worked as a hospital administrator in Zaire (now the Democratic Republic of Congo), and two years ago he volunteered to train health-care workers in Guinea to administer Ebola tests. He knows the horrors of infectious diseases and the consequences of pandemics.
But rather than watching an online tutorial on how to make a mask at home, I goofed around, texting photos to my siblings of masks I had created from an old bikini bottom and from my mom's mink collar.  If I actually wore those four dead animals outside, I'd be ostracized, as Larry David was when he wore a MAGA hat on "Curb Your Enthusiasm" this season. (To be fair, Mom had her fur collar custom-made as a small luxury before she married and raised six kids.)
April 4 was a pretty day, with temperatures in the low 50s, and I really wanted to be close to the water while avoiding the crowds congregating at Presque Isle State Park.
I parked my car near West Third and Cascade streets, headed north, then turned onto West Second Street before heading down Plum Street to get to the Bayfront Promenade. At first, I felt uncomfortable wearing my mask. Would passers-by think I had COVID-19? But the immediate problem wasn't whether I would be stigmatized. Instead, my trapped breath fogged up my glasses, so I tucked them in my pocket.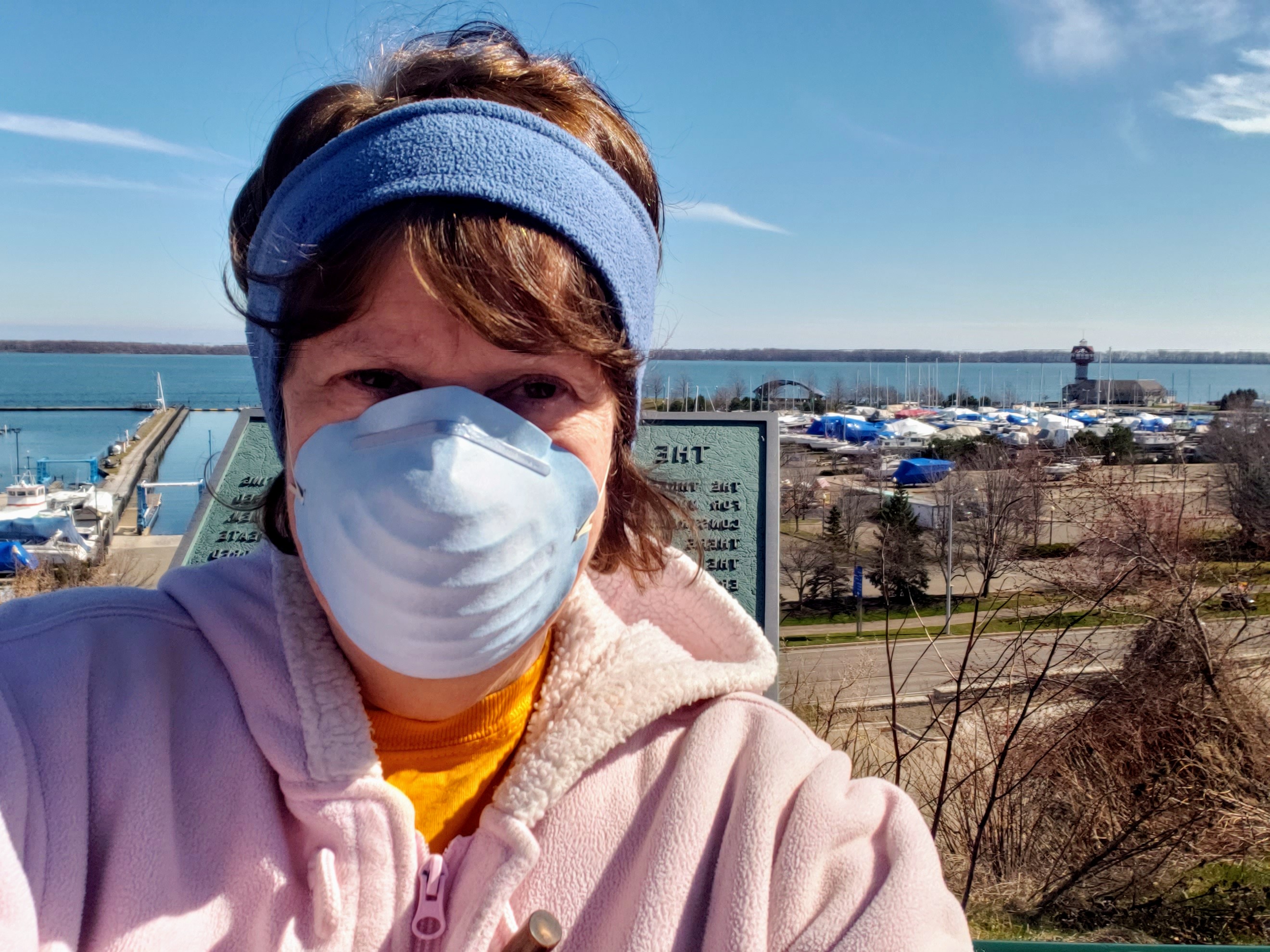 Liz Allen dons an all-purpose mask for a social distancing walk.
The beauty of the bay was breathtaking, sweeping away my self-consciousness about the mask. I don't want to get sick – I want to be around for a long time to enjoy this view.
A walk along the bayfront bluffs is ideal for social distancing, because the pathway is more than nine feet wide, leaving plenty of room between you and a single walker you might encounter. If two people approached, I'd quickly move onto the grass to keep six feet away.
I had a good reminder about why you have to be nimble to follow the six-foot rule, when a guy walking the opposite way cleared his throat to spit on the ground. Yuck. 
This walk boosted my spirits. The view overlooking the bay is stunning, and everywhere there are signs of spring bursting into bloom. I also appreciate the work done by Our West Bayfront to improve public spaces, especially Bayview Park, and the effort by residents to spruce up their homes.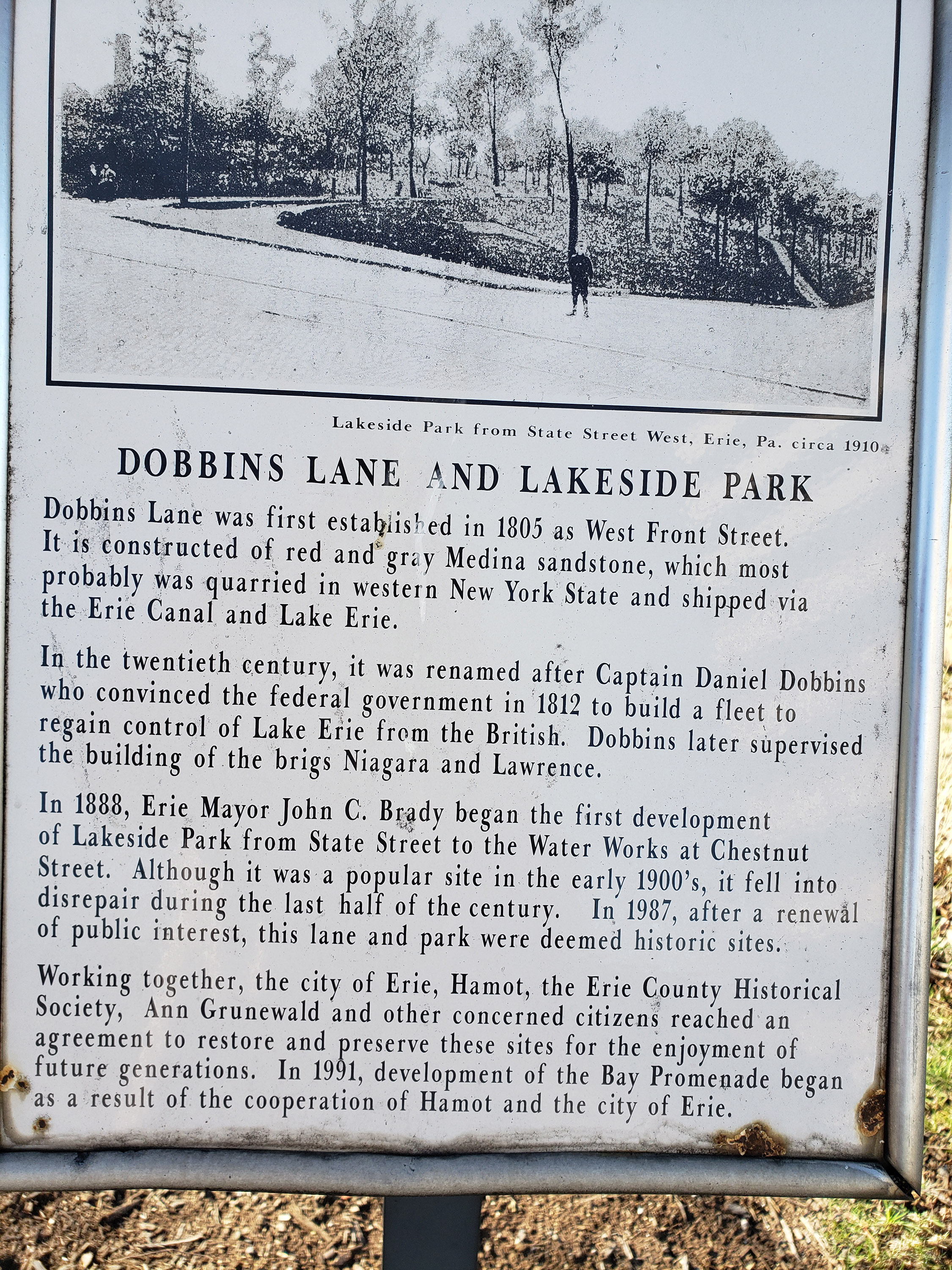 This historic marker, close to State Street and the Bayfront Promenade, provides a glimpse of history for Dobbins Lane and Lakeside Park.
I walked east to west and back, about three miles in total, but you might want to start near 100 State Street, where a mottled marker, erected by the Eire County Historical Society in 1985, explains that Dobbins Lane was paved using Medina-cut stones. A nearby marker gives more history about Dobbins Lane and Lakeside Park. It says that Dobbins Lane dates to 1805, while park development began in 1888. "Working together, the city of Erie, Hamot, the Erie County Historical Society, Ann Grunewald and other concerned citizens reached an agreement to restore and preserve these sites for the enjoyment of future generations. In 1991, the development of the Bay Promenade began as a result of the cooperation of Hamot and the city of Erie." (Note: Hamot merged with UPMC in 2011.)
I also paused to read the other historical markers at various vistas.
If you need a reminder that someday life will return to normal, try the hopscotch game or the tic-tac-toe board drawn in chalk on the promenade. But remember to use gloves and to sanitize if you pick up the painted stones awaiting your move!
LIZ ALLEN is using old-fashioned shoe leather to report on Erie's neighborhoods during COVID-19. Send suggested walking routes to her at lizallenerie@gmail.com.