Taste of Italy Raises Funds for Local Students
This annual event will be hosted by the Erie Wolves Club on April 24.
April 22, 2016 at 10:30 AM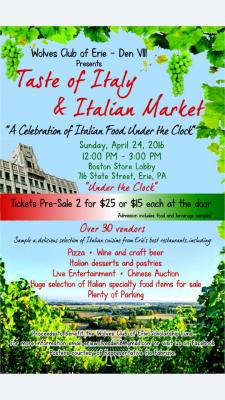 Pro Bono Publica, or "For the good of the public," is the motto of The Erie Wolves Club. It is in that spirit that The Erie Wolves Club will host "A Taste of Italy" at the former Under the Clock restaurant in The Boston Store building on April 24 from 12-3 p.m.
Wolves aren't generally known for their generous nature; think Little Red Riding Hood. But the big, bad wolf is not the only famous wolf. Instead, we can picture the Roman legend of the giving mother wolf who took care of twins Romulus and Remus, enabling them to become adults who would build the city and institutions of Rome.
With that story in mind, a better picture of the mission of The Erie Wolves Club emerges: one based in giving service and aid to those in need. Celebrating Italian heritage and raising funds to improve the community, the club began in Erie in 1956. Since its inception, The Erie Wolves Club has raised nearly $2 million and put it toward scholarships for students of Penn State Behrend, Edinboro University, Gannon University, and Mercyhurst University. Endowments are established at each of the four schools, and scholarships are awarded based on financial need and academic achievement.  
A Taste of Italy promises to please the taste buds while benefiting the community. On the menu for the afternoon is fare from over 30 area vendors. Pizza, craft beer, wine, italian desserts, and pastries will be served. There is also live entertainment and a Chinese auction. Specialty Italian food items will be for sale during the course of the afternoon. Enjoying great Italian food and helping others sounds like a win/win situation.
Tickets are two for $25 pre-sale and $15 each at the door. All proceeds benefit The Erie Wolves Club Scholarship Fund. For more information visit The Erie Wolves Club Facebook page or email eriewolvesden8@gmail.com. For advanced tickets call 882.6781.