Teaching with Ink
Extraordinary histories across canvases of skin
November 8, 2017 at 3:15 PM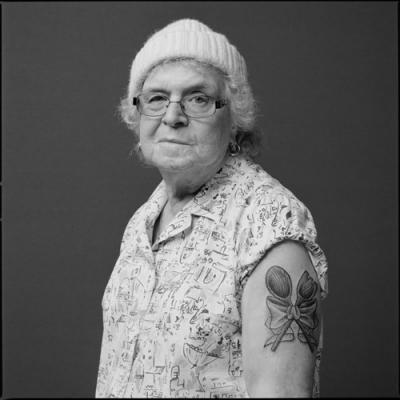 You may be tempted to visit Ancient Ink: Photographs by Mark Perrott, at the Erie Art Museum, in a voyeuristic way, to gape at once-taut tattoo designs now sagging on flaccid skin. Or cluck your tongue about youthful foolishness evolved into elderly regret. If you go with that in mind, you'll be disappointed. Here you'll find strength, pride, intellect, and, most of all, a vibrant humanity.
The large 50-by-50 inch frameless works bring each of Perrott's subjects directly to the viewer in exquisite detail. These warm black-and-white images depict mostly single individuals (two couples), with almost all presented from the waist up. There are bare chests and beards, jewelry and hats, flowing hair and bald pates. The size, physical process, and presentation of these works call your attention to single hairs curling down around a face or peeking out from a t-shirt. The shine on a cheek frames a wry smile, a bend of the neck suggests curiosity or defiance. And the eyes, oh the eyes. Whether challenging or kind, sad or bemused, anxious or fearless, all of Perrott's subjects' eyes pull you in, demanding you witness their presence.
And while these works are meant, in some way, to show us the tattoos, they give us so much more. In fact, we see the person more than the tattoos. "Laurna" looks directly into the lens, and thus at us. She pulls back her slightly unbuttoned shirt to show off the large phoenix-like bird on her chest. We can't see the full tattoo, but we understand its fierceness. Laurna's quote accompanying the photo tells us, "For a woman, putting one on your chest is different…the bosom sort of defines our femininity and I think putting one on there was suddenly taking that as mine." After reading the quote, the strong gaze tells you she has claimed ownership of her own body, a step many women have to consciously make in a society that has (in the past?) decreed the female body as something men own.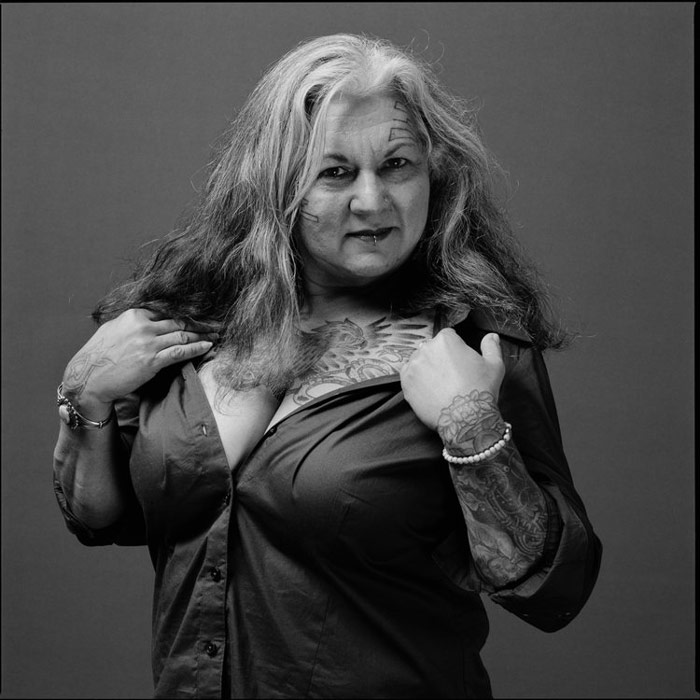 "Richard" says in his quote, "To be spontaneous is to be regretful," a sentiment contrasting what used to be a prevalent belief that tattoo acquisition is typically a spur-of-the-moment decision often times made under the influence. "The thinking is the hardest part," he continues. "My wheels are turning." And in his portrait you can see his thoughtfulness. His hair and beard are neatly clipped, his tweed cap positioned smartly and a simple gold hoop adorns his earlobe.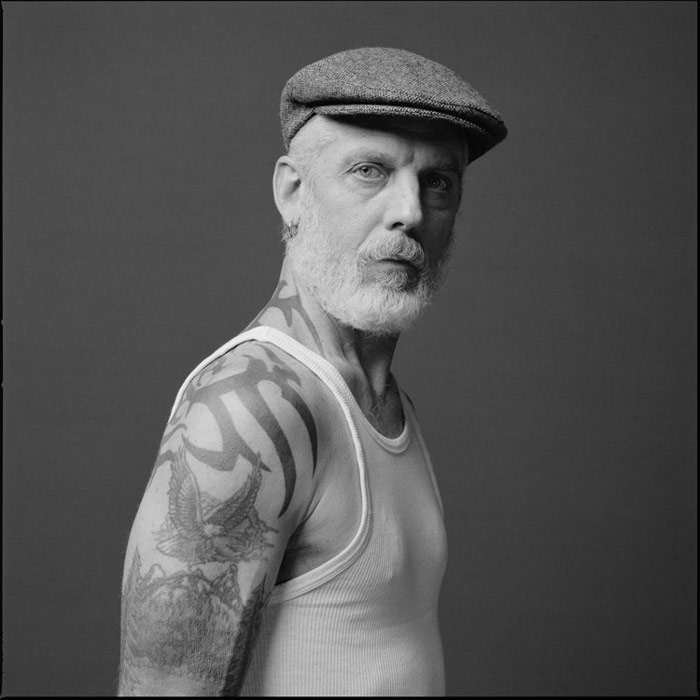 And while the tattoos help make these people who they are, the process of crafting these images may be more important than the final product. Each subject was allowed to pose him or herself; each controlling his or her own visual story. "When I look at the faces and the figures that surround us, I'm mostly struck by the gifts they've given to me as a photographer, said Perrott. Without any conscious posing on my part, to me each of them presents an integrity, a sincerity, and sometimes the complicated contradictions we all live with every day of our lives."
"Jean" exemplifies this well, displaying her left shoulder and focusing large dark eyes at the lens. Her tattoo — a scroll surrounded by waves, the moon and an raven — tells us "F*ck Cancer. I beat it IIII times" (with room after the IIII for more ticks, if necessary). Her narrative fills in the story: "To me it's a representation of how I've risen from the ashes and am stronger and can handle anything. Pain from a tattoo? That's nothing." The passion in Jean's eyes reinforces her declaration.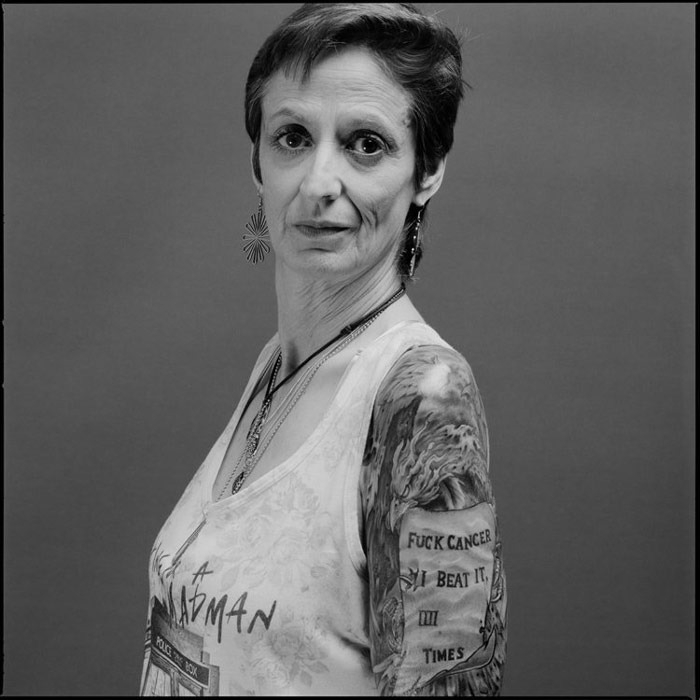 Perrott began studying people and the tattoos adorning them in 1979 in his native Pittsburgh, where he was compelled to walk into Island Avenue Tattoo in McKees Rocks after driving by every day to and from work. "This place was so outside my world. I was crazy curious to see what that was all about," he explains. The time was what Island Avenue Tattoo owner Nick Bubash calls the beginning of the "Renaissance of Tattoo," when more mainstream individuals began embracing bodily adornment.
In the 1990s, Perrott embarked upon a countrywide tour, visiting celebrity tattoo artists and photographing their clients. On a visit to John Lenz, a tattoo artist in Youngstown, Ohio, Perrott was given the following pearl of wisdom: "Our place in this world is to witness without judgment." Perrott adopted this sentiment, saying, "This is the banner I've carried, and dropped, and picked up again many times during my travels."
Years later, the works in Ancient Ink, made in the past two years, are confident and mature, bringing far more to the viewer than typical portraiture. They differ from many other earlier tattoo works in that Perrott says he took more time to listen to his subjects before photographing them. "In the past I would just take a photograph of someone after they were freshly inked, to capture that particular moment that was transformational for them. Here, these were not people with new tattoos; their stories had a longer trajectory. I wanted to learn how to be old from these people."
The "ancient" perspective of Perrott's subjects enriches the exhibit in great measure. "I'm not very well taken," offers "Connie." "Up where we live, I'm kind of an outcast...I have a facial tattoo that people there just don't understand. They want a reason why I tattooed my face. I tattooed my face because it's me. All my tattoos are me."
Clearly, these older individuals are comfortable in their own skin, and perhaps, too, is Perrott. He (born 1946) and his subjects have all traveled down the road far enough to understand the conditions of the journey. "I have always been a student of life and always want to use my camera to enter the worlds of people who I probably would not have crossed paths with under ordinary circumstances," he said.
In this particular instance, this approach has worked well for both Perrott and us. In the acknowledgments for the show, Perrott thanks his subjects for letting him "listen and look," adding, "Each of you speaks to me of resilience, loss, mystery, and the emancipation that sometimes comes with growing old. You are teachers for us all."
Indeed, they are.
Note: During Ancient Ink: Photographs by Mark Perrott, the museum is offering free Tuesday (Tattoosday) admission to all visitors sporting visible tattoos.
Through January 28 // Tues. — Sat., 11 a.m. to 5 p.m.; Sun. 1 to 5 p.m. // Adults $9, Students and Senior Citizens $7, Members and children under five Free. Also free on Wednesdays, second Sunday of the month // 459.5477 // erieartmuseum.org
Mary Birdsong is a regular contributor to the Erie Reader and, come January, will have her first tattoo. She can be reached at mbirdsong@eriereader.com