Tech Watch: Justin Timberlake is Bringing MySpace Back
The ghost of MySpace visits Justin Timberlake.
October 31, 2012 at 3:42 PM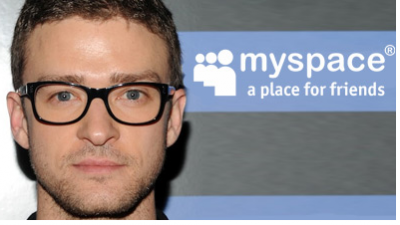 Justin Timberlake is known for his work in '90s boy bands, acting, SNL, and for bringing "sexy" back. But in his most recent adventure he's working on doing something virtually impossible: bringing MySpace back.
Yes, MySpace.
MySpace, which is now the butt of many Internet jokes, was once the Facebook of its time – a social networking site where people gathered, shared information about themselves, and amassed friends. In late 2007 into 2008, MySpace was considered the leading social networking site and almost always beat out Facebook in traffic to the site. But as Facebook pushed forward, finding new ways to engage its users and keep them coming back and logged on to the site thus cornering the social networking market, MySpace lost its popularity and stronghold in the social networking crowd as it failed to advance trends and remain relevant to a broad base of users.
So after such a shift in trends – the near death of MySpace and Facebook shares going public – can Timberlake bring MySpace back from obscurity and reinvent it as the next big thing? Probably not.
Sure, he's doing a lot of cool stuff with the site. MySpace announced a redesign recently, which can be found at new.myspace.com. The redesign focuses on music and a horizontal scrolling feature, but in general fails to beat Facebook in the one area it really needs to: a reason to log on to MySpace.com instead of going straight to Facebook.
Facebook has become the backbone of the Internet. Many sites – including MySpace – allow users to log into their user system via Facebook connect. There's no way Justin Timberlake – despite his celebrity – can steer people away from Facebook to save this failing site since Facebook remains in the forefront of how users engage with social networks and social media.
So what is in store for MySpace? My best guess is that it will exist for the next few years as the last refuge for hipsters and music buffs looking for a more intimate setting for an online music experience. The "new" MySpace might pander to musicians more than the company used to, but I don't believe it does enough to distinguish itself from social sites such as Facebook and Twitter, or from Internet streaming platforms such as Spotify or Pandora.
Timberlake's attempt to revive MySpace isn't the first time a celebrity has dabbled in the social media/networking realm, trying to fix/create a social site. Lady Gaga also announced her own social network, littlemonsters.com. This Pinterest-esque site also allows you to log in via Facebook or Twitter, yet fails to appeal to a broader audience than Gaga fans.
Ultimately, though, these failed attempts at social media sites point towards a trend: niche networks. With the 1-billion-user gorilla in the room, innovation and growth in social media will come from sites looking to appeal to smaller, more concentrated user bases. Platforms like Path, Last.fm, Storify, and turntable.fm all focus on a very specific demographic and function – and there just may be room for Timberlake's vision of MySpace among these.
In general, look for these types of sites to begin popping up more frequently rather than a one-on-one competitor to challenge Facebook directly as king of the social media and networking hill. The democratization of the Internet and the Facebook Open Graph have expanded the ability for anyone to use the information of the social giant to reach a much more concentrated group of individuals, which makes reinventing MySpace or inventing a new social networking site on the scale of Facebook a challenge few will be up to the task of completing – even Justin Timberlake.
Michael Haas can be contacted at Epic@ErieReader.com