TEDxErie
Don't Give up the Ship
October 26, 2016 at 3:00 PM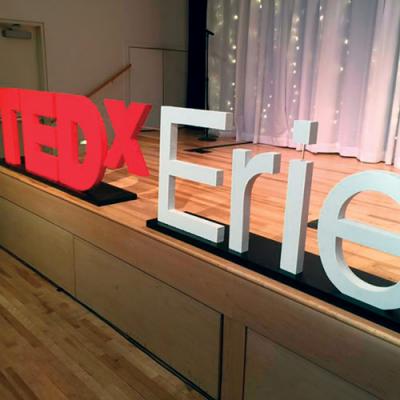 Saturday, Nov. 5
As the 2016 election looms, taking over the media and – let's face it – almost every other thought in our minds, we can turn our attention to something else for a while: Erie's second annual TEDx conference.
TEDx talks open up the floor not only to the residents of our fair city, but to anyone, anywhere with an idea worth sharing. Last year's TEDx attracted speakers from across the country, and at least half of the inspiring talks this year are being presented by talented people from outside of the region.
This year's event has been opened to the general public. On Nov. 5 at the Warner Theatre, all Erie residents will have the opportunity to participate in important dialogue and connect as a community.
"TEDx is a really beautiful platform," says Erik Lehmann of The Game Changer Movement, a TEDx speaker. "It's exciting to be a part of a community who look at the world differently. There's so much opportunity to come together and make this world whatever we want it to be – and it's time." 
Without constraining the type of talks given, this year's theme, "Don't Give up the Ship," ties a ribbon beautifully around the ideas in our local and national community – allowing us all to interpret for ourselves.
"It is our responsibility to continue to carry this ship and bring more hands up with us to keep Erie growing."
For Erie native and TEDx speaker Heather Cole, the ship is Erie itself. "It's weathered many storms and battles, but it still stands. It hasn't sunk, as there are many hands of the community invested in Erie that keep it floating. It is our responsibility to continue to carry this ship and to bring more hands up with us to keep Erie growing. Not giving up the ship is not giving up on Erie."
Sean Fedorko, founding member of Erie's first co-working space, Radius CoWork, interprets it as a personal challenge: "Sailing is hard – getting where you want to go, navigating rough waters – and not giving up that ship means staying on your course until you get to your destination … the endurance to see it through. Don't give up on the things you want to do."
We all have a ship we're keeping afloat. Whether it's internal or external, it's a good bet that when all hands are on deck, we're going to have a better chance of keeping our heads above water. Lehmann relates it to our current presidential election predicament, saying, "People need to understand, if we don't come together, it's not going to matter who's at the helm – the ship is going down."
What can we expect from these talks? I got the chance to sit down with a few of the speakers and find out some spoilers.
Fedorko says that he has "gained a tremendous perspective, and learned a lot about the changes in people's lifestyles – especially for my generation and what that implies for how we seek, how we create, and how we compete for jobs." Fedorko will be "talking more about the work style and workplace changes that have occurred in the last decade as we shift from an employee to an entrepreneurial, technology, and freelance-driven economy."
In her role as a lecturer of digital arts at Penn State Behrend, Cole explains that she'll be building on her experience in digital media, arts, and technology for her talk. "I use TED talks often as a resource for my students and my own work. I love the principles of the TED and TEDx community and how they encourage us to grow the public commons of information. …. I'll talk about the relation of my thematic art work to growing up in Erie as a student of little means, as well as the A.R. tech behind the project."
Lehmann's mission in The Game Changer Movement, online at gamechangermovement.com, is to harness the energy and passion that young people have for video games and channel it into more globally-minded learning opportunities. "We first started The Game Changer Movement to rid the world of violent video games, but 'just say no' isn't enough. Telling kids 'no' to violent games but not giving them something else to do is an incomplete mission. We're working on redirecting billions of hours spent on violent video games, literally billions of hours we can shift into action: time that could be spent on climate change and poverty. The most addictive thing about video games isn't the violence, its the sense of community that's experienced in the gaming world."
You can learn more about TEDxErie and all of the speakers at TEDxErie.com, and stay current on their social media pages for updates.
12:30 to 6 p.m. // Warner Theatre, 811 State St. // $10 General admission; $30 VIP // TEDxErie.com
Ella Julian can be contacted at EJulian@eriereader.com.