Ten Years of 'All Aboard Erie'
Experts continue to weigh in on rail travel and the future of transportation in Erie
November 20, 2019 at 11:15 AM
"High-speed rail is a multi-billion dollar effort" that isn't coming here "any time soon," said Mark Spada of Western Pennsylvanians for Passenger Rail during the All Aboard Erie (AAE) Annual Meeting at the Blasco Memorial Library on October 21.
Spada encouraged AAE to tackle "achievable goals." But, because Erie was absent from national high-speed rail (HSR) maps, some AAE founders, including the late Bill Welch, embraced HSR. Through self-funded visits to state leaders, AAE's executive director Brian Pitzer brought Erie to the national conversation and recruited Penn State Behrend students to conduct preliminary route studies. Via Kickstarter campaigns, AAE is half-way to the $25,000 needed for a professional Erie-Pittsburgh route study. A true believer, Pitzer says that "HSR in Erie is inevitable" and wonders if we'll be "[at] the forefront — or last on board." Like Pitzer, the California transit expert Roger Rudick is convinced that "one day HSR will be an essential part of our transportation fabric."
People who can't drive, can't afford a car, or who are environmentally and/or health-focused are choosing to live in walkable, bikeable, and connected places. To attract and retain residents, Erie needs convenient, affordable transit. To get "good transit," Freda Tepfer, a mobility expert, says Erie needs "a dedicated funding source, through a small local sales or a utility tax, which requires state legislation." Existing transportation funding shouldn't be used to expand roadways for private vehicles. Instead, ideas such as creating a rail trolley running on the old waterfront railroad line and up State Street, replacing the McBride Viaduct, connecting the east side of Erie to Presque Isle, and working to create a Great Lakes ferry are worth considering.
Art can help make transportation visions tangible. In 2014, AAE and CIVITAS collaborated with Edinboro University students to design PHERN — the Pennsylvania Higher Education Road Network. PHERN maps were distributed to politicians, college presidents, and students to plant a seed for future collaborations.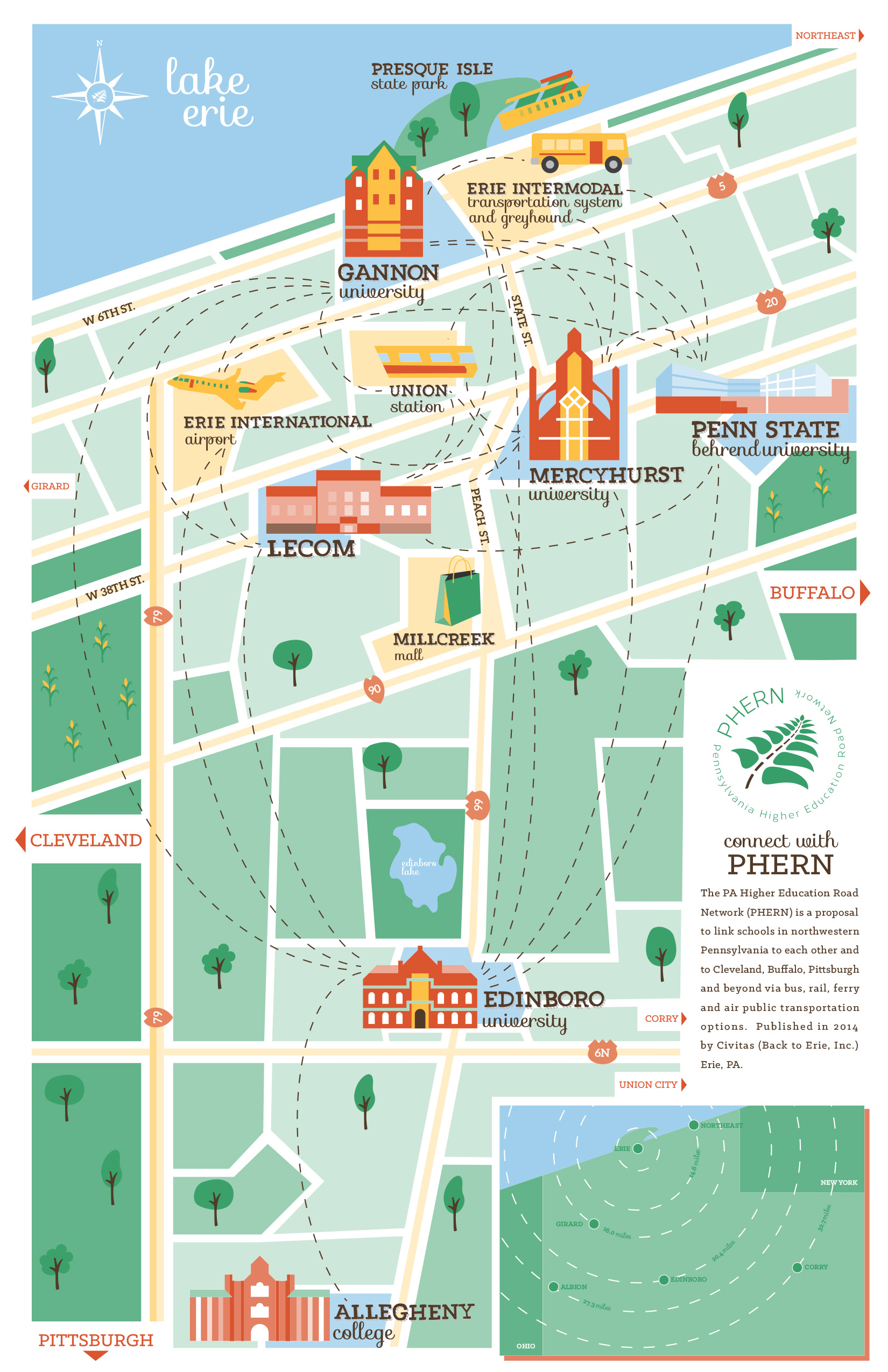 Transportation advocacy is essential. AAE's persistent call for the inclusion of experienced bus riders on the EMTA Board eventually led to the appointment of AAE's Julie Minich and Jessica Molzan.
Transportation policy changes are crucial. In 2017, Bike Erie and AAE co-hosted a Candidates Forum on the economic and social benefits of transit-oriented design. Moderated by AAE's Brian Pitzer and Bike Erie's Adam Trott at the Asbury Woods Nature Center, the forum clarified the role transportation plays in the economy, the environment, public health, and social justice. 
Transportation education is needed. AAE has convened local experts including EMTA's Mike Tann and respected author Kenneth Springirth. They have also brought many national speakers to Erie. In 2015, Dr. Daniel Hess, Chair of Urban/Regional Planning at the University at Buffalo, explained how transit "can maximize mixed-use development." In 2016, James McCommons, the train advocate and author, told AAE that safe, affordable and convenient rail services are a public good and should be publicly funded. 
In 2018, AAE held a panel discussion about an Erie streetcar plan and intercity HSR featuring Peter Voorhees, an urban transportation planning manager from Ohio.
This year, Mark Spada suggested that AAE work to link existing services. For instance, while there is one daily train from Erie to NYC, a state subsidy for New York's Amtrak routes gives Buffalo residents four daily trains to the Big Apple. Spada suggested working toward creating a direct bus route to connect to the more frequent rail services in nearby cities. Inspired by Spada, AAE has revisited ideas about cleaning and painting Erie's shabby Amtrak waiting room, getting local art and history showcased at the station and leaving visitor information in the lobby, including the Erie Reader and flyers from local venues.
For a decade now, AAE has been advocating for local bus, inter-city bus, light rail, Amtrak, and HSR. AAE's advocacies echo those of Smart Growth America's Complete Streets all-inclusive transportation policy and design approach. Complete Streets benefit residents "of all ages and abilities regardless of their mode of transportation," while protecting the environment and jumpstarting local economies. Complete Streets integrate "people and place in the planning design, construction, operation and maintenance of transportation networks."
The late Maryland Congressman Elijah Cummings, an outspoken advocate for social justice, said that transportation decisions are crucially important because they "determine the connections and barriers that people will encounter in their daily lives" as they try to get "where they need and want to go." To benefit residents, they must be engaged to play a primary role in transportation and infrastructure planning. 
By helping people have a voice in "where they need and want to go," AAE will continue to play an important role helping to create thriving, safe, healthy and just communities in Northwestern Pennsylvania.
Learn more at AllAboardErie.com
Social sculptor Lisa Austin, an art professor at Edinboro University, co-founded CIVITAS in 2004 which in turn initiated and co-founded Preservation Erie in 2007, Innovation Erie at the Erie Art Museum in 2008, All Aboard Erie in 2009, SculptureX in 2010, the Made in Erie Marketplace and Rethink the McBride Viaduct/ErieCPR in 2013 and the Made in Erie/Innovation Erie Design Labs at the Blasco Library in 2015.