The 2022 Made in Erie Gift Guide
Meet your makers this holiday shopping season
November 7, 2022 at 11:00 AM
You shouldn't have to squint to shop small.
This year, with the aid of Erie Arts and Culture and the Erie Downtown Partnership, we are using our Made in Erie Gift Guide to magnify the big talents of the region's smallest retailers. The second annual Western Pennsylvania Maker Market, to be held on Saturday, Nov. 19 from 10 a.m. to 3 p.m., will spotlight creators and craftspeople who might fall into the category of "out of sight, out of mind" otherwise. Shoppers will be able to peruse a diverse selection of locally-made wares, with items ranging from blazers to bath bombs.
Seeing, of course, is believing. And there will be a lot to see, including a brand new venue housed in a very old building at 1307 State St. Once a home to furniture and wagon wheel manufacturers, the rehabbed structure will now furnish digital artists with more opportunities to get their careers rolling. FEED Media Arts is the brainchild of investor Benton Bainbridge, a digital media artist who built his résumé on both coasts before returning to the shores of Lake Erie.
Bainbridge's contribution to the local arts scene is certainly a grand one, but not all gestures need be five stories tall. Carry just a few locally-made items back to your car and you're sure to carry an armload of gratitude with you, too. "By visiting and shopping at events like the Western Pennsylvania Maker Market, you can purchase thoughtful gifts directly from the artists and artisans who make up your community," says Patrick Fisher, executive director of Erie Arts and Culture.
The Maker Market is a fitting prelude to the nationally observed Small Business Saturday a week later on Saturday, Nov. 26. Invented by American Express 2010, Small Business Saturday was conceived as a community-driven counterpoint to Black Friday, the most lucrative day of the year for many big box retailers.
Expresses Fisher: "Shopping small is a great way to help ensure that the dollars you spend leading into the holiday season have a positive impact on the local and regional economy. We have a wide array of makers who live and work in Erie and the surrounding counties and they range from hobbyists to full-time professionals. The items and objects they make similarly run the gamut and include consumables, wearables, decoration, furniture, and more."
He adds that "shopping locally is aligned with efforts to be a good environmental steward, as local makers tend to have smaller carbon footprints."
With that said, let's breathe in this breadth.
Jump to the section you'd most like to shop or scroll below for the entire list: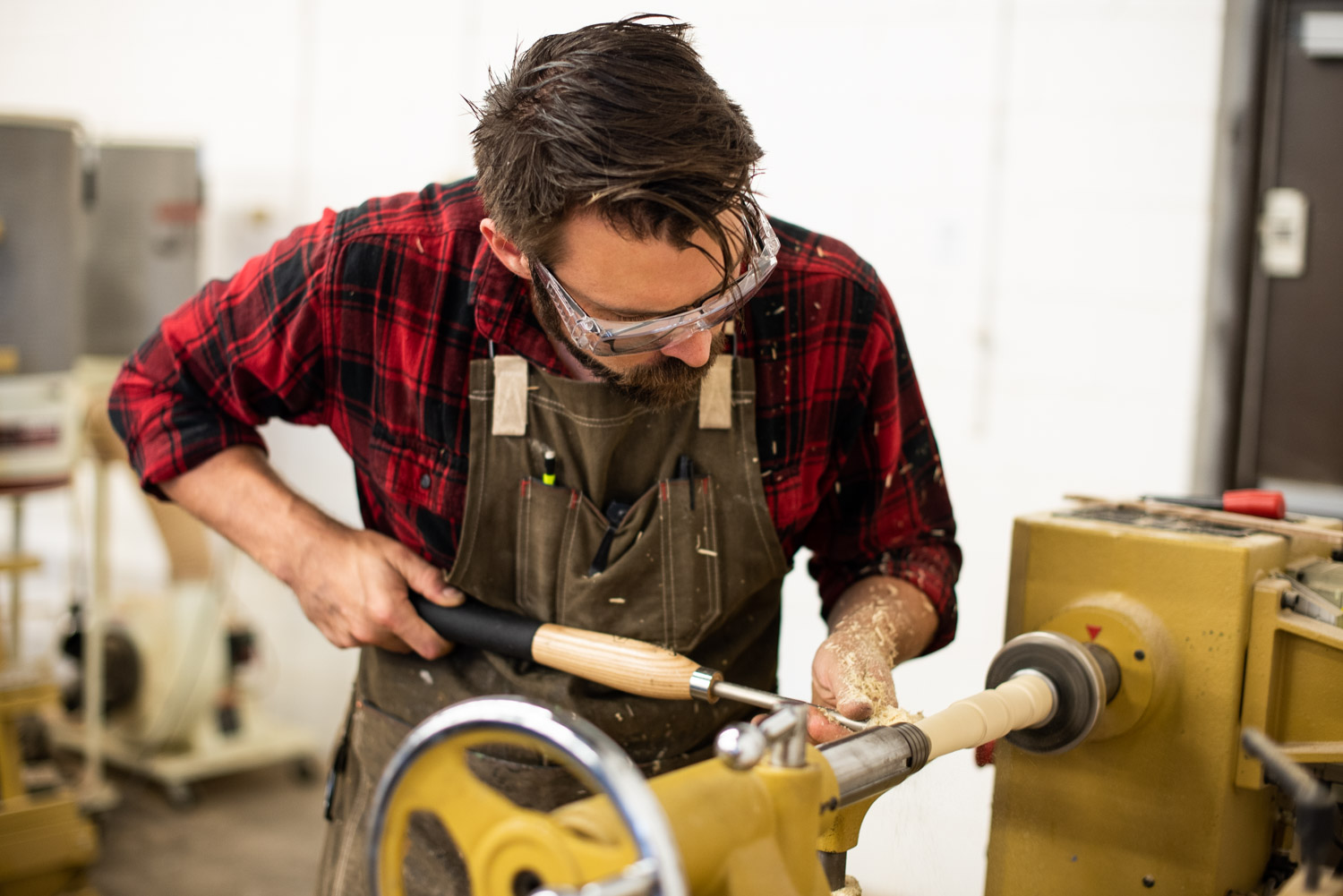 Contributed photo: Daggerfish Gear Co.
Adam Nelson - Daggerfish Gear Co.
As the son of a park ranger, Nelson carved out a unique and personal appreciation for the wilderness, which Daggerfish fashions into gear for fishing, foraging, and exploration.
Lisa Hansen - Hikes and Hose
Sustainably handmade outdoor adventure gear repurposed from intriguing items such as fire hoses. If you have a particular need, Hansen will work with you to hit it right on the nozzle.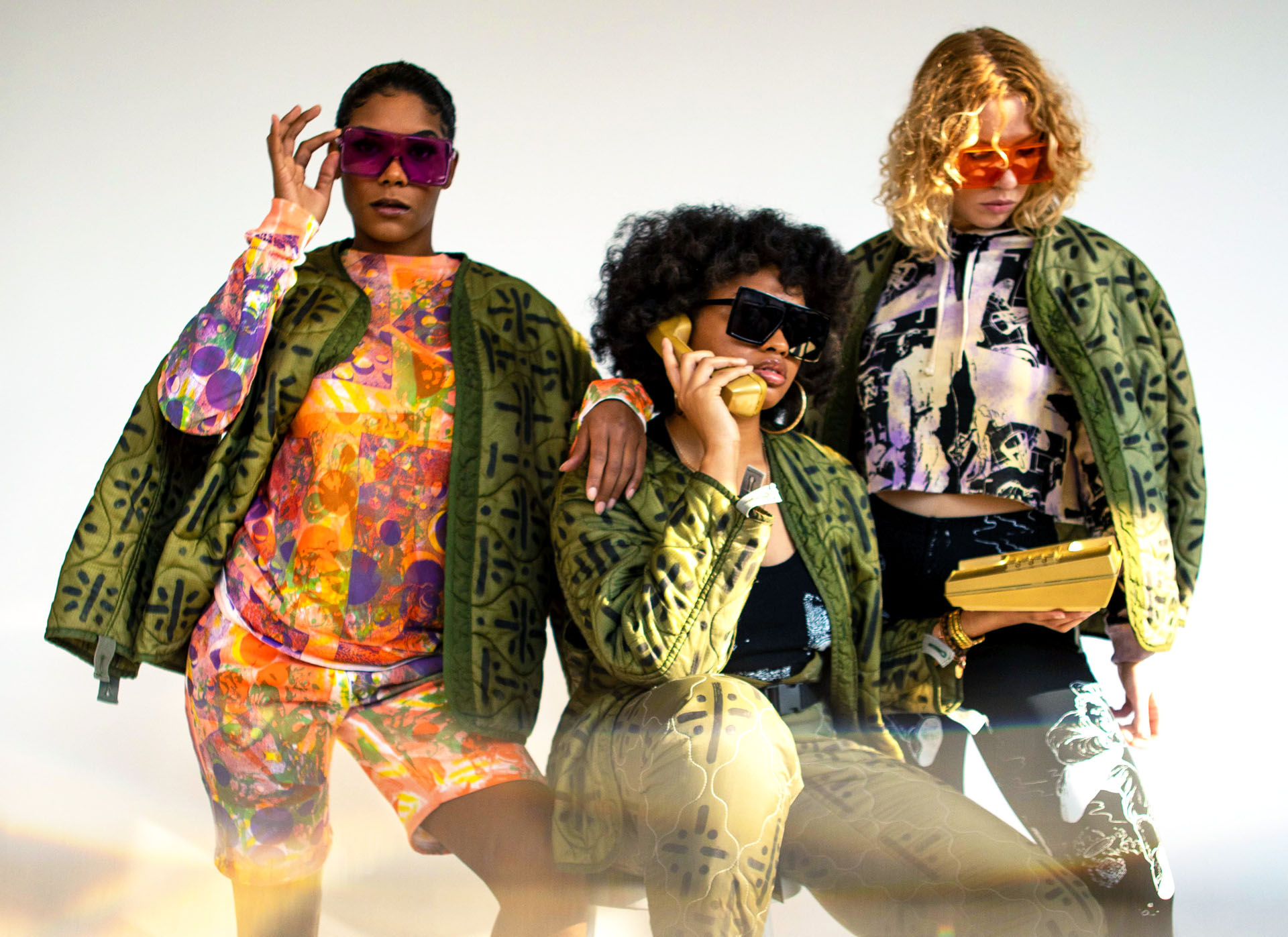 Contributed photo: Zach Merrill - Zach Merrill Prints
Gaby Reyes - Melancholy Brand
Owned by non-binary Erie native and mental health advocate Gaby Reyes, Melancholy's designs represent self-love, personal growth, inclusivity, and diversity.
Ansumana Komba Gbembo Tailoring, Designing, and Training
A refugee of war-torn Sierra Leone, clothing designer Ansumana Komba Gbembo is sewing positivity throughout his adoptive Erie community, specializing in colorful custom fits.
Facebook or (814) 397-5668
Rebekah Joy - Flux Bene
Joy is taken with every secondhand clothing item she can stylishly upcycle, with a goal of 10,000 discarded garments finding new life by 2025 through her Pittsburgh-based textile art and design studio.
Zach Merrill - Zach Merrill Prints
The veteran screenprinter fuses traditional and cutting-edge printing methods to create eye-catching and incomparably artistic garments and prints.
Louis Geramita - Primo Tailoring
The recent 40 Under 40 honoree has tailored himself the ideal fit for Downtown Erie's revitalized business landscape, and can do the same for you or your loved one.
April Cox - Tupelo Acres LLC
Where there's a wool, there's a way. Fur follows function at Tupelo Acres, as April Cox transforms unbelievably soft alpaca wool into a host of items, the specialty being custom hand-felted hats.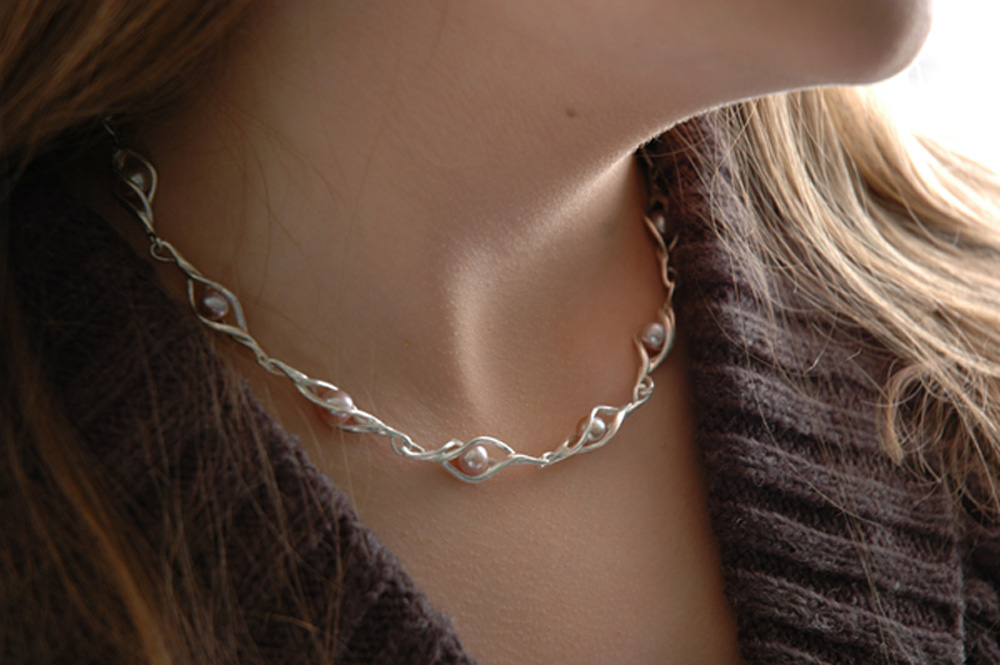 Contributed photo: Sue Amendolara Jewelry
Erin Yates - Piquant
To be piquant is to stand out as pleasantly bold or sharp, exactly the effect Yates seeks to create with her vibrant earring designs. She makes "fun jewelry for fun people."
Sue Amendolara - Sue Amendolara Jewelry
Recently retired Edinboro art professor Sue Amendolara has been practicing jewelry and metalwork for 35 years, with her principal inspirations stemming from plant life.
Carol Posch Comstock - Goods of the Spirit/Lake Effect Lace
The sacred geometry of nature serves as a template for much of Comstock's work, with her "Lake Effect Lace" line of pendants and ornaments modeled from snowflake micro-imaging.
Patricia Lee - Purse-nickety
Despite the name of her venture, Patricia Lee isn't especially fussy about her fibers — so long as they're sustainably sourced. Her eclectic purses are woven from a surprising variety of yarns, cords, ribbons, and other recycled materials.
Tammy Bishoff - Tammy's Homesteading Crafts
Tammy Bishoff is a maker supporting fellow makers with project bags for keeping all your knitting, crocheting, and/or other crafting supplies in one place.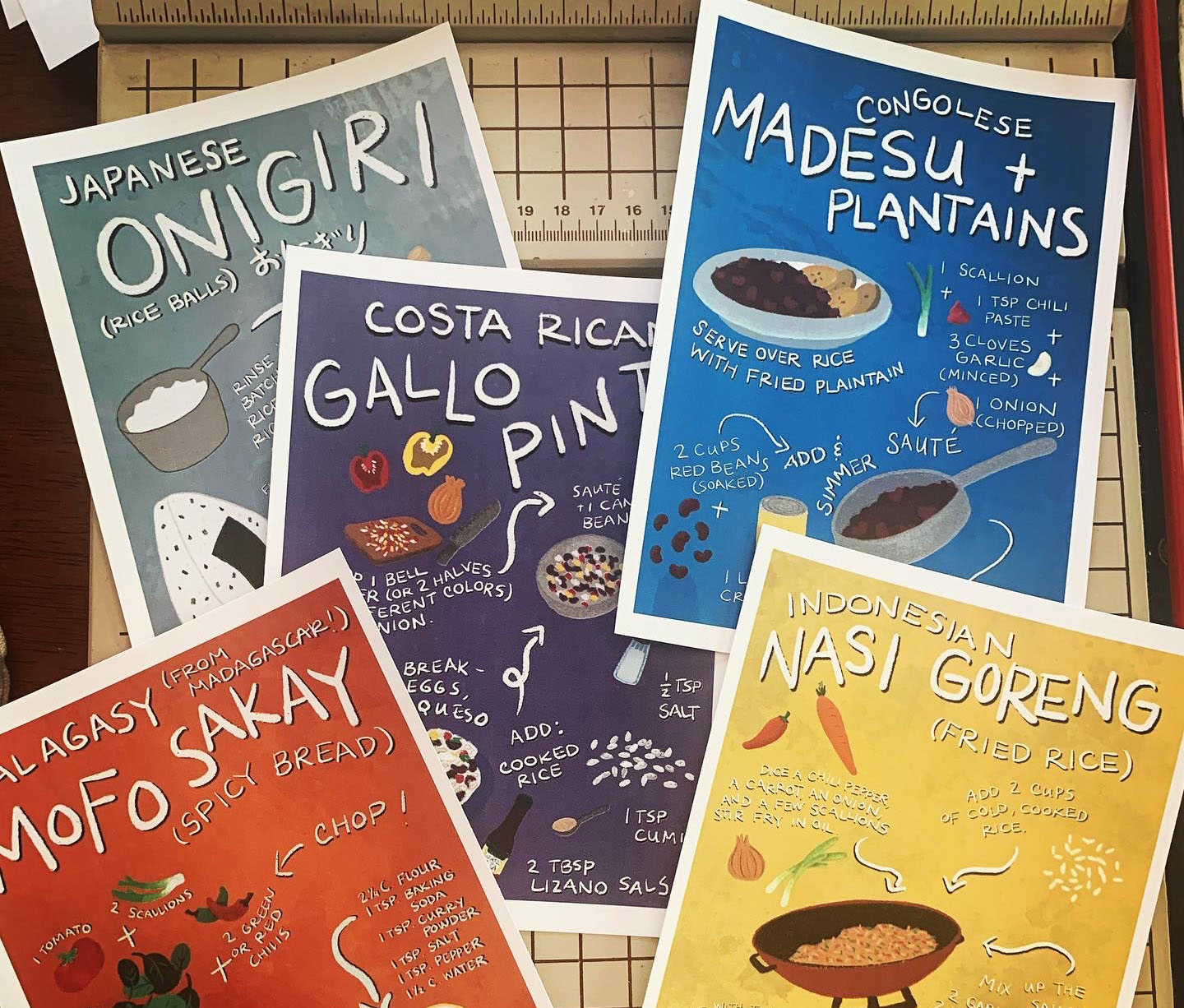 Contributed photo: Hellbender Atelier
Doug Eberhardt - Voidboy Prints
Eberhardt heeds the "call of the void" when crafting his surrealistic illustrations, rife with strange creatures and unnatural landscapes lurking just beyond the edge of night.
Kat Charnley - Katz Prints
The local lithographer and tattoo apprentice's prints delicately juxtapose elements of beauty and terror, often evoking life, death, and the in-between in the same image.
Anthony Carson - Ants Arthouse
Carson translates his itinerant lifestyle into inspiration, drawing directly from his wide-ranging travels. At this Maker Market, he will offer live ink and watercolor drawings, stickers, and "Womb Doodles" celebrating our shared humanity.
Emily Cicora - Hellbender Atelier
Like her shop's eponymous amphibian, Cicora nimbly shifts between techniques and methods to create her art. Her recent series of prints features iconic recipes from around the world.
etsy.com/shop/HellbenderAtelier
Calie Maloney - Calie Mee
The Korean-American illustrator, muralist, and animator creates whimsically cute and cozy works using inks, watercolors (including gouache), and digital media.
Corrine Kraus and Dena Rupp - Flagship City Press
Looking for the perfect memento of home? Flagship City Press captures all things quintessentially Erie in its stationery and other products, including magnets, decals, and totes.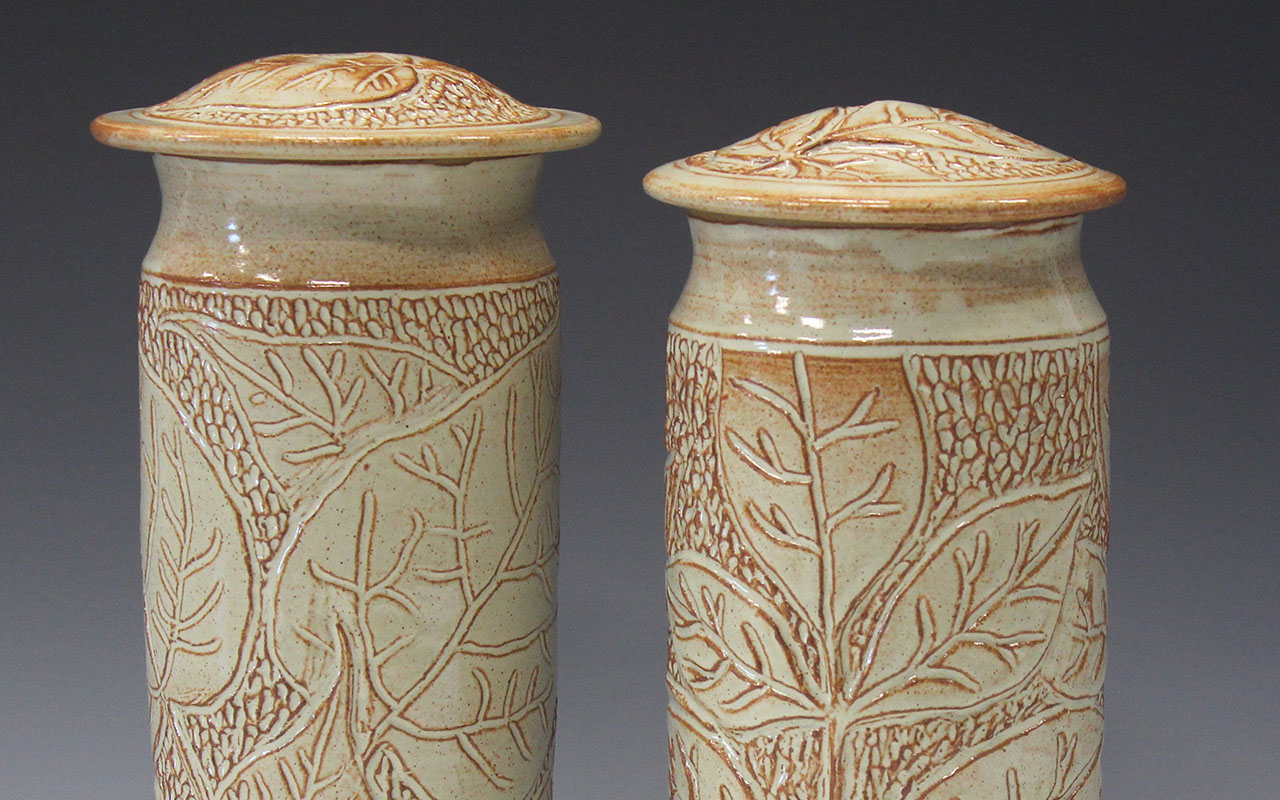 Contributed photo: Peggy Quinn Clay Studio
Jessie Simmons - Jessie Simmons Ceramics
Deeply involved in studio ceramic arts and instruction locally, Simmons' focus is to "express feelings of beauty, joy, and practicality through handmade ceramic forms."
Peggy Quinn - Peggy Quinn Clay Studio
Borrowing from the simplicity and elegance of traditional Chinese pottery, Quinn bakes up wheel-thrown and hand-built clay works often applying hand-painted or carved plant motifs.
Glass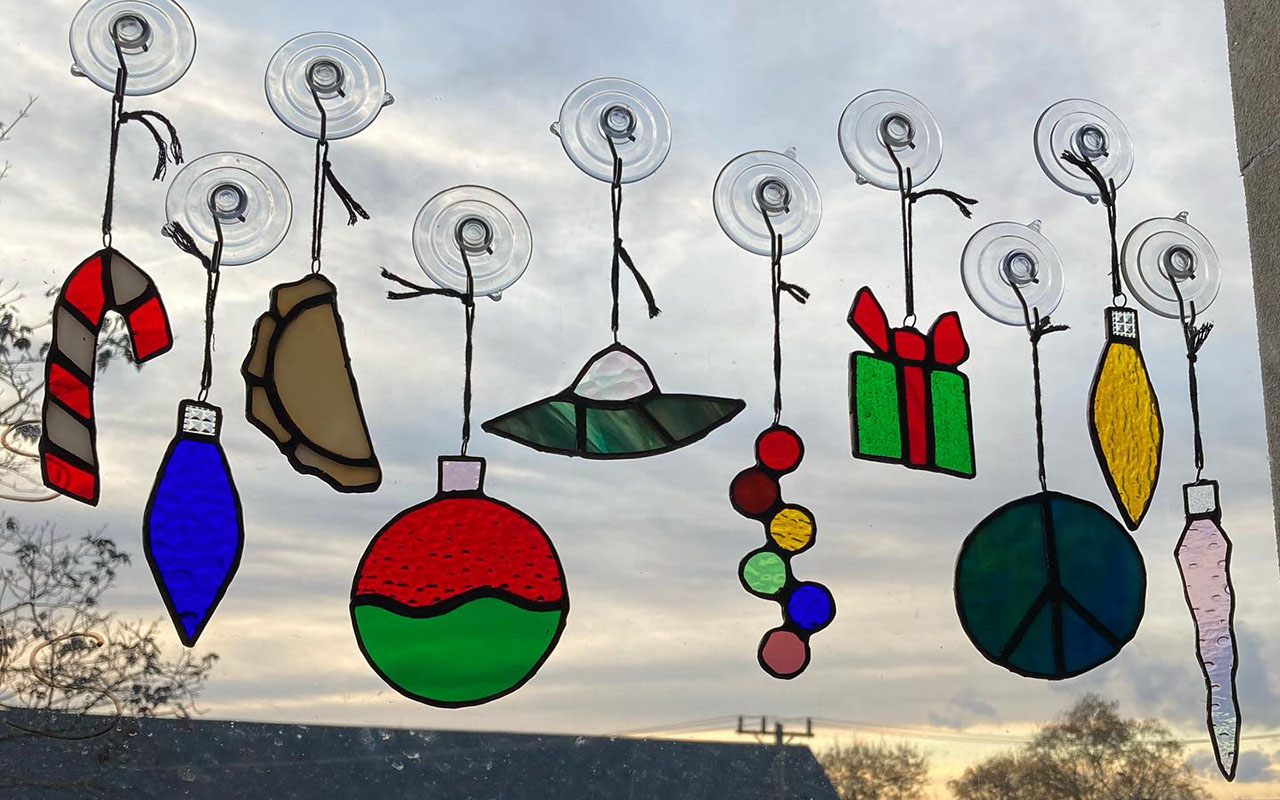 Contributed photo: Megalons Stained Glass
Megan Shalonis - Megalons Stained Glass
While the Pittsburgh-based multimedia artist is shardly a novice, she says stained glass is a more recent fascination. Shop from sun-catchers, jewelry, and more.
Barbara Thomas Yerace - Yerace Glass Studio
Yerace's portfolio is a master class on glass, her products demonstrating a deftness with both blown and sculpted forms. A variety of glass bead jewelry, ornaments, flowers, paperweights, and tumblers will be available for purchase.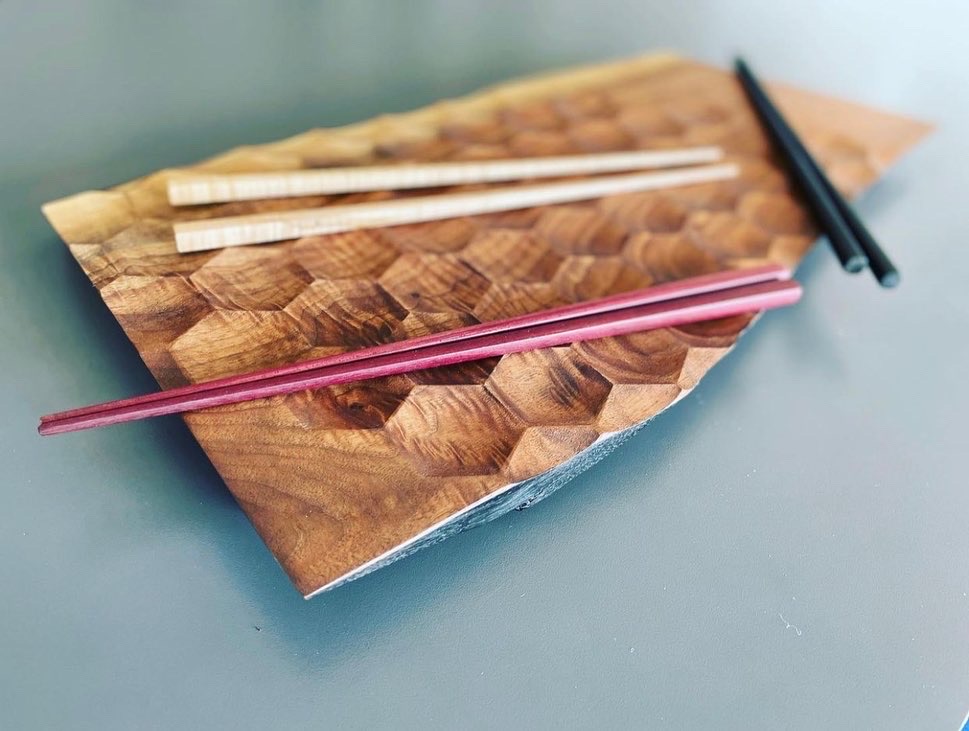 Contributed photo: Lake Effect Woodworks
Bryan Geary - Lake Effect Woodworks
Splicing together time-honored Japanese technique with modern methodologies, Geary's imaginative woodwork ranges from furniture to kitchenware to decorative pieces.
instagram.com/lakeeffectwoodworks
Armando Reyes - Black Monarch
The Lake Erie Woodworks owner and 40 Under 40 alum salvages sleek, Mid-Century-inspired furniture from emerald ash borer-damaged trees with his Black Monarch side venture.
Leather Goods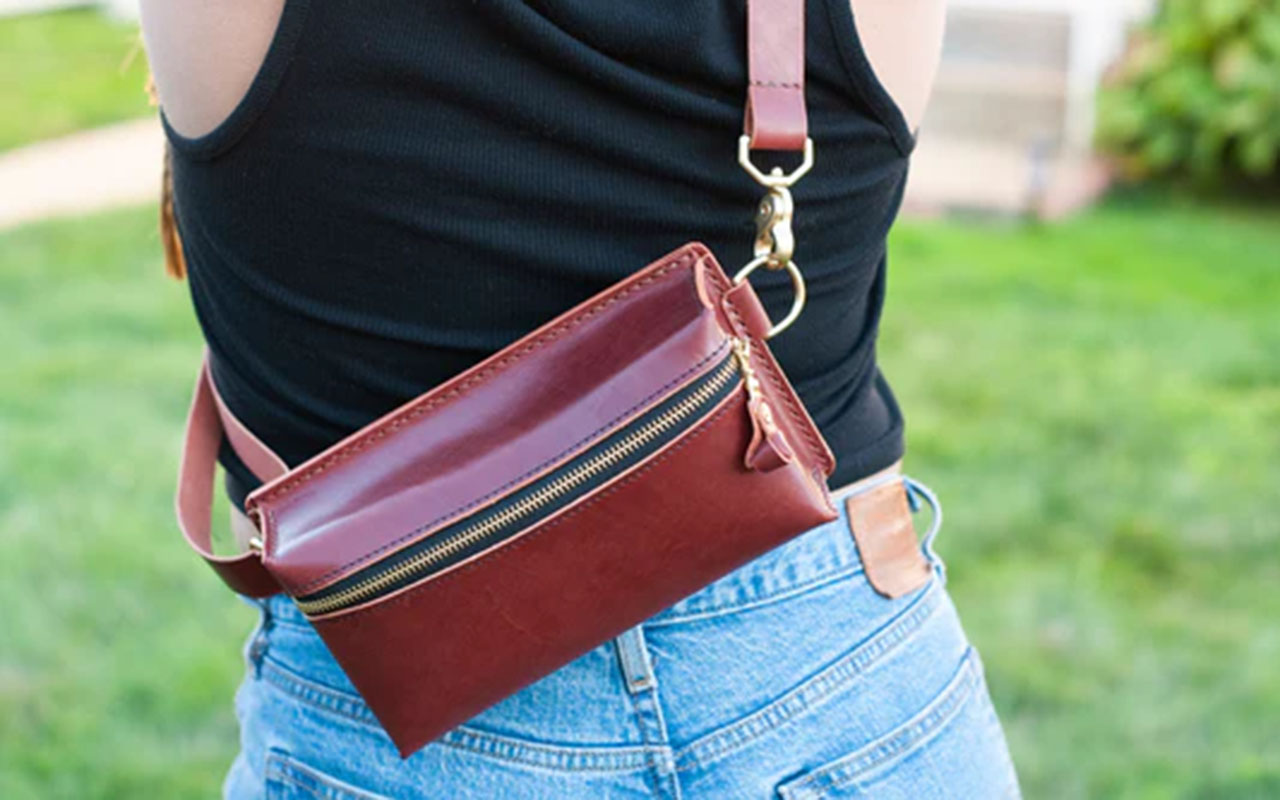 Contributed photo: Clark Morelia
Jocelyn Avila - Clark Morelia
Avila and her partner Rob embrace the beauty in imperfection, turning the "second run" leather rejected by larger fashion manufacturers into handsome, quality products for people and pets.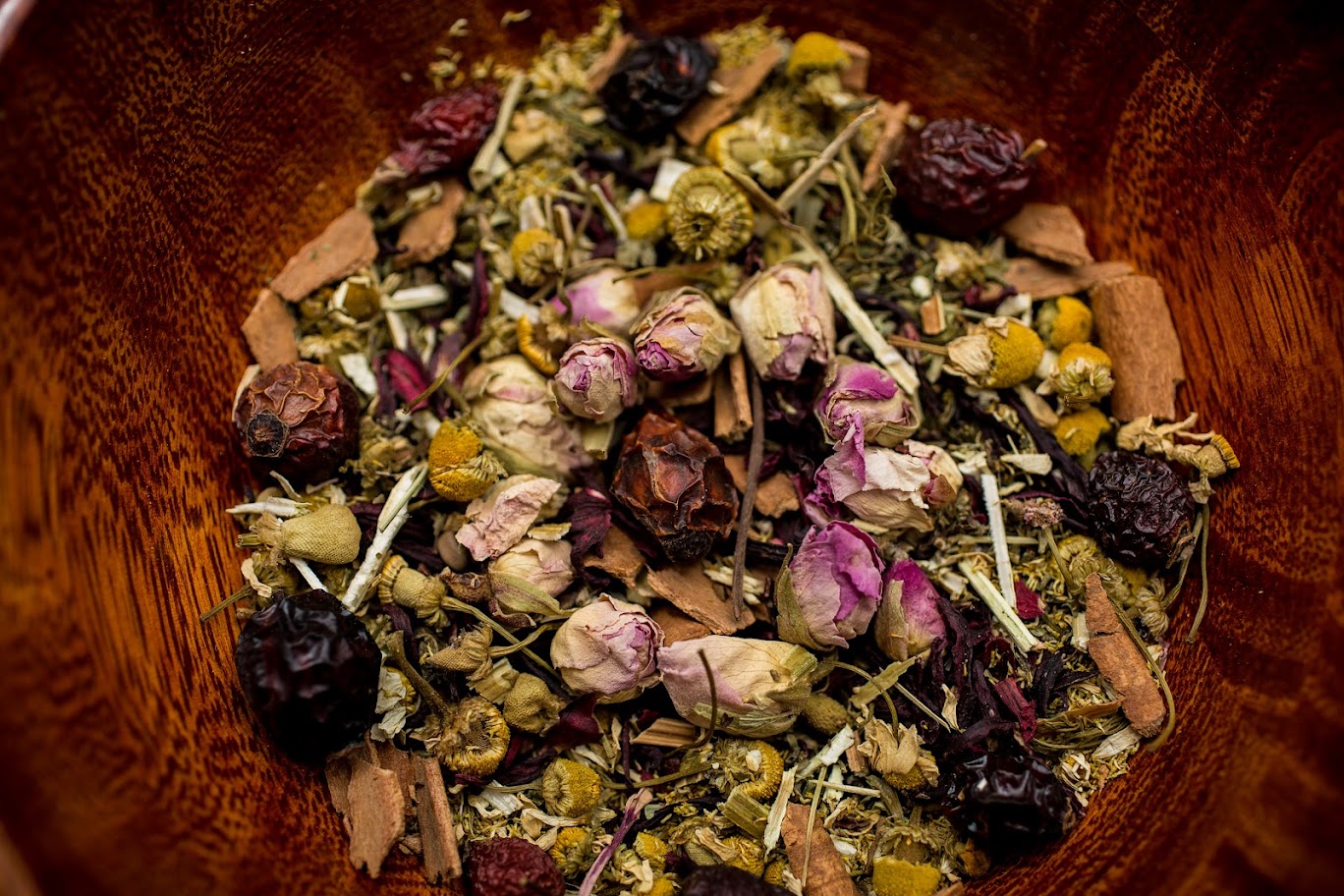 Contributed photo: Sacred Ayla Teas
Jeff McCullor - Erie Ale Works
"We make beer," Erie Ale Works' wisecracking co-founder states, ever so succinctly. Take home a pint of liquid proof with you — or for that matter from any of the excellent regional craft brewers featured on the Lake Erie Ale Trail (who will not be present at the Maker Market).
Doug Baker - North Edge Coffee
The most recently honored 40 Under 40 honoree of the three in this category, Baker roasts specialty coffees embodying the hardworking, resilient spirit of Erie.
Jess Royer - Sacred Ayla Teas
This longtime singer-songwriter knows a thing or two about finding harmony, both in her music and her connections with others. Her custom herbal tea blends are intuitively balanced to the needs of your body and spirit.
Contributed photo: Three Tulips Yarn Company
Poese Family - Politisticks Lip Balm
Prepare your lips for healthy debate with Politistick's full line of Erie- and politically-inspired lip balm flavors. Sisters Susannah and Maddy Poese capably mind their own beeswax so you don't have to (but if you love pollinators as much as they do, you'll also love their family's other business, Love Letters in Bloom, specializing in seasonal floral arrangements and framed prints).
politisticks.us and loveletters.ink
Amy Montagna - Three Tulips Yarn Company
Spin a colorful yarn with Three Tulips' small-batch, hand-dyed Merino and Highland wools — everything you need to get fibered up for your next project.
Anush Dulgaryan Bruno - Sealed by Nature LLC
Bruno's handmade soaps, lotions, balms, and bath products look as good as they smell and feel, infused with an invigorating artistry ripe for gift-giving.
Caryn Krahe - The Oily Knot
It would knot be a bad idea to slip a handmade macrame ornament, lanyard, coaster, charm into a stocking this holiday season — in fact, it would be downright crafty.
Elizabeth Benson - Elizabeth Benson Art
Combining a love of absurdism, pop culture, and food, multi-talented creator Elizabeth Benson (aka Borth Bonson) offers peg dolls and feltwork practically begging for a spot in your stocking.
instagram.com/cheese_after_dark
Ashley Pastore - Grounded Printshop
Yet another 40 Under 40 alumna to emerge from Erie's fertile arts scene, Ashley Pastore is champion of repurposing and reuse, crafting handmade paper and notebooks from recycled material.
etsy.com/shop/Groundedpapershop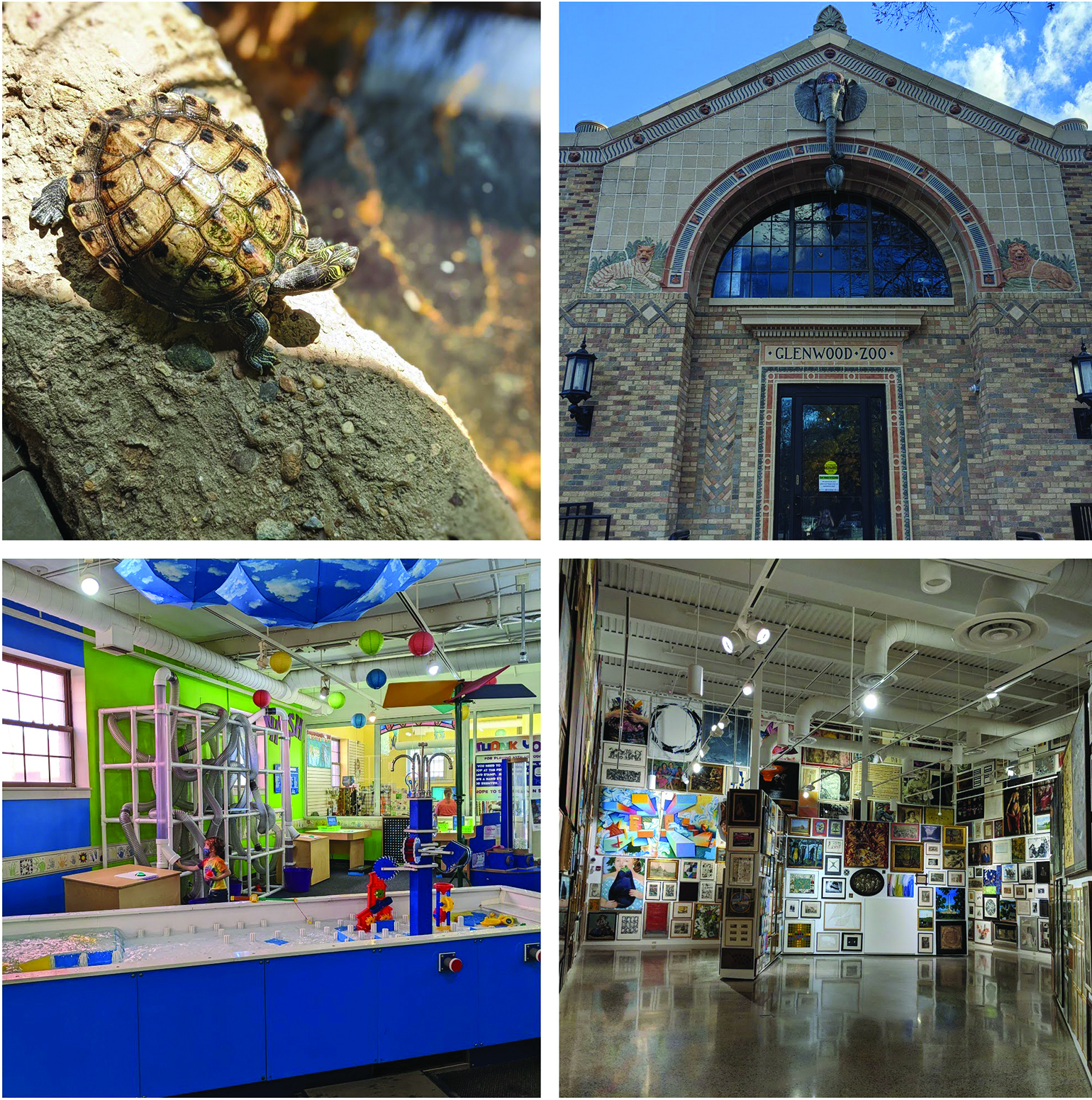 Contributed photos: Erin Phillips
Can't make it to the Maker Market? Sidelined on Small Business Saturday? Or perhaps you know someone who favors experiences over things — a trend that has grown over the past decade, especially amongst younger generations. There is tremendous value in both being and in doing, and we're 100 percent here for it.
Escape for a while
All too often, we're indefinitely trapped in a boring, unthemed room with people we don't like. What if we told you that you could schedule the total reverse of those situations with Covert Games Escape Room? Bring one or more of your favorite humans and solve a sequence of puzzles to beat the clock and unlock the locks.
Live and learn
Belonging is important, but often comes with a sense of obligation. Don't make your giftee sweat that unsolicited gym membership — a seasonal or annual pass to the Erie Art Museum, expERIEnce Children's Museum, Erie Zoo, or Asbury Woods will help exercise their legs and their minds.
Take part in art
Cultivate their creativity with a gift certificate to Foundation Art Academy (small group and individual art classes from Alison Stinley) or Erie ClaySpace (ceramics classes), both located in the PACA Building at 1505 State St. Each offers a variety of scheduling options to match both casual and serious interests.
foundationartacademy.com and erieclayspace.com
Matt Swanseger can be reached at mswanseger@eriereader.com