The Art of Well Being
Pen Ealain is in your ears, and in your eyes...
March 11, 2013 at 9:32 AM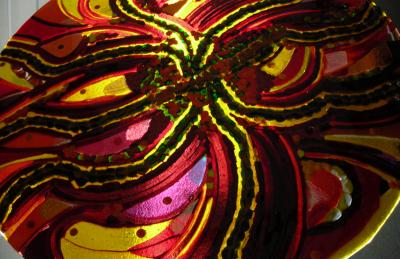 It's apparent from the unfailing attendance of the people who frequent Center City Arts at Stairways Behavioral Health that what happens there is transformational. Some of the students have even said that the art they create and the relationships they engender at this magical studio have saved their lives.
Center City Arts is a facility operated by Stairways Behavioral Health. Stairways has a staff of 450 mental health professionals and offers mental illness treatment for children and adults as well as residential facilities.  The theme of the art exhibition at Gannon's Schuster Art Gallery is the core values promoted at Stairways.
According to Vanessa Mazza, a certified art therapist who works with Center City Arts, the atmosphere and togetherness generated as the students make art there is an integral part of a preventative therapy which works to make people's lives healthy and happy.
At the centerpiece of the show are eight glass disks, each about 20-inches across, designed and made by the students of Center City Arts to represent a dimension of wellness. When the show comes down April 10, the disks will be displayed in each of Stairway's eight buildings to represent the facets of a healthy life such as physical health, financial security, social connectedness, spiritual insight, and intellectual growth.
The disks are made of stained and iridescent glass pieces that have been melted into flat circular plate forms. They sparkle and change as a visitor walks around the room. Bubbles trapped between the layers interact visually with the textures on the surface.
Taking disparate shards and pieces of broken glass and fusing them into a beautiful whole with complex textures and fanciful designs that reflect and transmit the light from the world around them makes for a beautiful metaphor for the healing power of art on the individual. Body, mind, and spirit are refitted as shattered lives become whole again. The permanence and cohesion of the glass after fusing can represent the continued health and self-esteem of a person whose life is changed through fellowship and creativity.
Artist and educator Ed Grout worked with a team of students to design and build the beautiful glass mandalas. There are several photos adorning the walls around the central installation that show students carefully piecing the glass bits together like intricate puzzles, being careful to keep them free from glass dust and other impurities that could ruin them when they are heated. Also on the walls are posters describing the meaning of each disc as it represents a holistic philosophy of wellness.
The students who come to Center City Arts are at every stage of life from small children to seniors. They take classes there for therapy, but some attend just because art is a tremendous source of happiness for them. According to Lee Steadman, the director of the program, well-known teacher, and a spectacular watercolor painter in his own right, the other work on display on the third floor of Gannon's Nash Library represents work by both classically trained artists and talented amateurs. Some are clients of Stairways, but many come in to the studio for the chance to create wonderful work in a wonderful place with wonderful people. Most of the workshops are open to the public, so anyone who believes in the power of art is welcome.
The individual art pieces gracing the northern gallery space include a deep and mysterious collage full of paper stars, painted gourds covered with Klimt-inspired spirals of gold, paintings that remind one of Matisse with flat areas of color competing for attention, intricate and chaotic pen and ink drawings that look like Thurber's cartoons from the 1940s, and two tightly rendered animal pictures done in watercolor.
Steadman says that art can be a visual ambassador of the spirit of wellness. A person does not have to have a serious diagnosis in order for them to take a step back and assess their well-being or to experience the healing power of art. Indeed, this show can touch all who see it and offer a transformative and healing experience for anyone.
The Art of Well-Being by the Center City Arts Community is on display February 20 until April 10 at the Schuster Gallery Gannon University, Nash Library 3rd Floor, 619 Sassafras St. Hours of operation: Sunday: 4 p.m. to midnight, Monday to Thursday: 8 a.m. to midnight, and Friday: 8 a.m.  to 5 p.m.
Pen Ealain can be contacted at PenEalain@ErieReader.com.