The August Issue of Rolling Stone Already Has People Talking
And it's not about music or entertainment...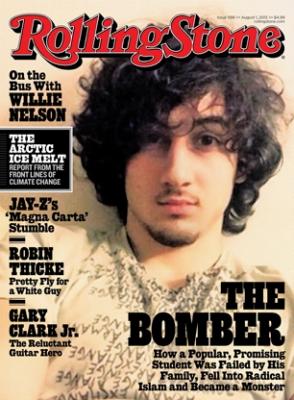 I wasn't there when it happened. Not even close. I was in a comfortable office, in a comfortable chair, staring at a computer screen – much like I am right now.
Have you heard? came from across the room.
What? What's happ…
Before I could finish the thought, we already knew. All of us there suddenly knew: On what seemed to be any other Monday, a bomb had exploded in Boston, during the marathon.
How many were killed, how many were injured, how many worked to set off the pressure cooker backpack bombs – all things we'd find out over the course of the coming days, as all media set its sights on Beantown in a blitzkrieg of coverage.
With a Twitter handle and an Instagram account, any of us can become journalists, photographers, capturers of news, makers of stories – because we live in a now, now, now society that thrives on devouring headlines as quickly as possible before moving on to the next big story, sometimes all too easily forgetting what we ate for breakfast, as stories unfold in real time before our eyes, without fact checking, without editing, without censoring, without a concern for anything else other than being first.
So when we're forced to spend time with a story, stare at the cover of a publication for more than a second, even revisit something we had perhaps long since forgotten about, we may become unnerved. What's it like to stare at the face of a possible murderer on a publication resting on your coffee table for a week? we might ask.
We'll now know soon.
The August issue of Rolling Stone features alleged Boston Marathon bomber Dzhokhar Tsarnaev. You know the story – from the strategically placed backpacks to the family's outcrys to the chase that led to the boat – but there's another story here: Why place Tsarnaev on the cover? On a cover that features the likes of indie up-and-comers to heartthrob pop-icons to political leaders like the president? Why an actual picture and not just text? And why use a photo that makes him look, well, human? After all, this guy was public enemy number-one.
I don't work for Rolling Stone – surprising, I know – and I don't have direct correspondence with anyone who does – surprising again, I know – so I can't tell you why the suits made the decision to place an alleged terrorist on the cover. But if your Facebook or Twitter accounts look like mine, they're clogged with speculation ranging from "attempting to sell more copies" to "attempting to be relevant again." One thing is clear: They chose Tsarnaev over everything else.
Regardless of Rolling Stone's reasoning, our reaction says more about us than it does about the magazine. Other prominent magazines have featured murderers, terrorists, and just bland bad people on their covers. Where was the outcry then? Was there outcry then?
The outcry now results from us – the subscribers, readers, perusers of magazine stands in grocery stores – having to stare at a young, boyish fellow not yet grown into a man who allegedly did the unthinkable: hatched an ugly idea, walked into a crowded collection of people and then carried out that idea.
Can someone – a wiry kid with deep, dark eyes and a messy crop of hair, who will now be mentioned in the same breath as fellow cover-copy companions Willie Nelson and Jay Z – be capable of actually taking a life? Yes. But why?
That's a question that those of us, both near to and distant from the atrocities of that day, are now forced to wrestle with for more than 140 characters and longer than a few fleeting minutes. Rolling Stone's decision to feature Tsarnaev on its cover will deepen our experience of the human experience, we'll yell, we'll mock, we'll mutter, we'll cry, we'll not react. But those are all reactions, stirred by a single image about a day that will never be as simple as one picture on one magazine for one month.