The Bane of Toyland
Erie is still missing its Marx.
December 21, 2016 at 1:30 PM
Santa Claus is, as ever, coming to town. But for many years, it was as if he never left.
From 1933-1975, the Erie factories of Louis Marx & Company pumped out millions of toys on Santa's behalf. It was a long and fruitful partnership, but perhaps one that could not be allowed to last – not after Marx's coronation as the "Toy King" in a 1955 issue of Time magazine, a clear affront to Mr. Kringle's authority. Like most usurpers, the Brooklyn native was savvy, charismatic, and opportunistic; he was the consummate salesman. While St. Nick was sitting on his assets at his North Pole tax haven, Marx was actively and openly promoting his.
Louis A. Marx was groomed for his takeover of the toy world as a young man in the 1910s. He was contracted as a market researcher and middleman for several prominent companies of the period, most notably New York City's F.J. Strauss. He purchased two Strauss prototypes in 1921 (a windup minstrel and monkey), exercised just enough artistic license to make the toys "new" (and/or avoid prosecution), and proceeded to sell over eight million units of each. At the age of 24, with no production facilities of his own, Marx was a self-made millionaire.
HASHTAG: TINNING
Marx built his empire from sheets of lithographed, tinplated steel, which were cut, pressed, and folded into a stunning array of shapes and forms. Tiny clockwork mechanisms brought these toys to life with the turn of a key – monkeys climbed (Zippo), dogs back-flipped (Flippo), and vehicles propelled themselves forward, backward, or even curved left or right (sans turn signals, obviously). They were easily (mis)identified by the Marx insignia, the letters "M-A-R" superimposed over a circumscribed "X." People often either missed the X's or ignored them completely (whether they'd begun dating or not), which resulted in a cult following for the alternate-universe "MAR" Toys Company.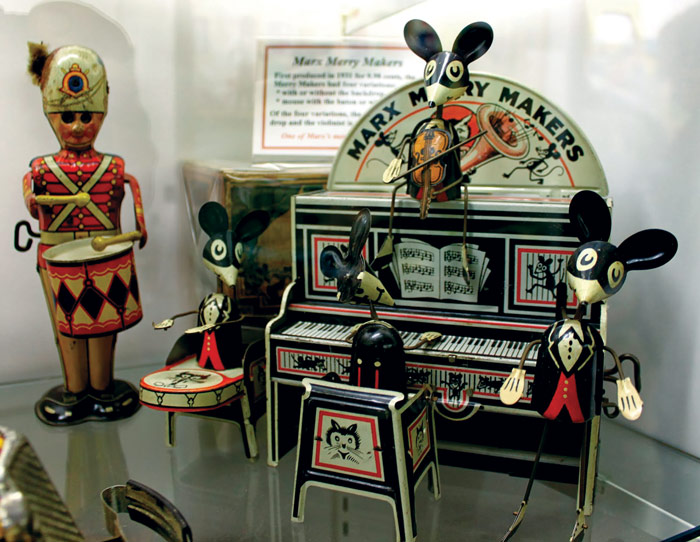 As it was on the small scale, so it was too on the large scale – Marx knew exactly what keys to turn to get children wound up and did so without breaking their parents' budgets. He attained the rights to popular franchises (e.g. Disney) and advertised in the catalogs of America's largest retailers (e.g. Sears). If parents were the end buyers and children were the agents, the Sears Catalogue was the best place to showcase one's portfolio. One of Marx's early triumphs, a rebranded whistling yo-yo called the Lumar, sold over 100 million units through Sears distribution. That financial windfall was instrumental in the company's expansion during the boon of – you guessed it – the Great Depression.
The machinery for the Marx uprising was housed in facilities in Erie (the one-time Carter Toys on West 19th Street); the plainly-named Buildings A, B, and C on West 12th Street, Girard (the former Girard Model Works); West Virginia (the decommissioned Fokker Aircraft Plant); and overseas (Britain and France). The Carter Toys building (C.E. Carter was one of Marx's first contractors), located between Cascade and Raspberry streets, cranked out so many tin simians throughout the 1920s that it became known as "The Monkey Works." The plants on 12th Street were acquired from the Eriez Stove and Manufacturing Co. in 1936. Altogether, Marx's domestic workforce numbered 8,000.
BOOM YEARS
Come the '40s, Marx Toys were the bomb – literally. Preempted by war shortages, Marx began the transition to plastics, but not before one last blast of heavy metal. Incendiary devices were in vogue with the big kids at the time (when aren't they?), and Marx was not going to be the one to crush their dreams. His assembly lines produced a limited run of munitions, bazookas, and detonators as the United States redoubled its efforts to emerge from WWII victorious. Another release that bears mentioning was the atomic bomb; Marx allegedly contributed to the infamous Manhattan Project, which reshaped the course of history. Suddenly, all the big kids had to have one.
As for the little guys, they were content with the plethora of polyethylene playsets Marx put out postwar. These playsets depicted scenes from history, movies, and TV, and often featured conflicting factions – for example, a Western diorama pitting Native Americans against pale-skinned interlopers. With their elaborate detailing (sometimes over 100 pieces) and a price point rarely exceeding $7, they were a much better value than your average choking hazard. In fact, collectors still get choked up thinking about them.
DON'T HATE THE PLAYTHING, HATE THE (ELECTRONIC) GAME
The 1960s were somewhat of a last hurrah for the aging Marx, who celebrated his 70th birthday during the decade. A man who long had his finger on the pulse of America's children gradually lost it. It now flowed through the circuits of silicon microchips.
Electronic components opened another realm of possibilities in Toyland, and the same items that once fascinated the juvenile imagination now bored it. Whereas Baby Boomers embraced Marx Toys, Gen X was not as easily impressed. Furthermore, Marx did not advertise as aggressively as his competitors on television, the proverbial window to kids' souls. Companies like Mattel were flexing their multi-jointed appendages, while Marx was thought to be lying on the mat.
Nonetheless, he did have a few punches left in him before he tapped out. Rock Em' Sock Em' Robots (1964) were an instant hit, capitalizing on the popularity of both boxing (badass) and robots (even more badass). Users controlled one of two pugilists, Red Rocker and Blue Bomber, with buttons attached to the base of the "ring." A match was won when a robot's head was dislodged from its shoulders (virtual decapitation … cute). Marx capped off the decade with the Big Wheel (1969), a plastic tricycle equipped with a "quick-stop racing brake" and a "handy saddlebag" to stow whatever provisions your little rebel needed to survive those first few nervous hours after running away from home.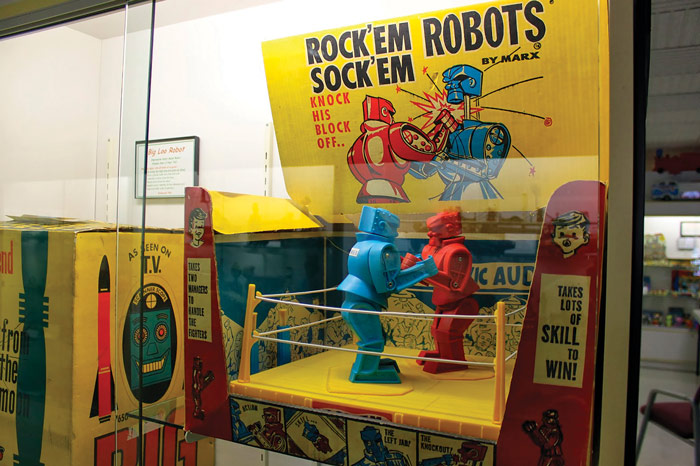 Unsurprisingly, Marx's sale to Quaker Oats in 1972 ushered its demise – because Quakers (humility, piousness, maybe the occasional buggy race) and oatmeal (wake-up calls, blandness, maybe the occasional explosion in the microwave) are not typically synonymous with fun. By 1975, the proof was in the porridge. The company changed hands once more in 1976, going to the British company Dundee-Combex. They failed to resuscitate the brand and Marx was dismantled for good in 1980.
Erie's Marx Toy Museum closed in 2008, and one in Moundsville, West Virginia, just closed this past June.
The last vestiges of the company now belong to collectors around the world and here in northwestern Pennsylvania, who remember when Marx Toys pumped vital life into the Erie economy and excitement into many, many Christmas mornings.
Sources consulted for this piece include: collectorsweekly.com/toys/marx; marxmuseum.com/home/marxhistory.html; historyandmemorabilia.org/2014/10/marxs-toy-company.html; and roadsideamerica.com/story/17533.
Matt Swanseger can be reached at mswanseger@eriereader.com. You can follow him on Twitter @SwazzySwagga.