The Best Albums of 2017
Highlighting a magnificent year in music
December 20, 2017 at 11:45 AM
For normal people, the end of the year signifies a string of holidays and a sense of change in the upcoming year. For music writers, the end of the year signifies "listmas season," in which everyone's' hot takes demand to be heard. Here, we have gathered out contributors' favorite releases of the year, weighted against a point-based system, and included a short description in hopes to catch you up on (and help you survive the holiday season with) some of the year's finest.
1. Tyler, the Creator — Flower Boy
In a year when hip-hop stepped its game up, Flower Boy represents an unexpected leap for Tyler, the Creator. The creative heartbeat of the alternative rap group Odd Future strikes a vein here with an album that showcases not only his skills as an MC, but also his surprising ability as a singer and arranger. While hard-hitting in spots ("Who Dat Boy" feat. A$AP Rocky), the majority of the album consists of dreamy alt-R&B peregrinations buttressed by some of the best voices in the biz (Frank Ocean, Estelle, etc.) Engrossing from start to finish.  — Matt Swanseger

2. Beach Fossils — Somersault
For their third and arguably best album, the Brooklyn trio Beach Fossils have made something indelibly gorgeous. As soon as Somersault opens up with the jangly perfection of "This Year," the stage is set for a warm, infectious journey. The lighthearted beach-pop makes for an album that's hard not to enjoy. With  understated potency, the album makes for some of the most accessible indie rock all year, while also venturing into hip-hop ("Rise") and jazz ("Saint Ivy") excursions to welcoming results. — Nick Warren

3. Kendrick Lamar — DAMN.
Again proving himself to be one of the greatest hip-hop artists of his generation, Kendrick Lamar's DAMN. shows another side of the celebrated musician. After his 2015 landmark album To Pimp a Butterfly, the stakes were supremely high for Lamar. Following the success of DAMN. (not to mention last year's Untitled Unmastered collection), it's obvious that these stakes didn't mean a damn thing. Using a more traditional hip-hop approach, Lamar builds on his media persona, and is able to fit detailed stories between every beat. — Nick Warren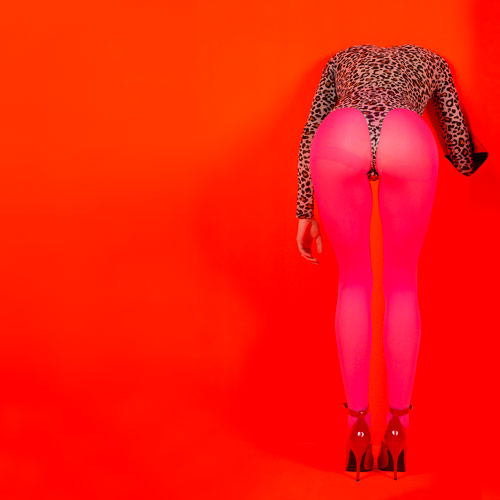 4. St. Vincent — MASSEDUCTION
The aesthetics of Annie Clark's albums as St. Vincent may act as a first impression, but they quickly become complementary to whatever sonic palette she pursues. Never one to half-bake a vision, MASSEDUCTION is yet another ambitious entry in Clark's catalog, employing big-name pop producers to add a distinctive sheen to her already alien songwriting. And like most of the artists on this list, she can't help but dig into the fear that some of 2017's worst habits might be more than just that. — Aaron Mook

5. Alvvays — Antisocialites
Three years following the success of their self-titled debut (and breakout single), Alvvays have returned with another, arguably stronger, set of reverb-drenched, beach-ready dream-pop tracks. What sets Molly Rankin and co. apart from their peers is the way they deliver on each aspect of that genre, executing dynamite hooks with lush guitar tones, equal parts DIIV and Death Cab for Cutie. — Aaron Mook

6. Sampha — Process
With an unmistakable voice and an unclassifiable amalgam of styles, Sampha is to the 2010s as Seal was to the 1990s, evolving from obscure collaborator to a heralded artist in his own right. After numerous accolades (including this year's Mercury Prize), it is safe to say that critics trust Sampha's Process. Whether he's accompanying himself with a mere piano or he's singing above a choppy sea of studio trickery, Sampha's vocals bring an affecting rawness and urgency to an album that truly transcends. — Matt Swanseger

7. BROCKHAMPTON — Saturation III
 With a hustle matched only by King Gizzard & the Lizard Wizard, "all-American boyband" BROCKHAMPTON released three studio albums this year. In an unprecedented move, they billed Saturation III as their "last studio album" before quickly announcing their next album for 2018. This is the world BROCKHAMPTON inhabits; they make the music they want to make and will continue to do so until they simply lose interest one day. The group's dedication to diverse voices and musical styles make them not only a vital force in hip-hop, but in popular music as a whole. — Aaron Mook

8. Phoebe Bridgers — Stranger in the Alps
This year saw Phoebe Bridgers often compared to Julien Baker, perhaps due to the heavy nature of their songwriting (or, more nefariously, simply because they are female singer-songwriters in a male-dominated industry). Regardless, Stranger in the Alps stands on its own legs, lending Bridgers a platform to experiment with subtle folk and fuzzy power-pop as she details her fears of intimacy and death with an equally unique (and at times, genuinely charming) voice. — Aaron Mook

9. Thundercat — Drunk
Genius rarely comes without quirks, and electric bass virtuoso Thundercat (a.k.a. Stephen Bruner) — from his odd sense of style (socks and sandals with swim trunks on stage) to the dorky pop culture references that litter his lyrics – is no exception. Despite this, an undeniable sense of cool pervades the 23 tracks (some better characterized as vignettes) that comprise Drunk — somehow as simultaneously mellow and restless as that title would suggest. One of the better left-field R&B albums you'll ever stumble into. — Matt Swanseger

10. Slowdive — Slowdive
After 22 years of silence, Slowdive have returned like a quiet storm. The English shoegaze band have made an album that arguably plays better in the late 2010s than it would have in the 1990s. A style now heavily in vogue, the group returns to the "Scene That Celebrates Itself" as respected elders. With haunting delay timbres and a rich atmosphere, singer/guitarists Neil Halstead and Rachel Goswell are at the top of their game, creating a gorgeously evocative tone. — Nick Warren