The Classic Sunday in the Park with George at Erie Playhouse
The Erie Playhouse creates a painting live on stage
February 28, 2018 at 12:15 PM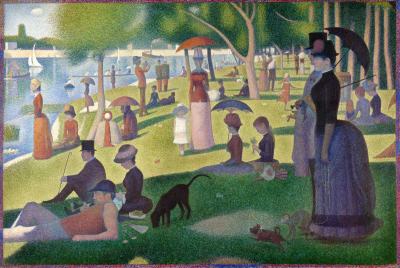 Friday, Mar. 9 — Sunday, Mar. 25
In an effort to better celebrate "the uniqueness of the Erie theater/art scene," the Erie Playhouse has announced a collaborative project with PACA, All An Act Theater and the Erie Art Museum to present three very special productions centered around the creation of visual art. Followed by Yasmina Reza's Art at PACA and Steve Martin's Picasso At the Lapin Agile at All An Act, the first of these is set to be an iteration of the musical classic Sunday in the Park with George, directed by Richard Davis at the Erie Playhouse.
The production, which the Playhouse calls "a masterpiece" and "one of the most acclaimed musicals of our time," is about the life and work of painter George Seurat. But according to Davis, it really is about so much more than that.
"It really is a non-conventional theater piece," says Davis. "At its very most basic, it is a story about how artists try to find a balance between their art and their personal life. It just happens to be set against this framework of George Seurat's life."
Though Davis doesn't have much of a history with the production, he says it's always been one of his favorites and a dream to work on.
"I love the story and I loved the conflict between George and Dot in the beginning, and how it takes four generations and George's great-grandson to settle that," says Davis.
Sunday in the Park with George opened on Broadway in 1984, going on to be nominated for an astonishing 10 Tony Awards. This production is the definition of standing the test of time, as after 30 years, it still seems to capture the same universal emotions among audiences. Davis has some ideas as to why.
"In general, people have difficulty making connections and maintaining relationships," says Davis. "[Composer Stephen] Sondheim is such an innovator, so ahead of his time that we are just catching up to his music now. And I suppose it's always fun to create a painting live on stage." — Aaron Mook
Erie Playhouse, 13 W. 10th St. // Dates, showtimes, and prices available online at erieplayhouse.org